Energy saving in do-it-yourself mode
Energy saving in do-it-yourself mode
The extent to which employees at Freudenberg subsidiary VistaMed in Ireland have internalized the concept of sustainability is demonstrated by the site's own Electrical Energy Management System (EnMS). Declan Whyte's team developed an efficient measurement system on their own initiative to monitor electricity consumption in real time and thus identify potential savings, both large and small. The reward was over 40,000 euros in saved electricity costs – and the Freudenberg Group's "We all take care Award 2020".
Striving to find innovative solutions is one of the Freudenberg Group's most fundamental values. Particularly in the area of the sustainability strategy "Sustainability drives Climate Action", this kind of thinking helps to develop more resource-friendly and even more efficient innovations. For a global company, sustainability pays off in many respects and twice over: ecologically in terms of meeting demanding environmental standards and economically when it comes to saving energy or disposal costs. Colleagues at VistaMed are demonstrating how innovative strength can be used to develop and manufacture state-of-the-art medical products and improve their own balance sheet and environmental footprint – with an idea that is as simple as it is impressive.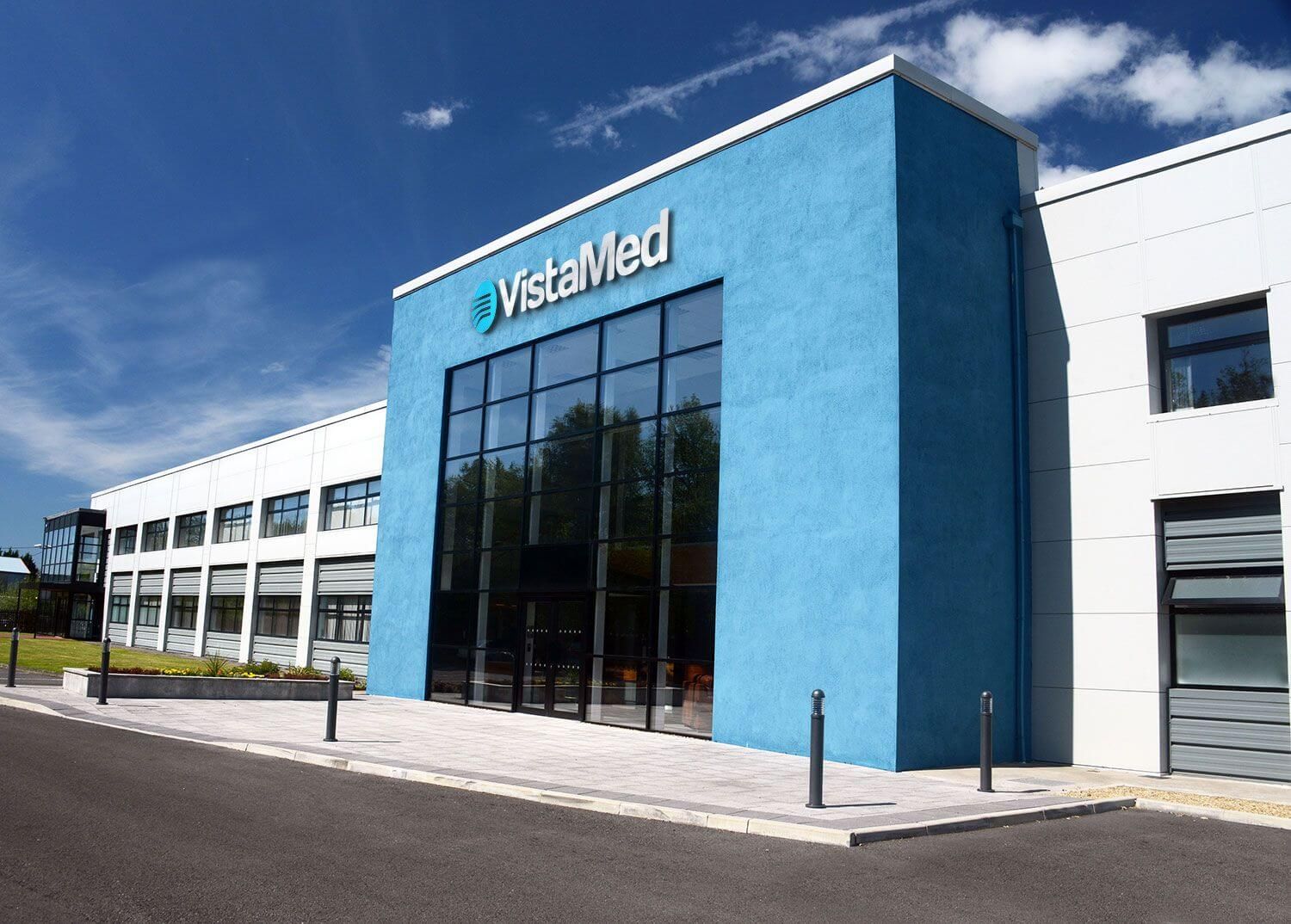 Reducing the carbon footprint
In Carrick-on-Shannon, Ireland, the company has been developing specific measures since 2013 with the goal of reducing the site's carbon footprint. To ensure efficient use of resources, they examined all consumption factors, in particular water, oil and gas, plus waste avoidance. In the case of electricity, some obvious measures were taken to harvest the low-hanging fruit and save energy.
However, to get a deeper insight into the company's energy consumption, a new approach was needed. This involved detailed monitoring and data-driven analysis to identify the biggest energy consumers in day-to-day operations. What would it take? Reliable data, which the previous system could only provide at a macro level. So VistaMed's team developed its own system for measuring power consumption, which could monitor not just a single machine, but the entire 42 – simultaneously and in real time. The cost of one monitoring unit was just 24.20 euros. Using these measuring devices, which can be bought off the shelf, the team developed a system that calculated and transmitted the power consumption of each connected machine every 15 minutes at the micro level: four measurements per hour, 96 per day, 672 per week. All measurement results were visualized in a dashboard that made it possible to perform a detailed analysis of energy consumption during peak and off-peak hours, and for each individual unit.
We have identified 57 percent of the individual power consumption of our plant equipment and are digging deeper and deeper into the micro level.
Declan Whyte, Director of Quality & Environmental Management at VistaMed in Ireland
The compressors, for example, turned out to be SEUs (significant energy users). These are now switched off manually in a targeted manner – the amount of energy they use resulted in significant energy reductions. By managing the cleanroom plant equipment more efficiently, VistaMed could reduce energy consumption from around 7,000 kWh to less than 3,000 kWh, even at peak loads. This means that the self-imposed goal of reducing electricity consumption by 10 percent was achieved. The goal for 2021 is to reduce it by that amount again. "We're digging deeper and deeper into the micro level", said Whyte, who is now aware of 57 percent of identified electricity consumption. The 43 percent still to be identified holds the savings potential for 2021 and the following years, when further measuring clamps will be connected to additional machines to determine their individual power consumption.
Energy consumption at peak loads reduced from around 7,000 kWh to less than
are being monitored in real time
Power consumption is measured every
Power consumption is measured
Responsibility for the common sustainability goal
With their own innovative solution, VistaMed is following Freudenberg's path to reduce CO2 emissions by 25 percent by 2025. As part of Freudenberg Medical, the site is not one of the Group's most energy-intensive production facilities. However, resource efficiency in terms of energy and materials is a focus of all Freudenberg's activities, both large and small. The Irish catheter specialist's monitoring project goes to the heart of the Group's sustainability strategy.
As energy-efficient as it is cost-efficient
This leaves the question of cost efficiency. With a material and personnel input of significantly less than 10,000 euros, achieving a more than fourfold cost saving in the very first year certainly makes the VistaMed system interesting for other sites as well. It is a solution that is completely independent of external monitoring systems and can be rolled out to suit any production facility. The construction and configuration plans are available to all other Business Groups – in line with the Freudenberg slogan "Innovating Together". The prize money from the "We all take care Award" was used to equip all 520 employees with uniform company shirts and jackets. As the example from Ireland shows, on the way to greater sustainability, no idea is too small to achieve the greater goal, and every bright idea is worth putting into practice. Ultimately, one thing applies to the entire Freudenberg Group: We are exploring every possibility to become more resource-efficient and consistent together on the path towards climate neutrality.