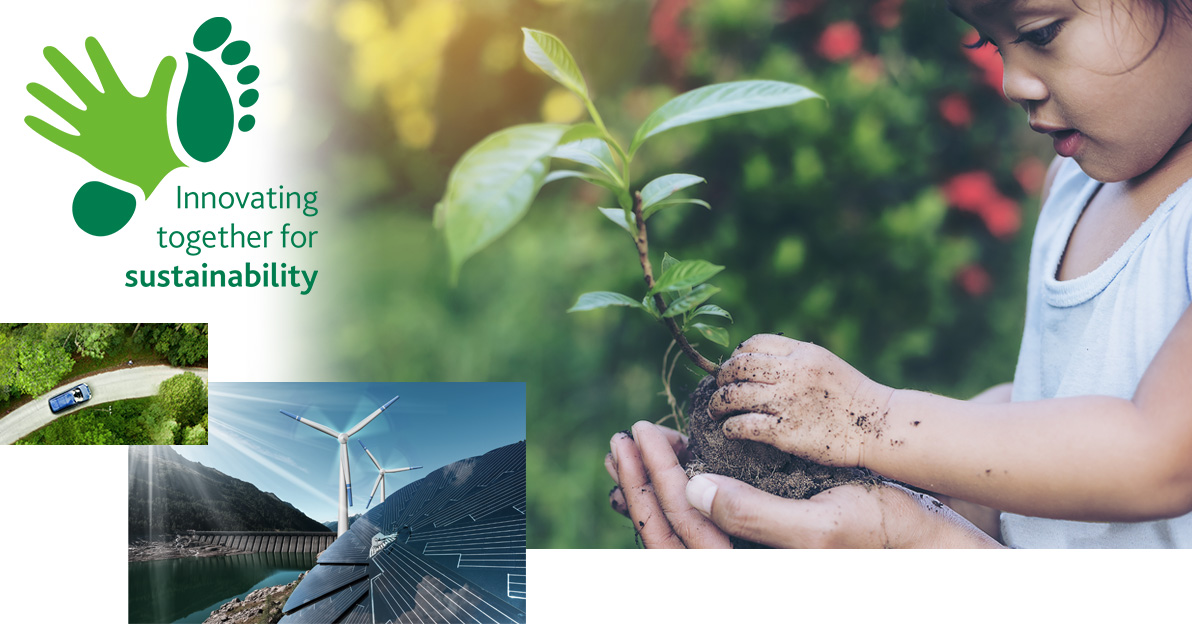 Sustainability and long-term vision are integral parts of our corporate strategy and social responsibility. Taking action is part of Freudenberg's corporate culture.
In doing so, we follow two approaches. First, we continuously minimize our own footprint by using energy and materials efficiently. Second, we maximize our customers' handprint with our innovative products and services. Efficient Freudenberg innovations are already significantly reducing the consumption of natural resources and CO2 emissions in countless customer applications. In short, we are improving both our own environmental footprint and that of our customers.
Less is more
"Footprint" refers to the amount of resources we consume to produce our products and provide our services. The goal is to significantly reduce our use of energy and materials, and to continuously reduce waste, scrap and emissions. That is why we have launched the "Sustainability Drives Climate Action" project. This includes specific targets on how significantly and quickly we will reduce our CO2 emissions. With energy efficiency projects around the globe, internal CO2 pricing and the purchase of green electricity, we are sending out clear signals in this direction.
The more the better
With innovative Freudenberg solutions, our customers are able to reduce their own resource consumption and emissions. The larger this handprint, the greater the benefit for the environment and customers. Here are just three examples. Friction-reduced seals have been reducing CO2 emissions from vehicles for years. Fuel cell and battery systems from Freudenberg enable climate-neutral mobility for ships, trucks and trains. In the machinery sector, our tribological solutions increase efficiency and extend service life, running time and maintenance intervals.
Quickly explained
How we understand and live sustainability at Freudenberg, and what this has to do with the United Nations?
Take a look for yourself.
4 Elements
Sustainability for Freudenberg is not just a passing trend: It has always been anchored in the company's values. So environmental protection is key to our global strategy. In our daily lives, the steps we take to protect the environment are not always dependent on expensive machines or wide-ranging process changes.
Four examples from the Freudenberg World showcase the solutions that allow our customers to unlock the enormous potential from existing technologies. We use leading technologies in this way to reduce CO2 emissions and help protect society and the environment.
Freudenberg is exploring all options for conserving resources and becoming more efficient.
Dr. Tilman Krauch, Member of the Board of Management
With the Footprint and Handprint Model, Freudenberg is taking a far-reaching approach to sustainability that is having an impact right through to customers' processes. What is the background to this? And how great is the potential for success? Dr. Tilman Krauch, Member of the Board of Management, provides the answers.