Less CO2 thanks to future fuel cell technology
Against the backdrop of increasingly stringent air pollution thresholds, Freudenberg Sealing Technologies has a long-standing reputation for providing automakers and commercial vehicle manufacturers with a range of sealing technology innovations that reduce both fuel consumption and harmful combustion engine emissions. At the same time, the company has accelerated expansion of its product portfolio in electromobility – with individual sealing components, and complete battery and fuel cell technology system solutions.
Combining the two "zero-emission" future technologies allows the company to offer truck, bus, ship, and train manufacturers complete electrical fuel systems from a single source. Soon, neither greenhouse gases such as CO2, nor nitrogen and sulfur oxides, soot or fine dust will be emitted from a vehicle's exhaust. And with harmful exhaust emissions consigned to the past, the vision is a future of clean air.
Fuel cell trucks are the only economical, emission-free alternative
Heavy duty applications in freight and passenger transport must be finely-tuned for a long service life of 35,000 operating hours – well in excess of that for cars. Partnering Quantron AG, a specialist in commercial vehicle retrofitting, in a publicly funded research project, Freudenberg Sealing Technologies is now developing a special fuel cell system for heavy-duty trucks.
As the 40-ton highway titans transport heavy loads over long distances, emission-free cannot be achieved with battery technology alone: Due to the heavy loads, the batteries would drain far too quickly and recharging take too long. "Fuel cell trucks are the only economical, emission-free alternative that make heavy loads, long distances and fast refueling possible," explains Manfred Stefener, Vice President Fuel Cell Systems at Freudenberg Sealing Technologies.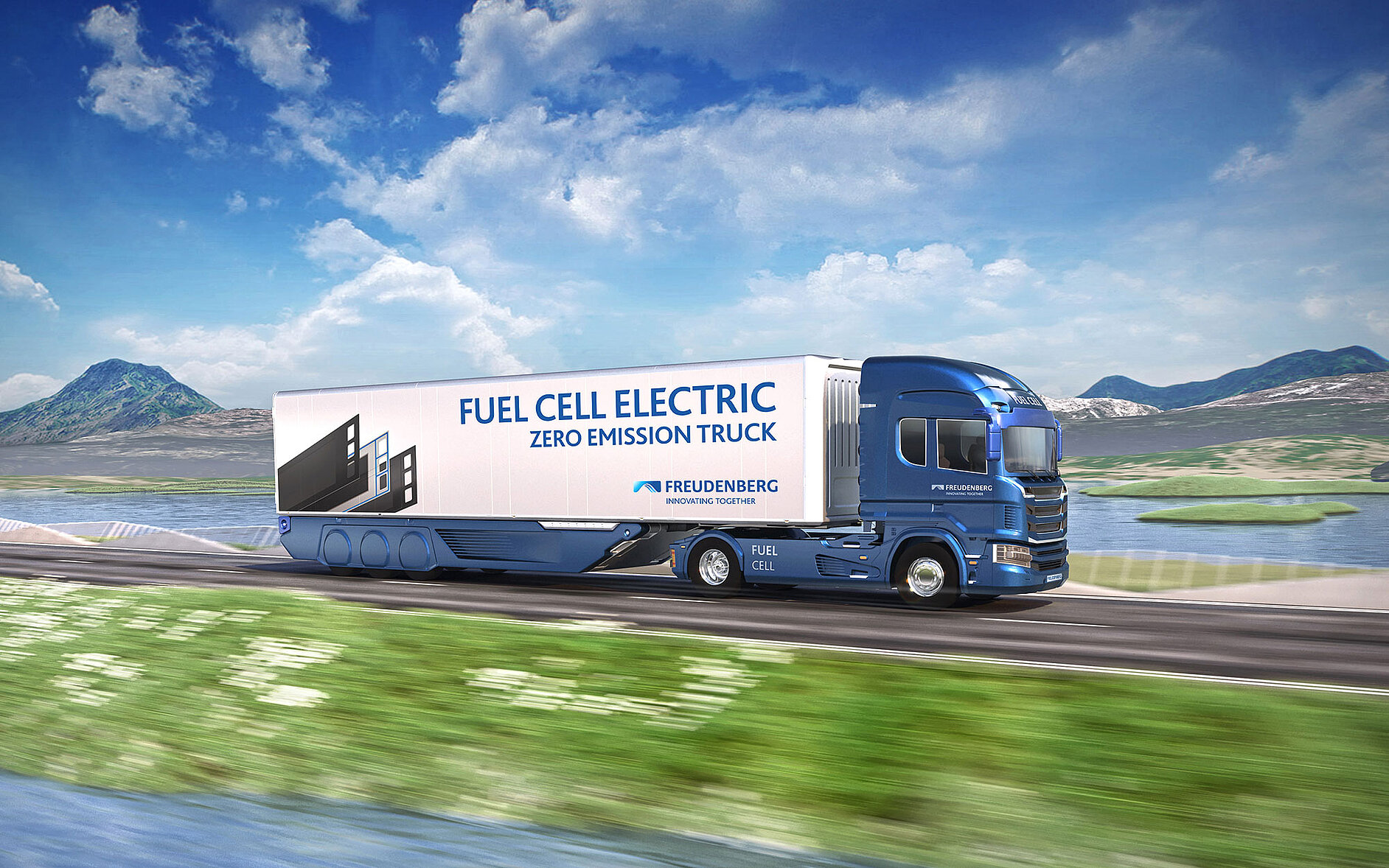 Electric coaches with fuel cell drivetrain
A project that FlixBus, Europe's largest supplier of long-distance coach travel, and Freudenberg Sealing Technologies are co-launching is taking the same route: Electric coaches with fuel cell drivetrain.
With drive performance equivalent to today's diesel-powered long-distance coaches, a hybrid system intelligently combines the benefits of both fuel cell and battery. Fundamentally: Freudenberg's battery and fuel-cell systems are modular and scalable and can be designed to meet each application's specific needs.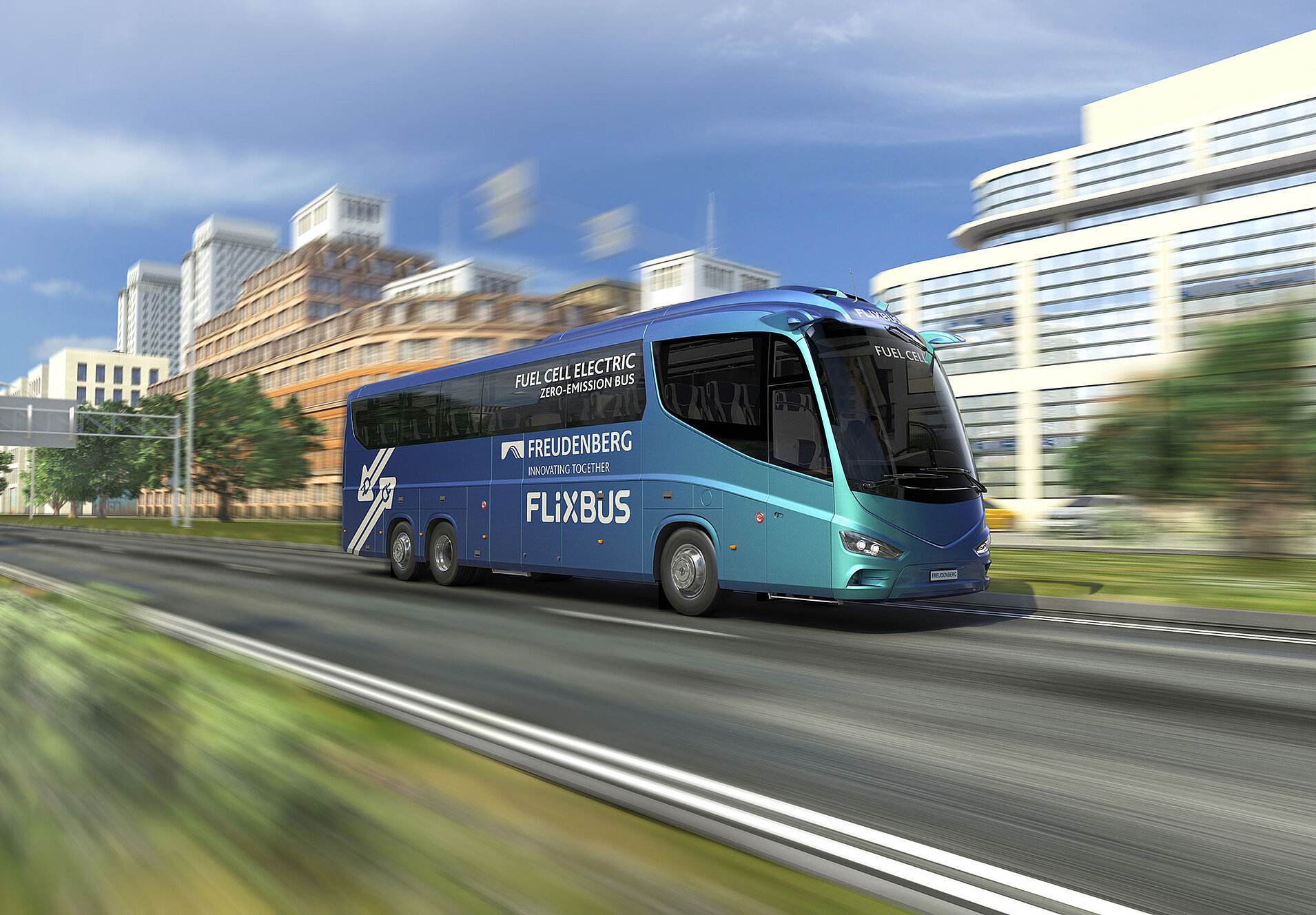 Clean air in shipping
Elsewhere, the tide is also turning: Clean air in shipping. With ever-higher emission standards and the introduction of no-go shipping lanes, the ground is gaining on environmentally friendly zero-emission fuel systems for ferries, tankers, fishing vessels, container ships, and cruise liners.
Vast ranges spanning thousands of kilometers at sea make it necessary to produce the hydrogen required for the "fuel cell power plant" on board – rather than calling at ports to refuel. Freudenberg Sealing Technologies has patented so-called reformer technologies for upstream chemical hydrogen production from methanol or liquid natural gas. Here, too, customers receive the entire electrical fuel system including all subsystems from a single source.
As part of a project involving sustainable, CO2-free mobility at sea, Germany's largest shipyard for cruise ship construction, the Meyer Werft in Papenburg, Freudenberg Sealing Technologies and other technology partners, will be equipping future generations of cruise ships with fuel cell propulsion systems. The days when ship engines fired with heavy oil and blowing clouds of soot full of pollutants from their chimneys may be drawing to a close.