Expertise meets sure-footedness
Expertise meets sure-footedness
Cold, windy and high: Working on a wind turbine above the clouds demands skill and precision. The primary bearings are subject to the enormous forces the turbines must withstand. Innovative high-tech sealing concepts are needed to protect the machine components from the elements, while making sure that the lubricant remains securely inside. Everyone is talking about renewable energy, whether hydro, wind or solar power. Ever higher, larger and more efficient systems are being designed. Every individual component needs to withstand the tougher demands that result, including the innovative wind-turbine sealing solutions from Freudenberg Sealing Technologies.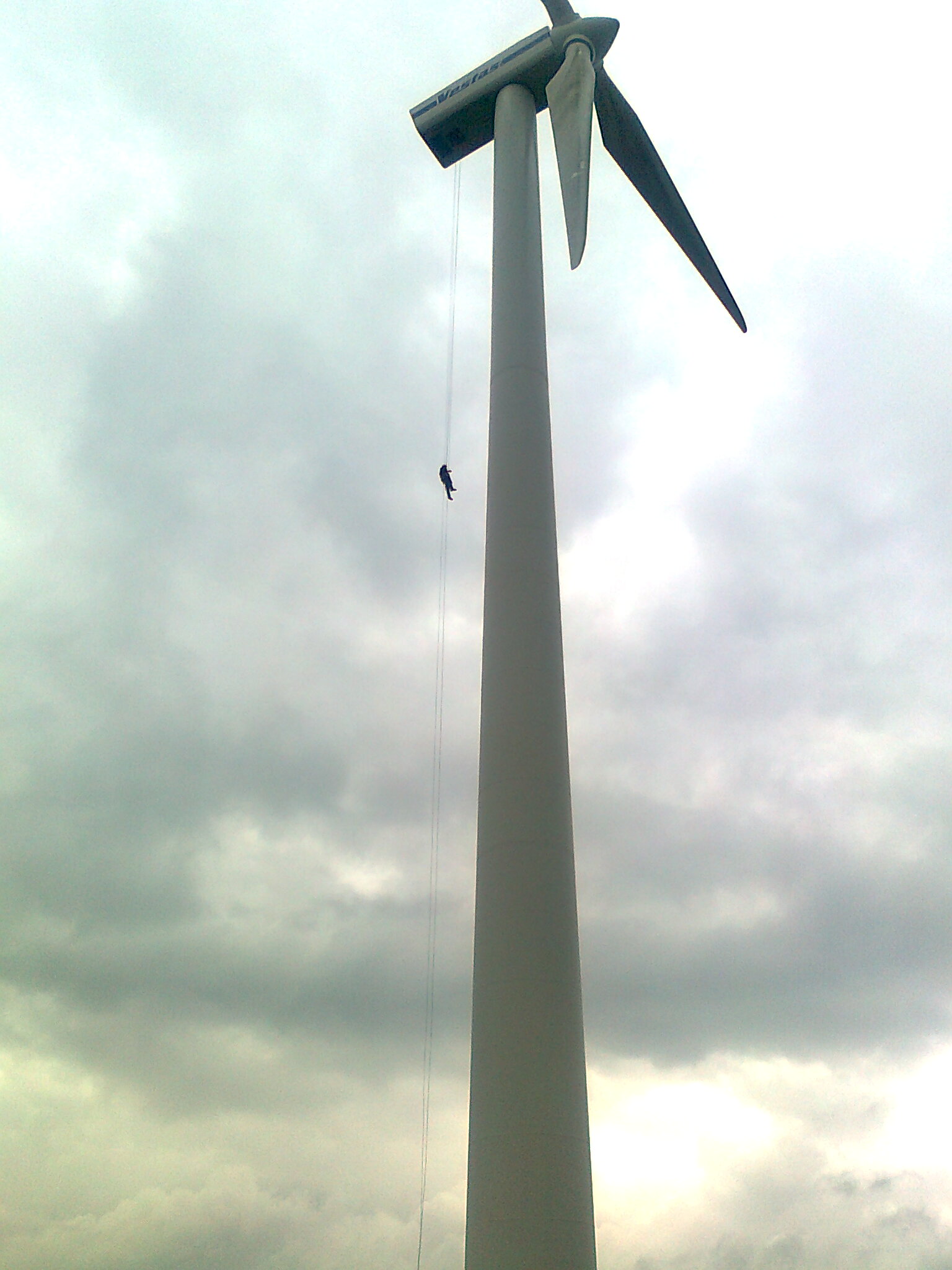 Jens Kuhnert, Wind Energy market segment coordinator, and application engineer Andreas Koch convert customer requests into complete sealing solutions. Sometimes, the requirements need to be presented in an installation drawing, in other cases seals are developed from scratch and computer simulations used to show how they react to various conditions. Use of standard test benches is limited by the fact that the seals are simply too large. Failure analysis and customer training are also part of their jobs. "We supply almost all German and European manufacturers and have two groups of customers: wind turbine manufacturers and those producing the primary bearings. Our seals always perform a special task: They sit in the primary bearings of the turbine and protect them from environmental factors, temperature fluctuations and variations in pressure," says Andreas Koch. The most important factor here is that they seal off the bearings so that none of the lubricating grease can escape.
To install and service seals with a diameter of up to five meters, Jens Kuhnert and Andreas Koch received working at height training that allows them to provide excellent services - at dizzying elevations. You need training to work at 100-meter heights: The safety standards are high. In an emergency both must be able to abseil from the wind turbine. The additional training offers unique benefits: "Every time we prove our customer focus. We also gain potential customers' trust. Wind turbines are getting ever larger, their demands more complex. We can provide better service if we are on site and examine the turbines ourselves and help throughout the entire project," says Koch. Word has gotten around - their work brings them to customers and their wind farms all over Europe.
Every time we prove our customer focus. We also gain potential customers' trust.
Andreas Koch, application engineer at Freudenberg Sealing Technologies
Freudenberg Sealing Technologies successfully developed the new "Seventomatic" shaft seal as a solution for grease-lubricated bearings with shaft diameters of 1.5 meters and more, which can be used to seal internally and externally and can also withstand strong shaft runout. Instead of the previously used radial springs, these now have a meander spring, making the seal less sensitive to large movements of the primary bearings. The greater flexibility enables better compensation exceeding several millimeters and prevents unwanted leaks. The seal profile resembles the number 7, thus serving as the inspiration for the name Seventomatic.
In their interesting routine, customer contact is always at the forefront. (Photo: Michaela Kuhn)

Quality is particularly important when working with seals. (Photo: Michaela Kuhn)

The colleagues have a spectacular view from the roof hatch. (Photo: Jens Kuhnert)
Wind turbine capacity is constantly increasing. Ever larger turbines are being built specifically for offshore installation. Eight megawatt capacities and 180-meter rotor diameters are the current maximum. Only limited simulations can be made of the influence increased traverse forces have on the structures and drives. It does not make it easy for seal suppliers to gain wind turbine manufacturers' trust. "Many have already been disappointed, such as the use of inappropriate materials in the primary bearings," says Koch. Particularly in such cases, Freudenberg can provide ad hoc help. "We not only deliver a quick replacement but can also supervise the installation of new seals and train service technicians on site." In the many times they helped with installation, Kuhnert and Koch have proven that seals can be successfully replaced while in the nacelles, directly on the shaft and without any complicated disassembly. Word of this has also gotten around the industry.