Two sides interacting
In close cooperation with the customer, the technical nonwoven Evolon® has found a new use as a breathable protection suit
The human body needs solid protection in many situations – making protective suits vital for work in difficult environments such as labs or clean rooms. Requirements are constantly rising, as standard suits often have disadvantages: They are uncomfortable and impermeable to air.
Freudenberg Performance Materials and long-term partner Glatzeder developed the SafeComfort chemical protection suit, which thanks to Evolon® is a true all-rounder. The material is evenly processed, does not tear and has a soft surface. And on top of these benefits, the material is also uniquely breathable – and precisely in places where these qualities are needed in protection suits.
The SafeComfort suit is comfortable for work in clean rooms.
Protection can be so light
In places where users sweat heavily in standard suits, the Evolon® inside of the new SafeComfort is there to help. It can absorb four times its own weight in fluids and is also breathable – there is no comparable product on the disposable chemical protection suit market. The interaction with the intelligent outer surface of the protection suit is also notable: It directs the absorbed fluid outwards. At the same time, an extremely thin coating protects the body from particles and potentially harmful fluids.
SafeComfort does all this despite a low weight of only 200 grams. The protection suit is worn wherever hazardous materials must be prevented from reaching the body or where the environment cannot be contaminated by bodily particles. Some examples include power plants and labs along with clean rooms – where strict production and working regulations apply.
The Evolon® used in SafeComfort also has the "Ökotex Standard 100" Class 1 seal of approval and is thus harmless to health and certified for sustainable processing along the entire value added chain. The protection suits are manufactured without solvents and with green electricity are some other sustainability benefits. Even the wastewater from production is treated and re-used, explains Elisabeth Kamin-Schulz, Sales Manager Evolon® at Freudenberg Performance Materials.
Together – back then, today and tomorrow
SafeComfort is not the first product that Freudenberg Performance Materials developed together with Glatzeder, others include cosmetic tissues, sport towels and anti-allergenic bedding. Evolon® has been used in many Glatzeder products. The long-term partners are currently working on further innovative applications, using Evolon® New Generation, the latest advance in the microfilament technology.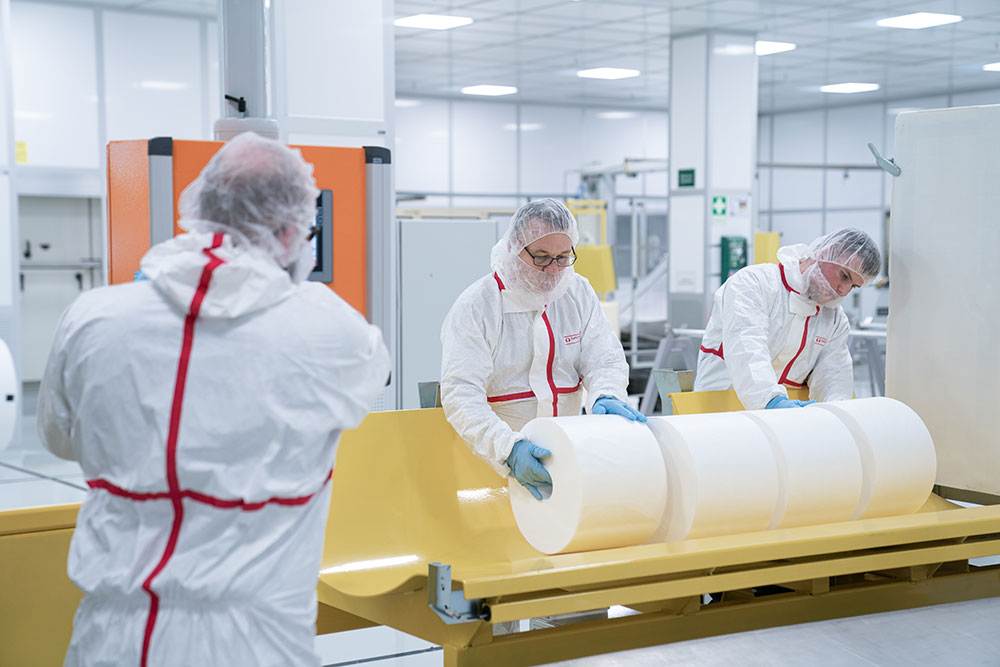 Freudenberg Performance Materials employees Yunos Yöndem, Martin Stumpp, Leon Kristo (from left) carry out a visual inspection in a clean room.
Freudenberg Performance Materials employees Yunos Yöndem, Martin Stumpp, Leon Kristo (from left) carry out a visual inspection in a clean room.
What is Evolon® and how is it created?
Evolon® is known in the textile industry for its excellent textile and mechanical properties. Evolon® is manufactured using filaments - fine, thread-like structures. Using one-of-a-kind technology, polyester and polyamide granulates are transformed into endless star-shaped filaments. They are made using a spunlaid process. These are then split under high water pressure, swirled and bonded. The result is a unique textile material with a microfilament structure that has a weave-like robustness and softness, opening fully new markets and applications.