ChemTrend - Dilution Monitoring
ChemTrend - Dilution Monitoring
It all depends on the mixture
Release agents are important in industrial production. However, you need the right mixture between the chemicals and water otherwise there can be problems. Freudenberg's Chem-Trend has developed a monitoring system for the Internet of Things that effectively anticipates such problems.
We've all had it happen to us in the kitchen: Cake batter gets stuck to the pan, and all your hard work is gone. The consequences for the industry when "baking" parts are even more serious. If molded products remain stuck in the forms, this can severely damage expensive production machines or result in high rates of scrapped parts as well as cause production stoppages. Release agents prevent this from happening. These are highly specialized chemical products each designed to work with specific materials in a specific process and that provide for a multitude of actions and results beyond just releasing a part from a mold. Without them, many every day articles could not be manufactured, including those made from aluminum, polyurethane, rubber, epoxy, fiberglass, wood or carbon fiber.
Release agents that Freudenberg Group subsidiary Chem-Trend manufacture are often delivered to users as a concentrate. They then dilute them in their factory according to their needs; in some cases, they make up less than one percent of the overall mixture. The danger of making a mistake in the mixture is very high. If the concentration of the chemicals within the release agent is too high or low, the product could be damaged, or production even stopped. "Monitoring this process used to require regular sampling," explains Rob Curtis, the company's Director of Global Engineering. A precise measurement was only possible in the lab and took a lot of time. Hundreds or even thousands of parts could be manufactured before the results were available, without knowing whether the mixture ratios were within the specifications. This meant a large amount of waste.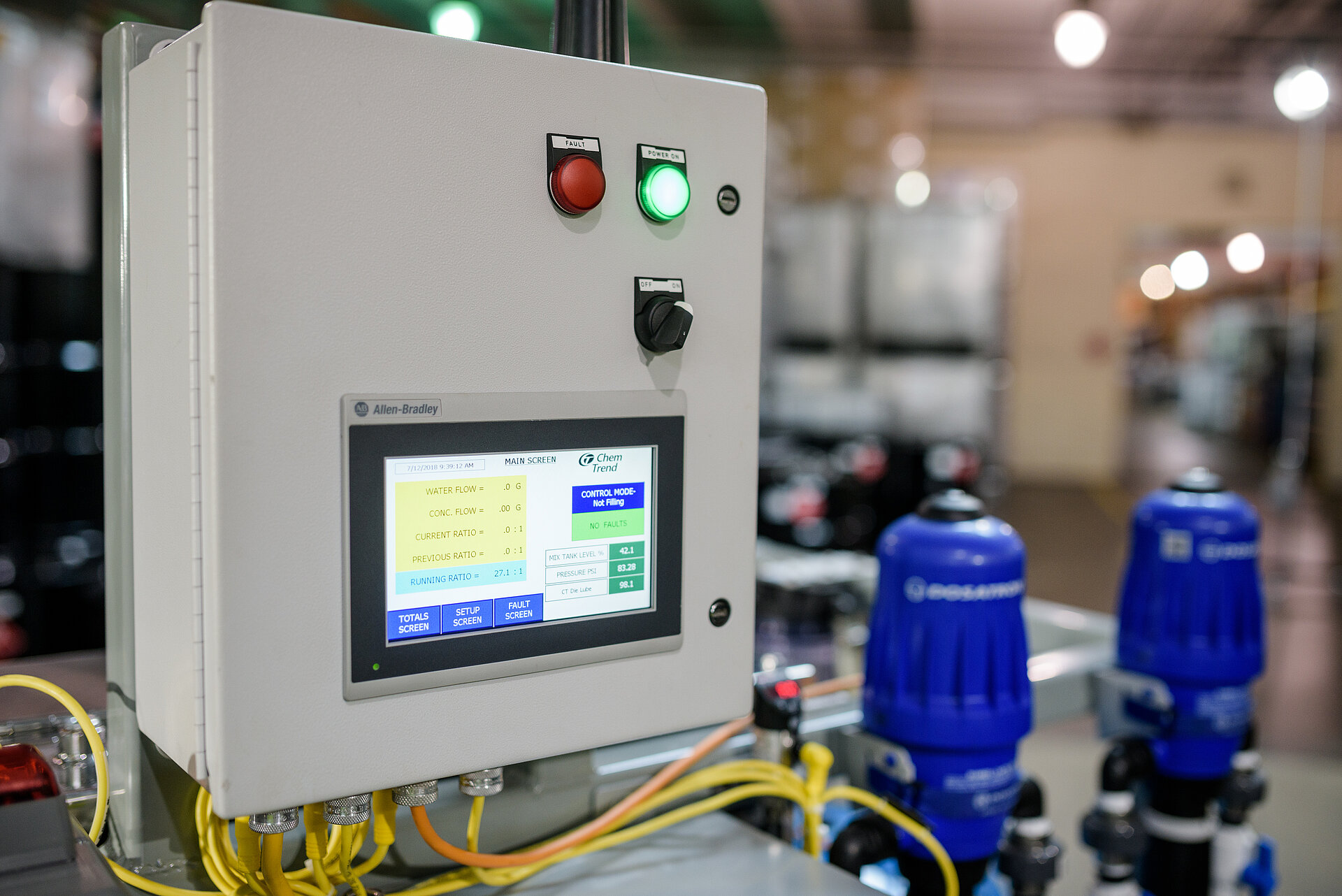 Real-time digital monitoring
But those times are past. Curtis and his team have developed a computer-aided monitoring system for release agent dilution rates. Using an application called "DilutionIQ" that was developed, engineered and programmed in-house, customers and Chem-Trend have real-time, remote access to current system measurements during production as well as the full data history. An app allows this to be done at any time and place via cell phones, computers or tablets. Should there be any deviations from planned values, the system will automatically notify the user. "DilutionIQ enables customers to be sure that their process is under control and helps prevent expensive damage or production downtime," says Curtis summarizing the benefits. The development of such fully digital and networked solutions is being categorized more and more under the general term, "Internet of Things/IoT". "When we started working on the project in 2012, 'IoT' was still relatively unknown," recalls the engineer. "We had to master a steep learning curve."
Chem-Trend did not have a provider with a turn-key solution. After an internal project group found that real-time dosage detection can work reliably, a suitable partner was needed for the transmission and visualization of the measurements. These partners had never worked together beforehand, and everyone was faced with completely new project areas.
You need to look beyond the hype: IoT projects are not easy, at least not yet
Rob Curtis, Director of Global Engineering
"Even though we all spoke English, we still had the feeling that we needed an interpreter to understandably communicate our individual areas of expertise," explains Curtis looking back at early difficulties. While mutual understanding among the participants grew relatively quickly, other challenges took a lot more time. After all, customers back then had a much harder time transferring sensitive product data to external servers or clouds than they do today. Linking the application with the individual customer sites and their high firewalls while maintaining the highest data protection standards took years. "You need to look beyond the hype: IoT projects are not easy, at least not yet," says Curtis in summary.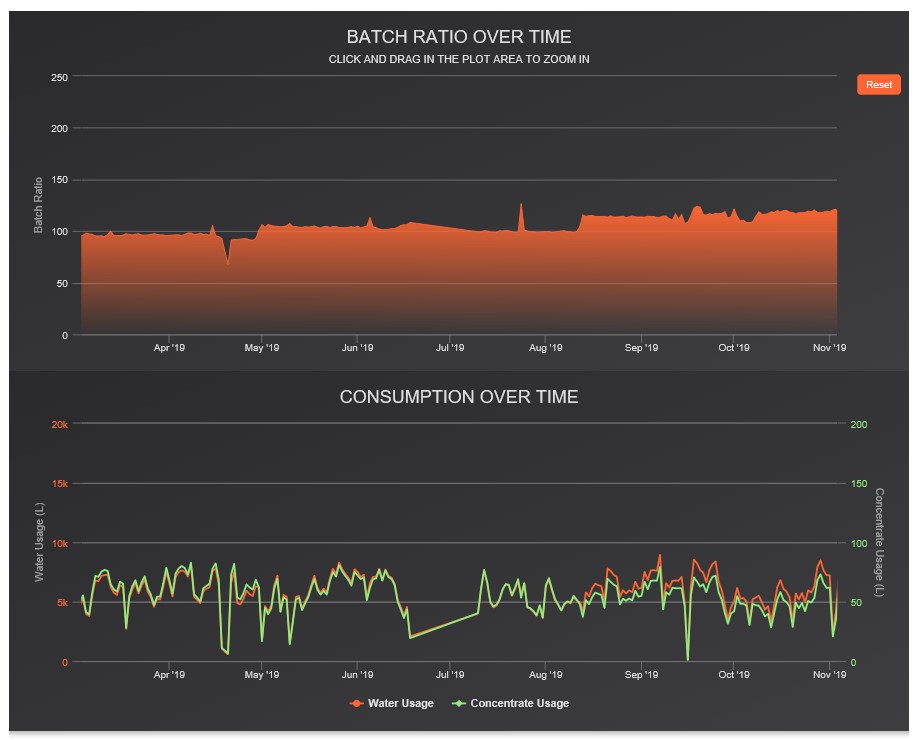 Shaping the Internet of Things together
Since 2016, DilutionIQ has been in series production and customers have been using it since early 2017. As always, Chem-Trend has created a unique proposition distinguishing it from other suppliers with its measurement system. "It strengthens our position as a technology leader in multiple manufacturing sectors, especially within the die casting industry," says Curtis. He now has over sixty such installations in North America and Europe, particularly among the producers of household goods, automotive suppliers or tire manufacturers.
However, plans are in place for a gradual roll out of DilutionIQ around the globe. Chem-Trend also has plans to expand the availability of the monitoring technology system beyond measuring dilution ratios and is currently developing a second innovative system which it plans to introduce in 2020. The IoT projects at affiliated companies in the Freudenberg Chemical Specialities Business Group also benefit from the development experience of Curtis and his Chem-Trend team. "The tasks are actually very similar for everyone: You use sensors for data collection and visualization during our customers' production processes." Both Klüber Lubrication and SurTec are currently working on solutions that will be processed over the medium term from a single cloud platform. In the near future, Freudenberg customers can look forward to additional digital tools that they can use to optimize their manufacturing processes.