A clean solution for waste water
Water is a precious and valuable resource, even for industrial companies. The Freudenberg Group's Aquabio subsidiary develops systems that companies can use to efficiently purify, treat and recycle their wastewater. Benefiting both the environment and their bottom line.
Oceans, lakes, rivers: Water covers two-thirds of the earth's surface. H2O is everywhere - and precious. Access to clean drinking water or hygienic sanitary facilities is an enormous problem for some two billion people in developing countries - and often nearly impossible to obtain. Other parts of the globe have plenty: Germans consume some 4,000 liters of water a day. This includes water to manufacture the goods that we use, eat and drink every day. For example, the production of one kilogram of beef consumes over 15,000 liters of water and even a cup of coffee requires 140 liters.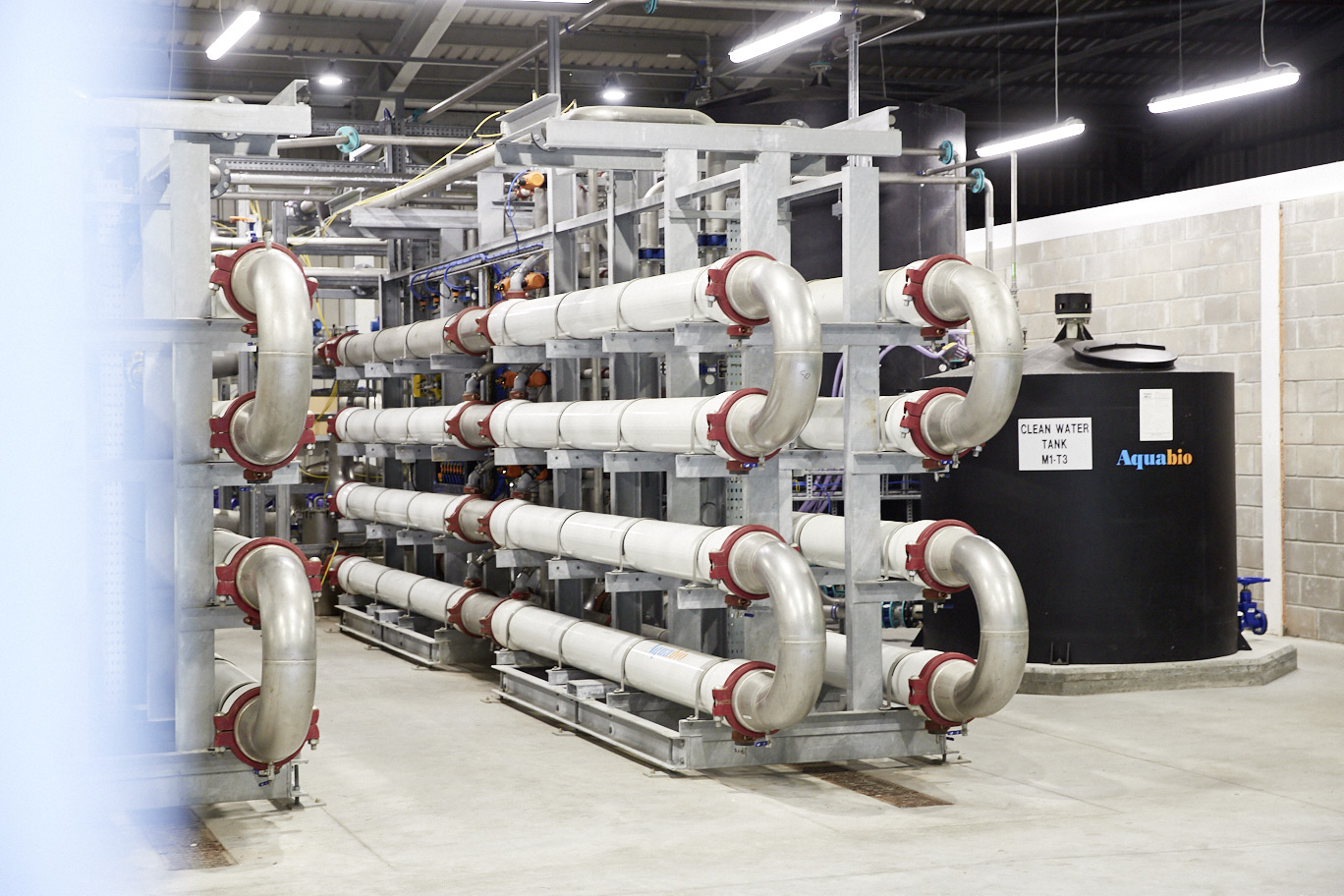 The wastewater flows through the pipes and is gradually recycled.

So, water is an economic factor and companies are increasingly aware of this. Policy makers in many countries have implemented ever stricter regulations governing the use and purification of H20. "Increasing water efficiency in industrial companies is garnering more and more attention," says Terry McCarthy, CEO of Aquabio in the UK, which has been part of Freudenberg Filtration Technologies since 2013 and is a European market leader in the purification, treatment and recycling of industrial and wastewater. His impression: "Companies want reliable, affordable and energy efficient technologies that let them be responsible and clever in their handling of water."
Since 1997, Aquabio, which currently has 30 employees, has implemented and installed 30 systems in companies from various industries – including food and beverage processing, distilleries and chemical processing. The company relies on closed-loop systems that use a mixture of various technologies, such as membrane bioreactors, anaerobic fermentation, co-generation systems as well as the relevant control and communication systems. "We take a process-oriented approach," says Terry McCarthy. "We determine the most suitable technology mix for each customer and implement it."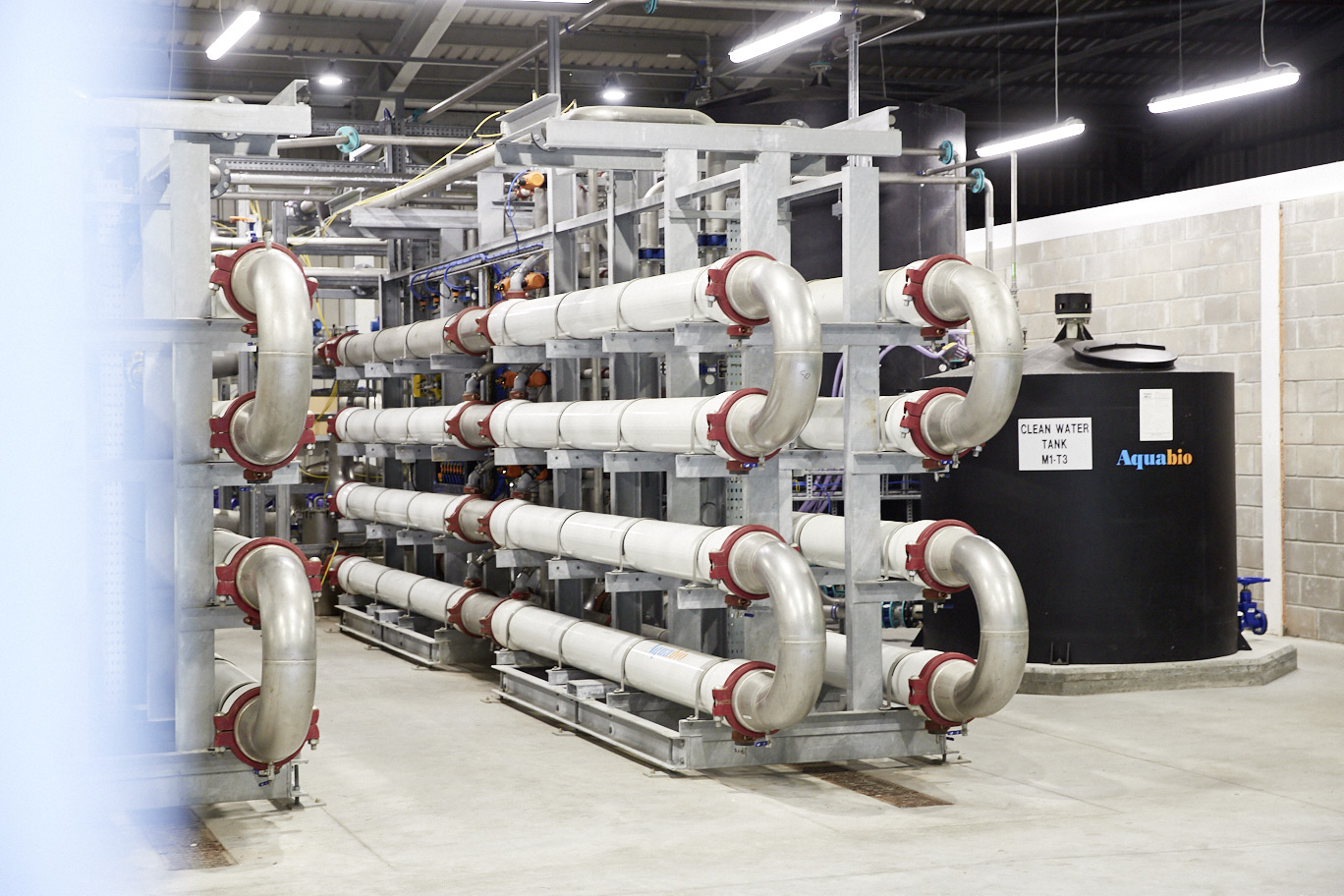 The wastewater flows through the pipes and is gradually recycled.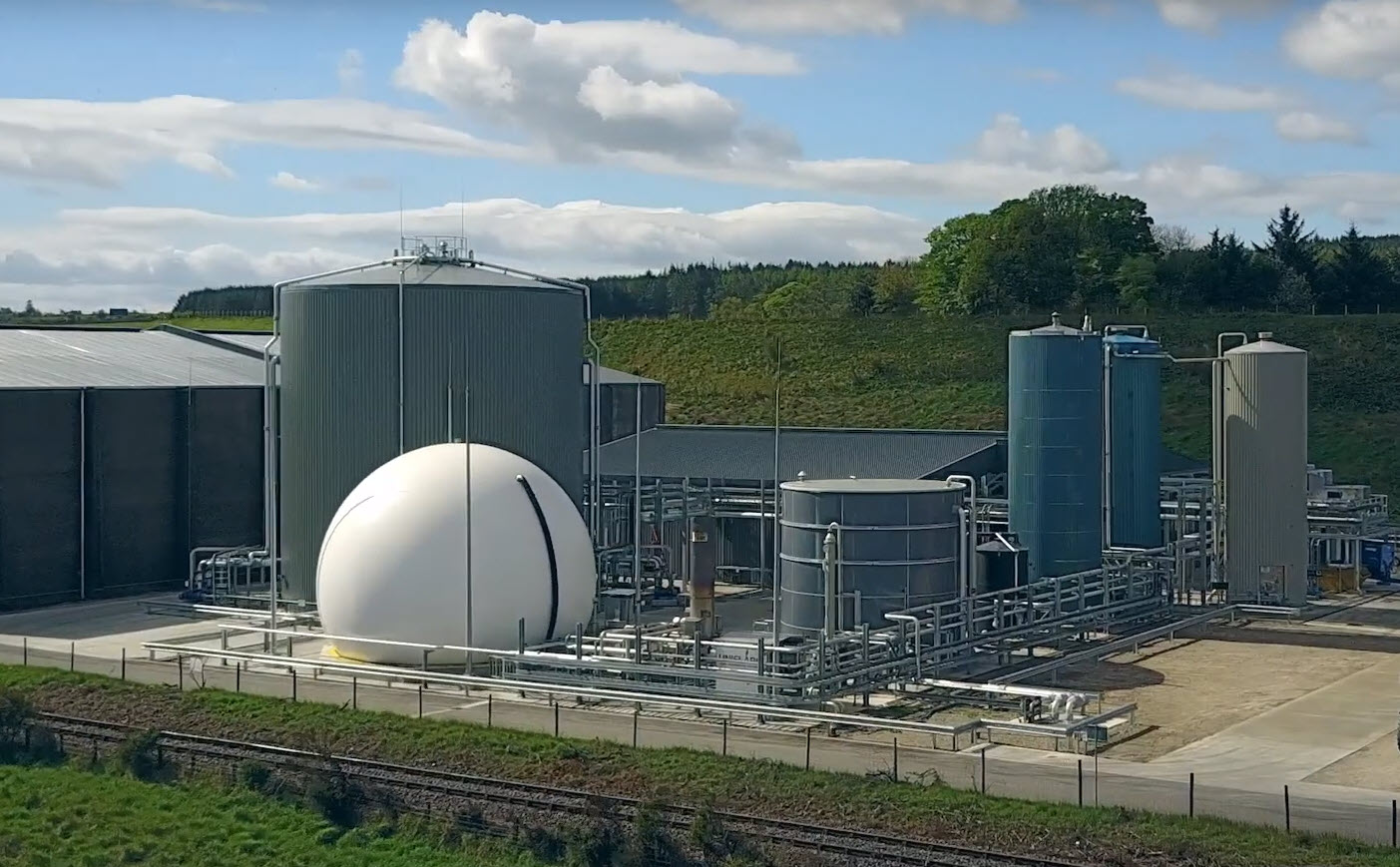 The whole plant consists of a closed loop system where wastewater can be cleaned and then reused.
Larger companies in the food industry, such as distillers and dairies, are required to have their own wastewater treatment facilities, as their production generates several million liters of severely contaminated wastewater every day with a large variety of pollutants and solid waste particles, such as fats and oils. Anaerobic treatment, which functions without the energy intensive and costly addition of air/oxygen into the wastewater, is an attractive option.
Water from production is first sent into a bioreactor, where anaerobic bacteria produce methane-rich biogas. Water and sludge are then separated in several cycles with the help of ultra-filtration membranes. Finally, various physical and biological processes are used - such as reverse osmosis or ultraviolet light - to further treat and disinfect the water. If necessary, a small amount of chlorine can be added. Where required, the method can be used to produce drinking quality water.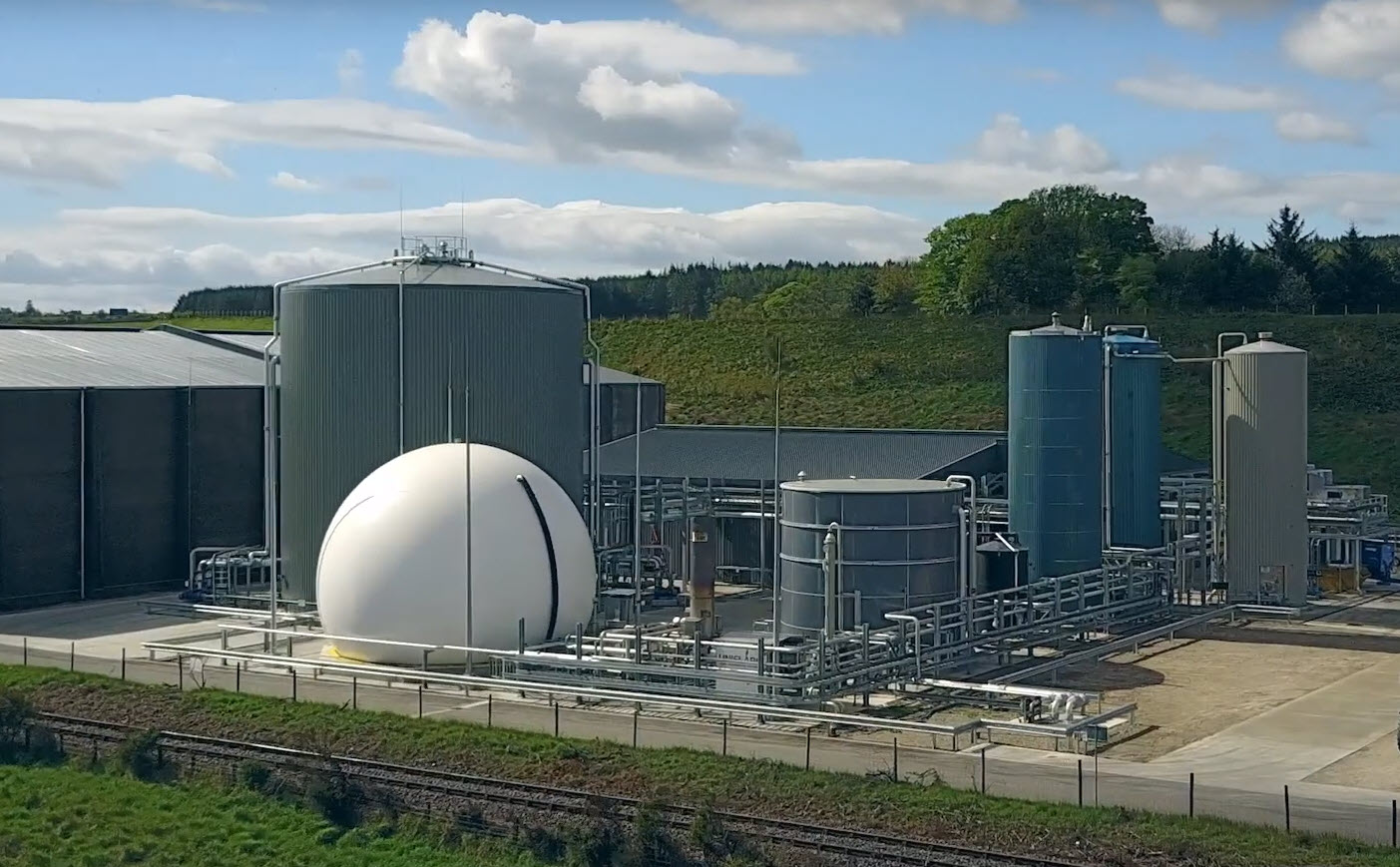 The whole plant consists of a closed loop system where wastewater can be cleaned and then reused.
"The results are truly amazing," says Terry McCarthy. "And they extend far beyond water treatment per se." Up to 95 percent of the consumed water can be fully and safely recycled. Even the treated sludge can often be recycled: In a distillery, the treatment process generates organic fertilizer that can be made available to local farmers. Also, the methane-rich biogas from the bioreactor can help significantly reduce the plant's energy costs. If used as a fuel, the company can then reduce its fossil fuel purchases. Production and recycling form a feedback loop that benefits both the company and environment.
The reuse of wastewater can be very extensive, as seen in the Aquabio recycling solution installed at "Cucina Sano" in Boston, Lincolnshire. Italian ready-made meals produced at food processor Bakkavor's site are then sold at retailer Marks & Spencer. The fully automated site has been gradually expanded over the past ten years and the wastewater is thoroughly cleaned and used throughout the entire company. It is returned to the factory and reused in the production process and office services.
"Technology is not an end in itself. The fulcrum of every system are the customer's needs and goals," says Terry McCarthy. A standardized technological solution is not desirable or recommended, as the production, product and industrial design requirements are too different. "We design and develop a system in close coordination with the manufacturing company," says the Aquabio manager. "In the end, the decisive factor is an individual process solution - a reliable, affordable package that is efficient in daily operations."