When scientists and entrepreneurs are one and the same
When scientists and entrepreneurs are one and the same
With scaffolene®, Freudenberg is breaking new ground in the targeted treatment of chronic wounds. The innovative nonwoven made from bioresorbable raw materials can be metabolized in the body. Medicines, enzymes and growth hormones incorporated into the nonwovens, are delivered directly to the wound to be treated. Dr. Denis Reibel heads up the project and is fascinated by the new opportunities as well as the broad range of applications the product brings with it.
It all began exactly ten years ago. When a customer's request for a medical gelatin nonwoven landed on the desk of Dr. Denis Reibel, who at that time was still head of fibers and polymers at Freudenberg Research Services, he and his colleagues came up with a breakthrough idea. What if there were a bioresorbable nonwoven capable of delivering medicines and enzymes precisely to the place in the body where they are needed? Together with two other employees, Reibel, now head of scaffolene® at Freudenberg Technology Innovation, took over the development of a small start-up as part of a new business development project.
We've learnt a great deal and we had to swallow a number of setbacks.
Dr. Denis Reibel
Using a rotary spinning process, polymers are processed into the nonwoven without the use of harmful solvents and at low temperatures. The finished product is a true all-rounder: when dry – it's flexible and tear-resistant; when wet - it remains dimensionally stable and can be modeled as required. Scaffolene® nonwovens can thus be easily adapted to all surfaces. Furthermore, water-soluble and water-repellent properties can be discontinued during the manufacturing process or ingredients added in a targeted manner. However, not everything was plain sailing at the beginning. "We've learnt a great deal and we had to swallow a number of setbacks," explains the dedicated volleyball player and father of 19-year-old twins. "But all of us were passionate about the product and strongly believed that it could help people to get better."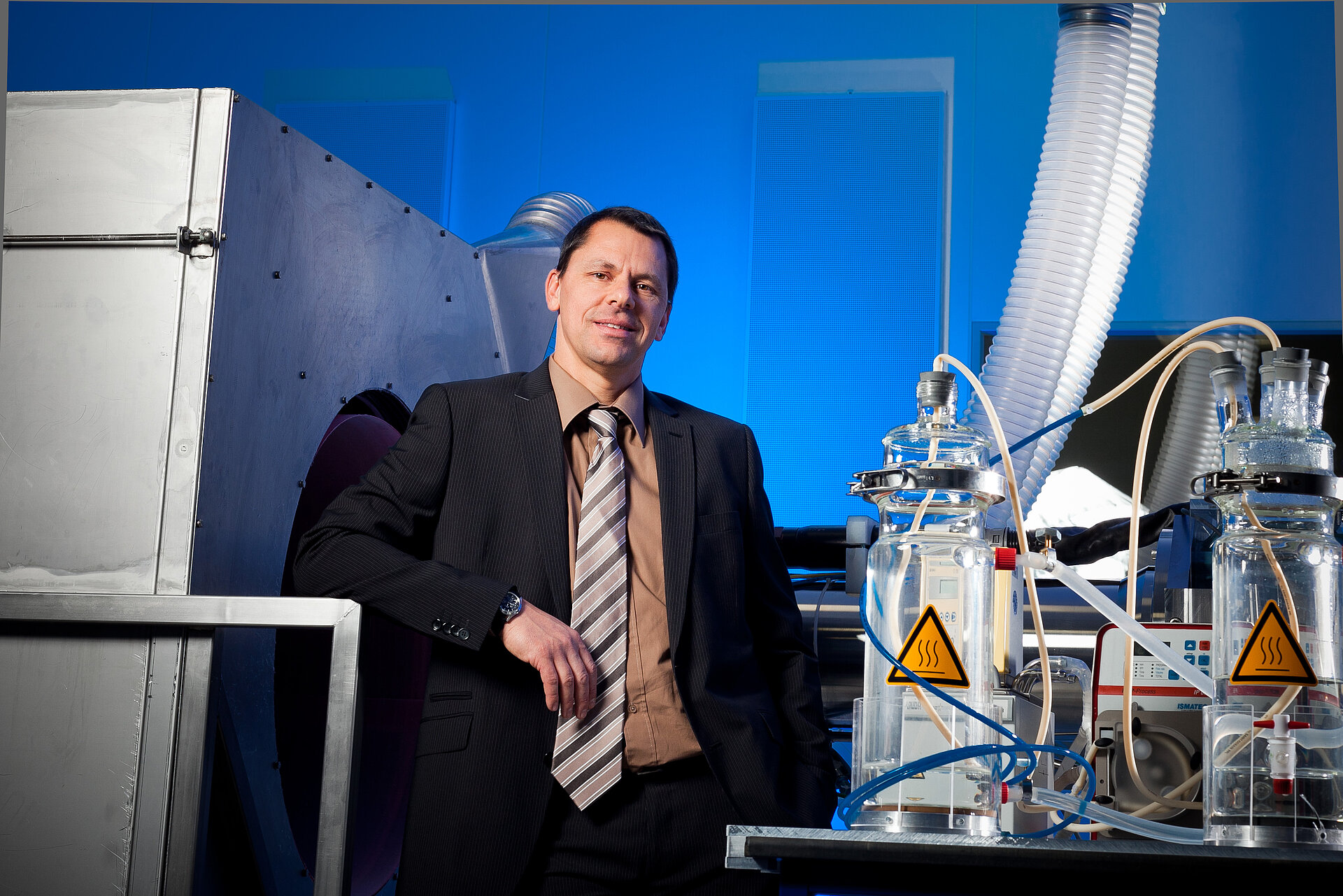 Freudenberg invests in medical technology
Innovations such as biodegradable wound dressings, coatings for implants or seals for medical devices all make the lives of patients and physicians easier. Freudenberg is investing in the expansion of its medical technology division worldwide.​
Our first attempts at such a nonwoven were made using a cotton candy machine. Nowadays, we manufacture in a cleanroom under the most stringent medical quality requirements.
Dr. Denis Reibel
Meanwhile, scaffolene® has been on the market for two years and the team has grown to nine employees. A second product is currently in the final stages of development. Taking on the role of scientist and entrepreneur at the same time is an exciting challenge for Reibel. "Here I can deal with all aspects of a small company," explains the 49-year-old Frenchman. Commuting 130 kilometers every day between Alsace and Weinheim, Reibel, a polymer physicist and chemist, accepts a relatively high price with such a long journey to his exciting job. "From product development issues and customer meetings through to sales and legal issues – no day is like the previous one and always presents a new challenge."
Scaffolene® nonwovens are made from bioresorbable raw materials, which are degraded by the body. For the patient, this has the advantage that no second operation is necessary to remove the product. Medicines, enzymes or growth hormones can all be incorporated into the nonwovens. These are used in the four therapy areas of biosurgery, bioactive wound healing, medication release and regenerative medicine.

One of the many sketches Dr. Denis Reibel and his team used to pave the way for scaffolene's modern cleanroom production.