Second life as roof membranes
Second life as roof membranes
Did you ever think that plastic bottles can help seal roofs? Freudenberg Performance Materials recycles around seven million PET bottles a day in its European facilities. The recycled polyester is used to make nonwoven material to seal roofs.
If you look at a beverage aisle in a supermarket, plastic bottles are everywhere. In the nineties, many well-known brands shifted their production from glass to plastic bottles, as they are more robust, lighter and more affordable. Most are made from polyethylene terephthalate (PET), a recyclable plastic.
93.5 percent of the PET bottles collected in Germany - disposable and reusable - are recycled and made into new plastic bottles, films or textile fibers. Recycling helps the environment, while saving natural resources and energy.
Germans' diligence in collecting PET bottles can be seen in the lines that form at bottle collection machines in supermarkets. A bottle is placed on the conveyor belt, the machine scans the barcode and deposit logo, weighs the bottle, photographs it and compares the silhouette to images in its data set. If all the criteria are met, a crunch then follows. A compactor behind the machine flattens the plastic bottle. Doing so reduces the transport volume, so that more of the valuable PET raw material can be transported and recycled. Re-usable bottles are sorted by hand: They can be re-filled up to 25 times.
Unfortunately, the bottle return process elsewhere is not the matter of course it is in Germany: Around the world, less than half of all PET bottles get a second life. They often land as garbage in dumps or in the ocean - and stay there. A PET bottle will only decompose after 450 years. The bottles clump together in the water with other plastic waste - cups, cutlery, toothbrushes or cosmetic tubes - where they form enormous garbage patches. Sea birds and turtles think the plastic parts are food and swallow them. The trash covers islands and beaches.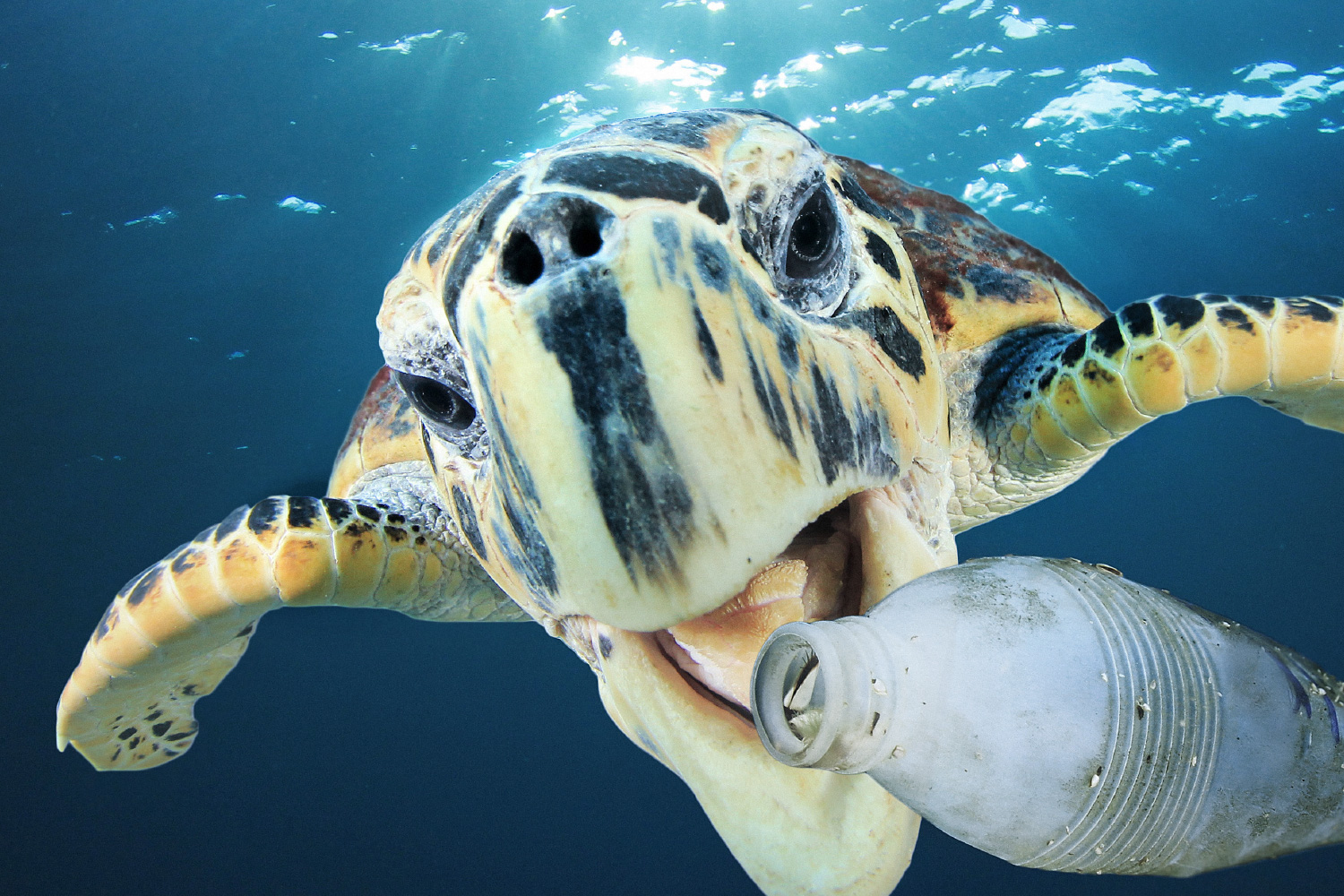 15 times around the Earth
However, plastic bottles can be sensibly recycled. Freudenberg Performance Materials recycles around 2.5 billion PET bottles every year in its factories in Novedrate, northern Italy, in Pisticci, southern Italy and Colmar, France. If placed in a row, they would circle the Earth 15 times. Building the facility made Freudenberg a recycling pioneer.
The company uses the plastic bottles to manufacture nonwovens for waterproof roofs, thermal insulation, furniture upholstery and geotextiles. The materials are made from 100 percent recycled PET and are equal in quality to new material.
We are happy about every PET bottle that comes to us instead of littering the sea.
Hans-Jürgen Berenbruch, recycling manager at Freudenberg Performance Materials in Novedrate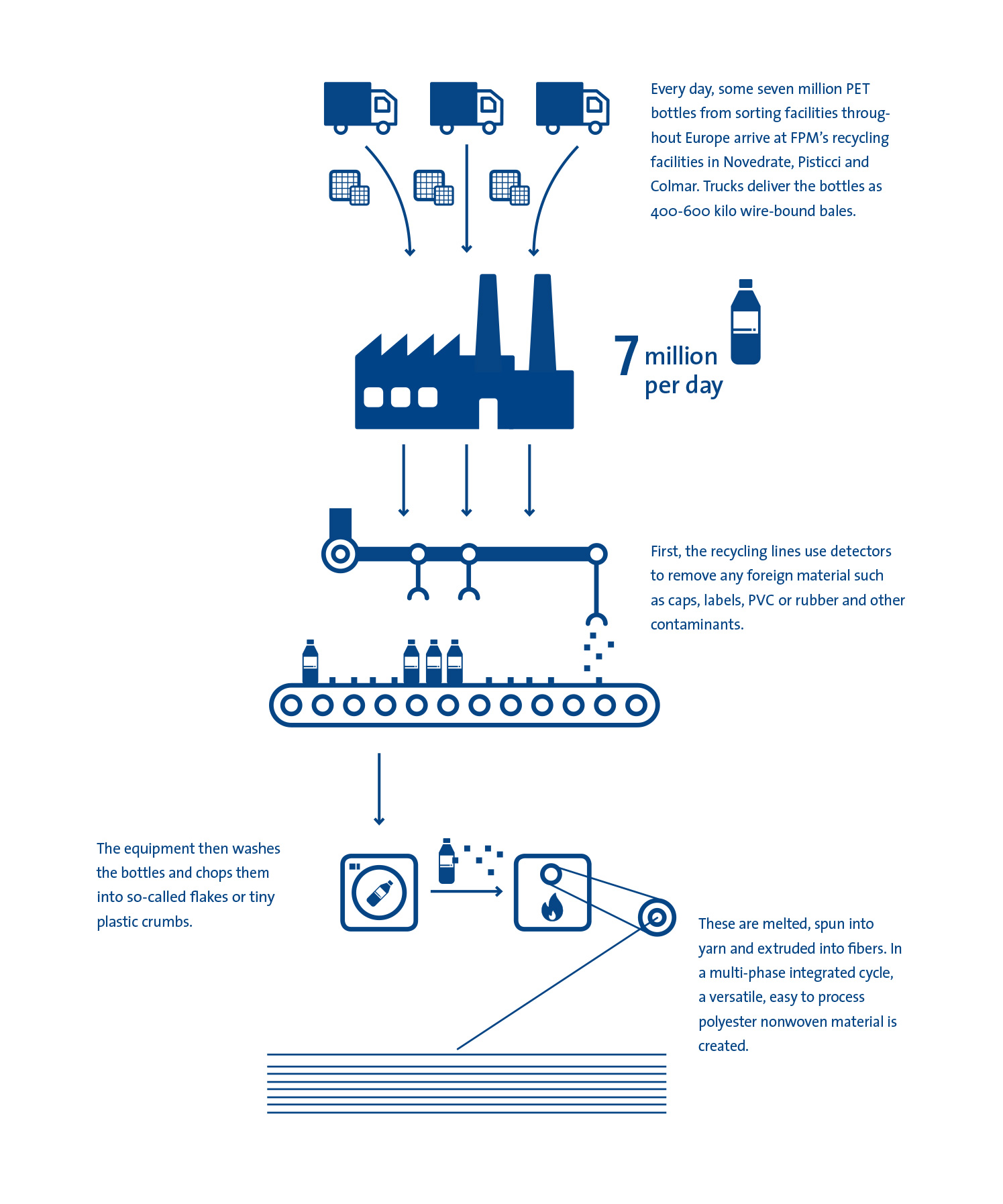 Valuable plastic crumbs
­­Every day, the Novedrate recycling facility transforms around three million PET bottles from sorting facilities throughout Europe into polyester nonwoven material. Trucks deliver the bottles as 400-600 kilo wire-bound bales. First the recycling lines use detectors to remove any foreign material such as caps, labels, PVC or rubber. The equipment then washes the bottles and chops them into so-called flakes or tiny plastic crumbs. These are melted and extruded into fibers. In a multi-phase integrated cycle, a versatile, easy to process polyester nonwoven material is created, which can be used in various applications, e.g. in the textile and household market segments.
The construction industry generally uses it as a backing material, which we then sell on to our customers for use in the manufacture of waterproof bitumen roof membranes," says Lucio Pasini, Head of Business Development and Strategic Marketing at the Construction Division. The nonwoven backing material uses fiberglass filaments to provide longitudinal reinforcement of the nonwoven material. The roof membranes are thus both elastic and stable and can withstand extreme heat. This is important as the material is subject to high temperature fluctuations outside.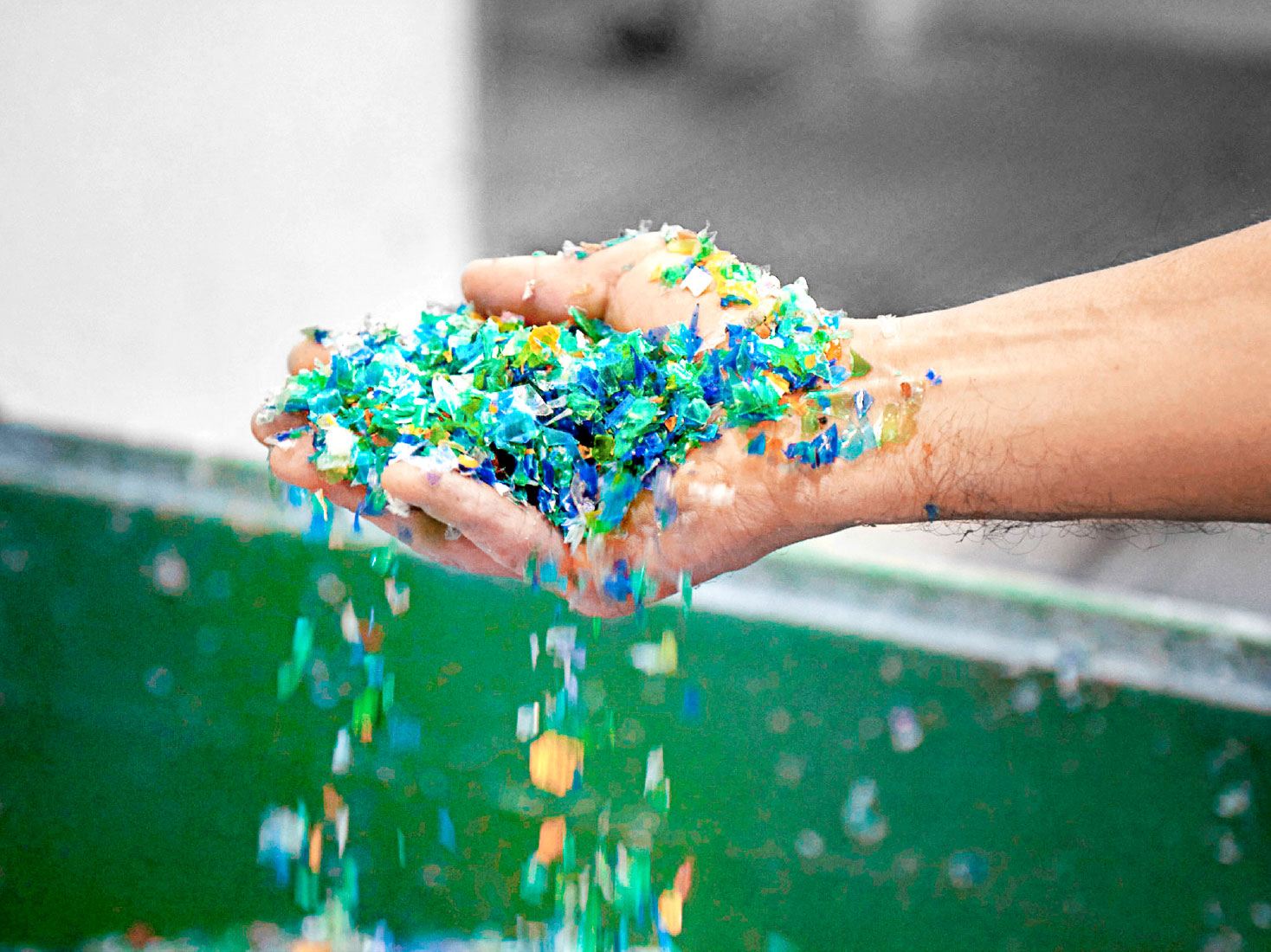 The memory of the roof membrane
Combining the flexibility of polyester with the stability of glass creates excellent runnability, particularly at higher temperatures and for use in high-speed bitumen production lines. In addition, the bitumen membrane creates excellent long-term dimensional stability and endurance. The use of glass reinforcement also eliminates the phenomenon of thermal memory: Once installed on a roof, the membrane will no longer shrink when temperatures fluctuate.
Bitumen roof membranes last more than 20 years on average. Then the damaged roofs are completely replaced, or the damaged points repaired. This is an important advantage of this technology relative to other sealing systems, particularly in maintenance work. Manufacturers can recycle waste from bitumen roof membranes, by grinding the bitumen roof membranes into a powder. This can then be used as a raw material, further improving the sustainability of the product.
PET bottles packed together in 400-600 kilo wire-bound bales.

Every day, the Novedrate recycling facility transforms around three million PET bottles from sorting facilities throughout Europe into polyester nonwoven material.

Indeed the flakes of the PET bottles can be used to manufacture household products such as Vileda brooms, padding for apparel, fiber for furniture or nonwovens that make roofs waterproof.
Less waste, water and CO2
By recycling PET bottles as nonwovens for roof membranes, we are helping reduce natural resource consumption in the construction industry," says Lucio Pasini. "Replacing new raw materials with recycled polyester of the same quality means less waste, lower water consumption and fewer CO2 emissions when compared to the use of new polyester."
Instead of polluting the ocean, plastic bottles get a second life as an industrial product. PET bottles that recently held water, now seal roofs and protect buildings from moisture.