Freudenberg Medical - Composer
The Composer Platform is versatile, opening new opportunities for minimally invasive interventions, e.g. treating cardiovascular disease. It also offers dynamic growth opportunities for Freudenberg Medical and helps customers reduce development times.
At first glance, the approximately 20-centimeter component appearance is not all that impressive, but inside are several spectacular capabilities. A Freudenberg Medical solution since 2017, the Composer Platform is a high-tech tool that a team of engineers under the leadership of Anthony Appling, Senior Director R&D at the site in Jeffersonville, Indiana, developed over a period of two years. It symbolizes the fundamental change medical technology has undergone in the past 30 years. And it also represents a paradigm shift in business model away from fully customer-owned IP and processes to proactively developed proprietary technology platforms enabling us to establish higher value added, long term manufacturing relationships.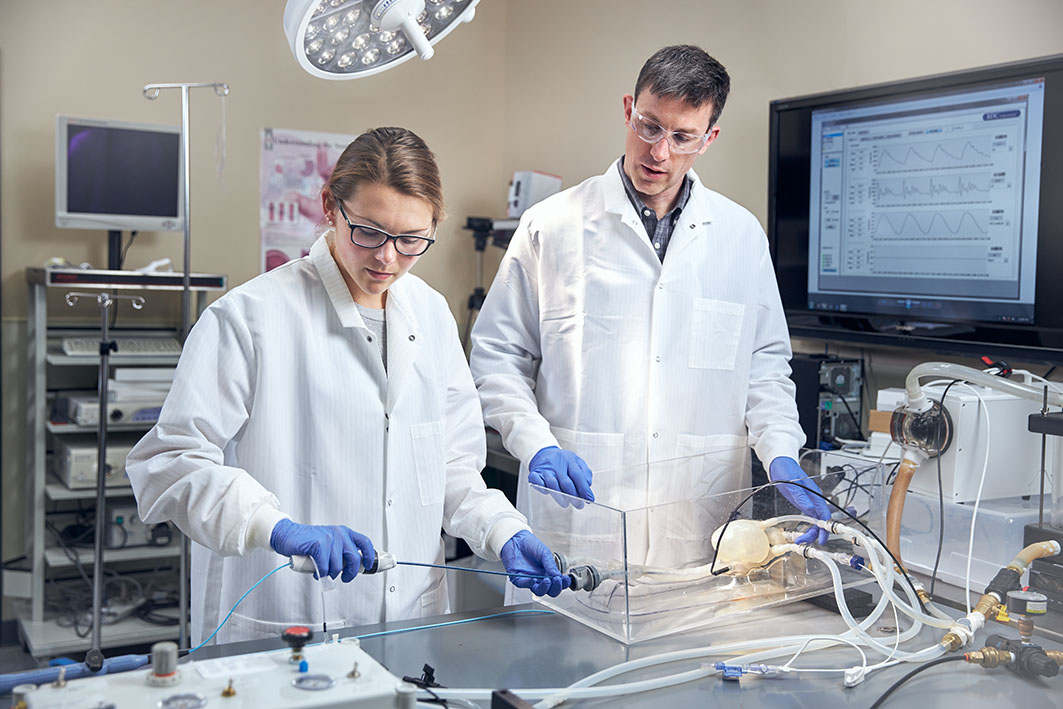 Bailey Davis and Ben Morris during functional testing in the wet lab.
Over the past 30 years, there has been a revolution in therapeutic and diagnostic medical procedures driven by an ever-accelerating pace of innovation and a push towards minimally invasive catheter based devices What was once the sole domain of cardiac surgeons, heart lung bypass machines and open heart surgery to treat cardiovascular disease using coronary artery bypass grafting, can now be done on an outpatient basis by threading a small catheter through an artery in the wrist or groin and deploying a stent to durably prop open an occluded coronary vessel. The Composer is a steerable and deflectable sheath catheter that provides access to the body and supports various diagnostic and therapeutic interventions, allowing physicians to treat more patients more cost effectively with less risk and patients to recover more quickly with fewer complications.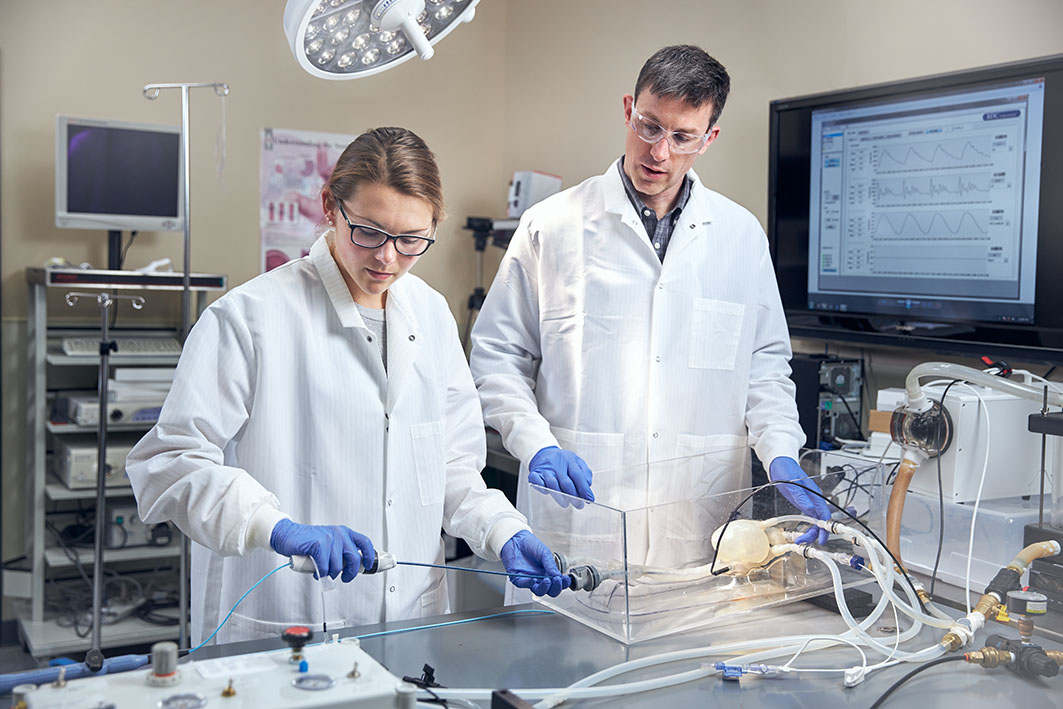 Bailey Davis and Ben Morris during functional testing in the wet lab.
But progress always comes with side effects. "The speed of innovation in the medical device market is dizzying, creating a growing commercialization gap," says Anthony Appling. Newly developed device launches cannot keep pace with new concept ideas, which is the inspiration for the Composer. After all, it is not merely a "steerable access for diagnostic and therapeutic interventions," as per the official device name category, but also provides a private-label, finished, medical-device solution for customers who need their own branded steerable introducer to quickly fill a strategic gap in their product portfolio.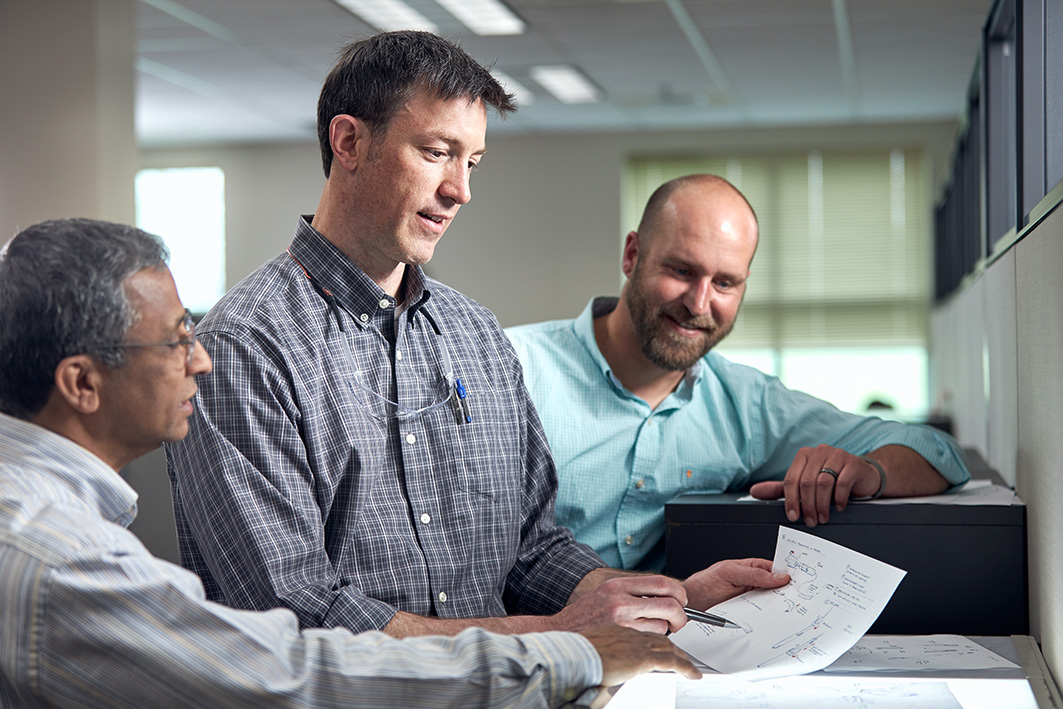 Indi Gunasekara, Ben Morris and Cody Wetzel (left to right) examine an early Composer design prototype.
"Development is accelerated for all stakeholders, and development costs are reduced," says Appling summarizing the benefits. Various expansions can be added to the Composer, making it suitable for a variety of applications. "The focus is supporting two fast-growing cardiology disciplines; structural heart and electrophysiology," says Appling describing Freudenberg Medical's plans. So, the Composer platform provides defection and deployment support, e.g. for treatment of cardiac arrhythmia by an electrode catheter as well as for positioning and deployment for cardiac implants.
Versatile usage, sustainable manufacturing
Thanks to its clever device design, the Composer gives Freudenberg access to an in-house patented technology platform, enabling a broad range of opportunities. The invention has already opened up twelve new product-development projects with Freudenberg business partners. "The design is unique among existing products, as it can be easily equipped for various catheter designs and sizes," says Bernie Kaeferlein, who is responsible for commercializing the Composer, when describing the device's unique features.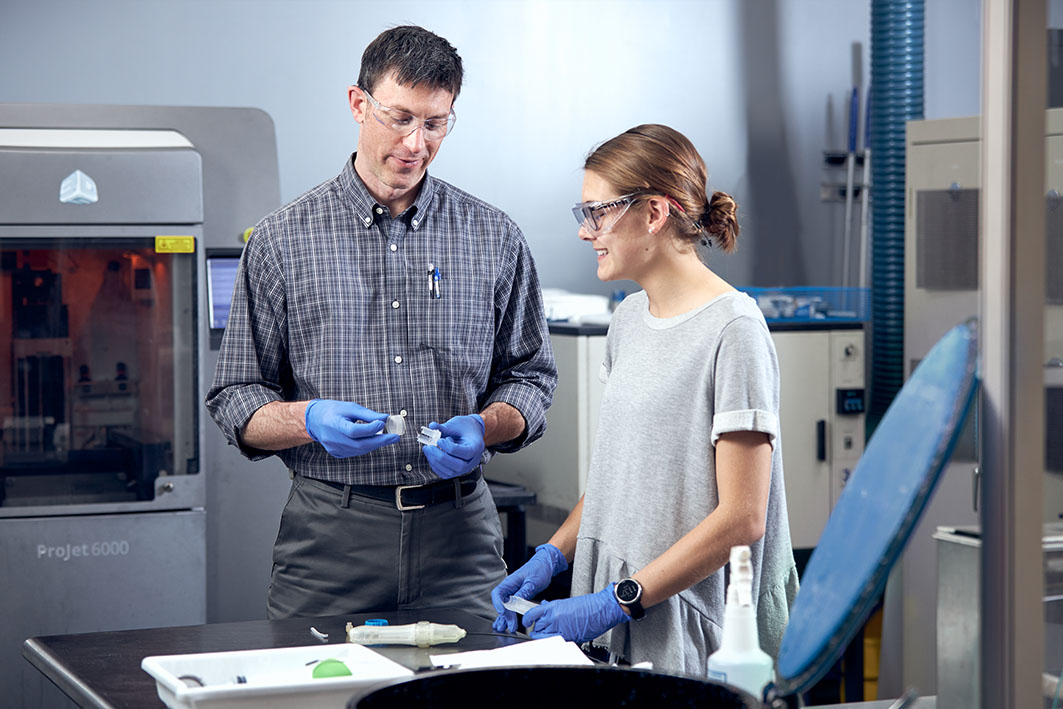 The modular and low-part-count handle was particularly important for a strategic sales partner, with whom Freudenberg will cooperate for at least seven years. The company is a leading re-processor of single use medical devices, currently evolving their business model to sell their own branded devices. "We adapted our final device for them to support handle reprocessing with a new, drop-in shaft assembly that helps reduce medical waste while retaining full device performance. This reduces waste in an area where products are normally designed for single-usage and disposed of after surgery," explains Anthony Appling.
This way Composer helps maintain the guiding principle of Sustainability, which Freudenberg strives for with all its innovations.
The US team benefitted from in-depth material expertise that is available around the globe. Appling uses material development in Germany as an example. "A special coating was needed for a support mandrel. Numerous trials were required to prove that no particles would contaminate the product and thus the patient's body." The knowhow and cooperation of the various Freudenberg experts has created a true all-rounder.