EagleBurgmann, Freudenberg Sealing Technologies, Klüber Lubrication, Freudenberg Technology Innovation - Atomistic Simulation
Into the heart of a material
Thanks to atomic simulations, Freudenberg is better understanding how to optimize friction in seals. The approach is sustainable, particularly in sensitive industrial areas, as illustrated by a successful project for a power plant operator.
What do a car driving on a wet street, the loud creaking when a door opens, and the squeaking of train brakes have in common? Tribology plays an important role in all of them. Tribology is the study of friction, wear, and lubricants. Those who understand it can enrich modern industry with products for contact surfaces that save energy, help protect the environment, optimize maintenance, and make life easier for employees. Freudenberg does a lot of work in this area and is researching new materials, lubricants, and seals, to help reduce friction, wear, and with them the maintenance work to an absolute minimum.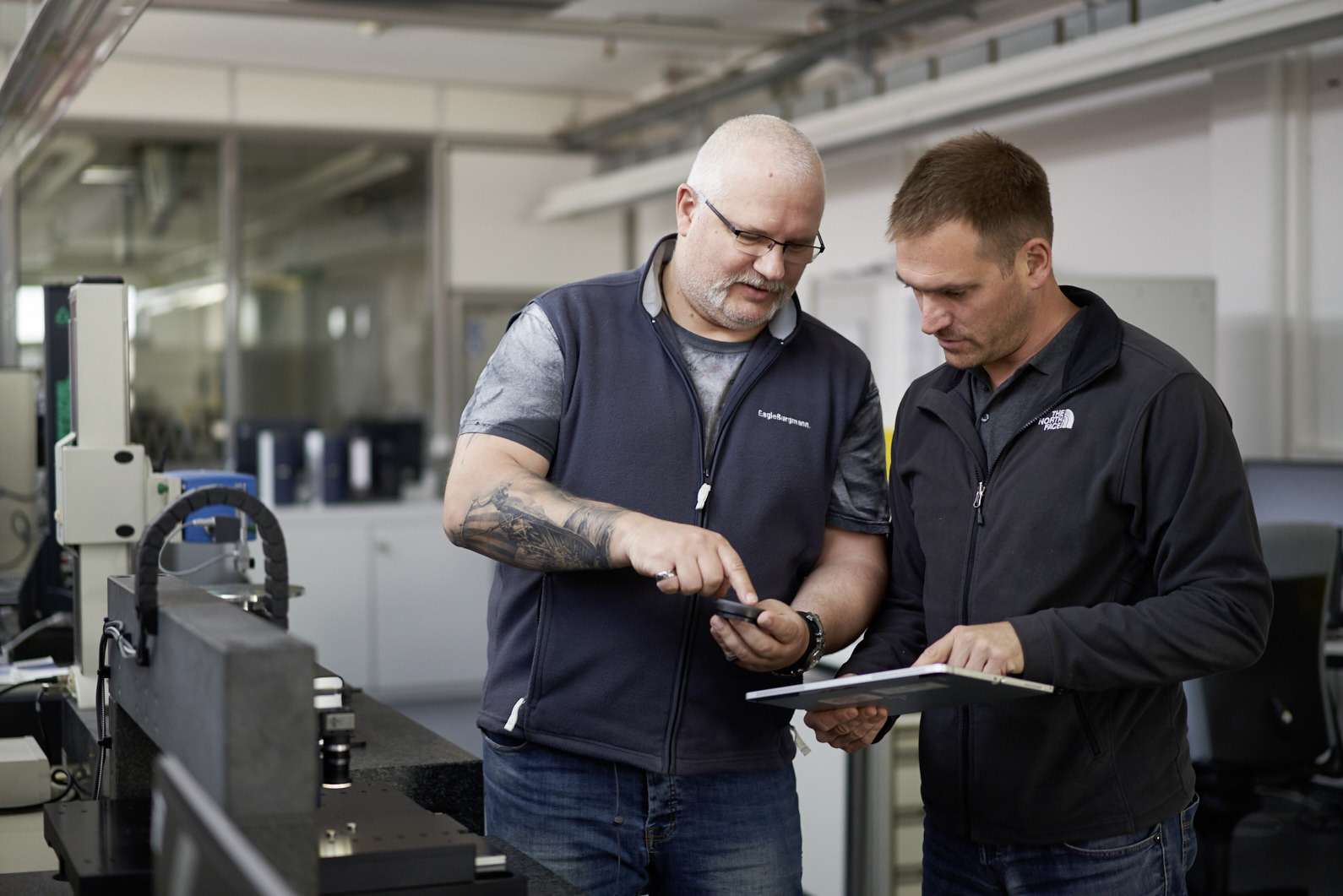 Test runs in EagleBurgmann lab: CAD designer Thomas Stemplinger and Project Manager Robert Reischl discuss the measurements.
"For this purpose, a truly profound knowledge of physics, chemistry and material science is required. The challenge is to understand what is happening in the tribological contact from macroscopic into atomistic scale!" says Dr. Ravi Bactavatchalou, Head of the Tribology Department at Freudenberg Technology Innovation (FTI). Freudenberg - together with the Fraunhofer Institute for the Mechanics of Materials IWM - has started to use a special computer-based technology to understand the atomic behavior of materials.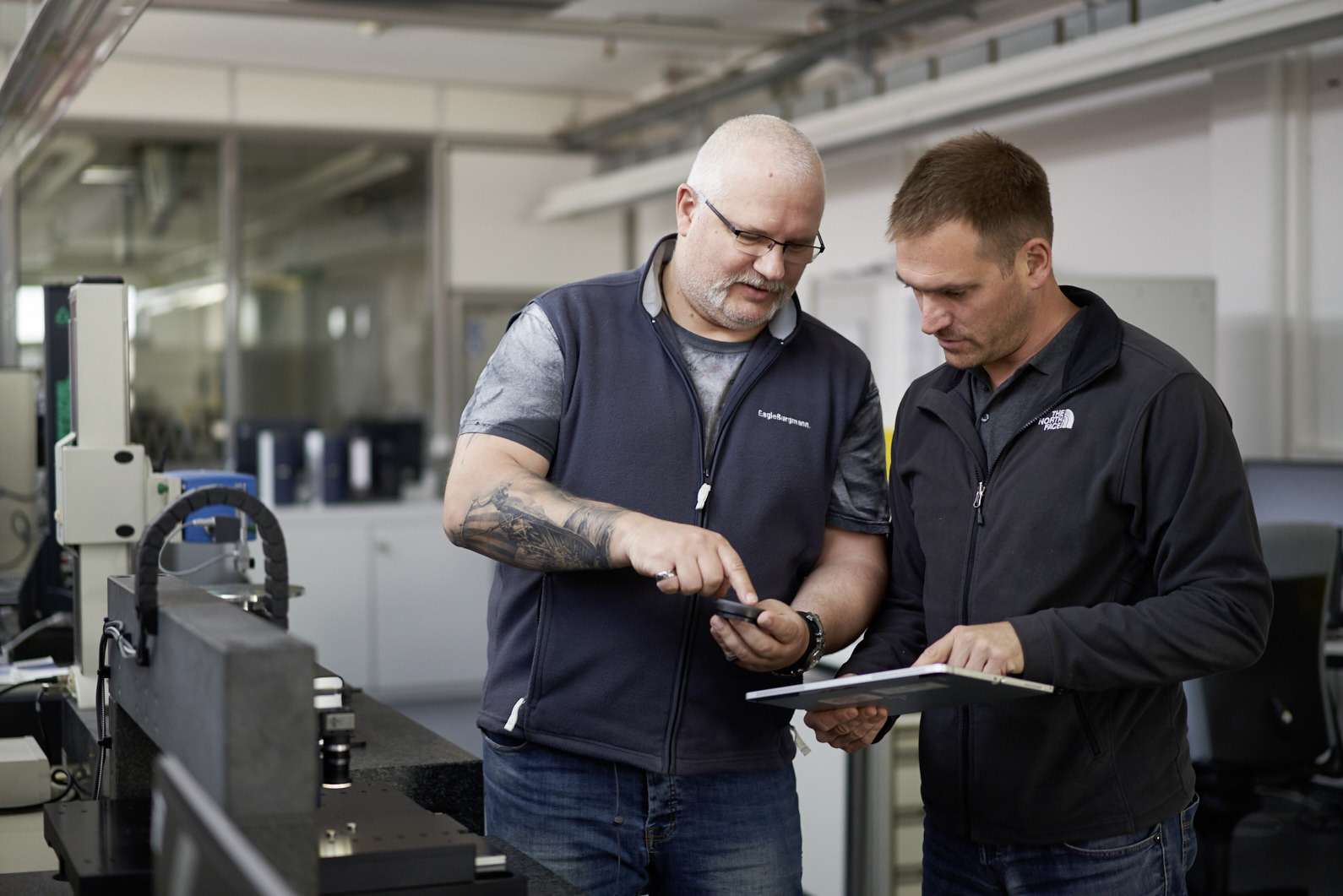 Test runs in EagleBurgmann lab: CAD designer Thomas Stemplinger and Project Manager Robert Reischl discuss the measurements.
The "Atomic Simulations" include computer-aided methods for describing the organization, movement, and interactions of molecules and atoms on surfaces when they rub against each other. Then elementary questions can be answered, such as which material pairings cause less friction under extreme conditions, which do not, why this is, and under which conditions we can achieve ultra-low friction and longer lifetime of developed tribological systems.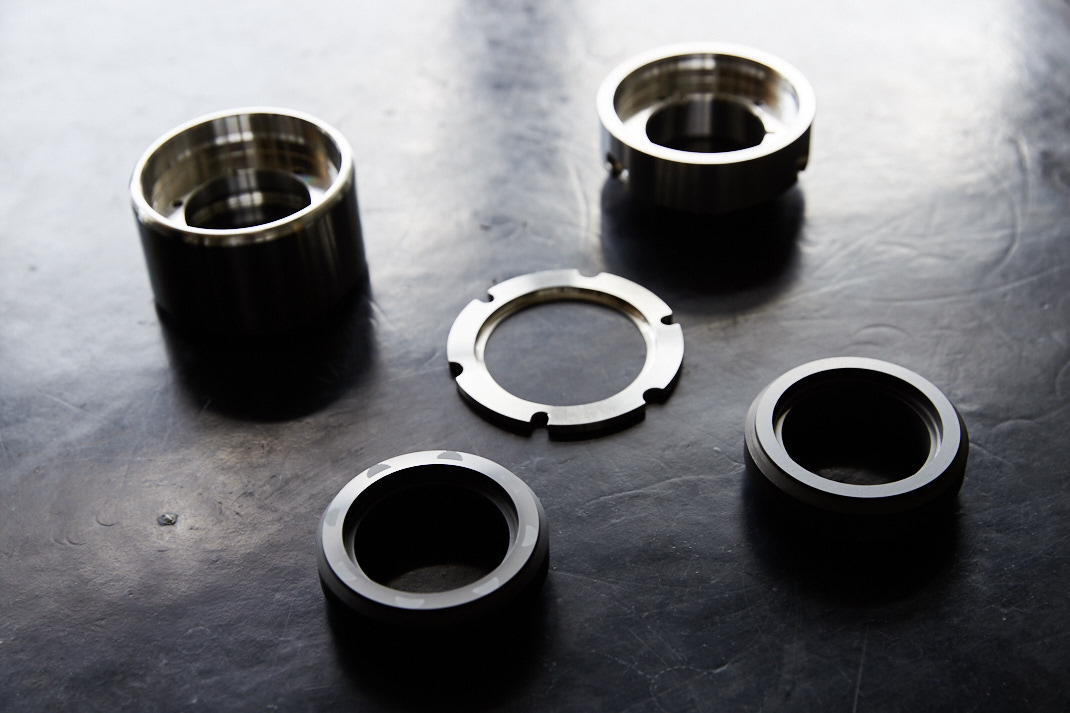 Developed for extreme applications: The new mechanical seals have a crystalline diamond coating and silicon-carbide slide surfaces.
Knowledge in a sensitive area
An interdisciplinary Freudenberg team made up of researchers and technicians from the Freudenberg business areas and Business Groups of Freudenberg Technology Innovation, Freudenberg Sealing Technologies and EagleBurgmann proved the effectiveness of this approach. "The starting point was requirements from a Canadian power plant operator. Specifically, they were looking at seals for a nuclear fuel loading machine, which is responsible for the loading and unloading of fuel bundles," says EagleBurgmann project manager Robert Reischl. A mechanical seal is used to seal the open pressure pipe from the drive gears in the fueling machine. The machine can run at speeds of 261 revolutions per minute and generate pressure of up to 120 bar. The seal also needs to perform during maintenance operations without any lubrication. In short: a very rough application.
"From an understanding of what´s happening at the atomistic level, we were able to design the final seal solution: a crystalline diamond coated silicon carbide against a silicon carbide sliding face, containing a high level of amorphous carbon," says tribology expert Bactavatchalou. This material pairing reduces friction significantly and avoids the so-called "cold welding effect". This is due to strong bonding between carbon-carbon contact happening at the molecular level within milliseconds by sliding two diamond surfaces. When the seal starts to rotate once again, extremely high torque results due to the higher adhesion bonding. This surprising and negative effect had never been discovered for this type of tribosystem.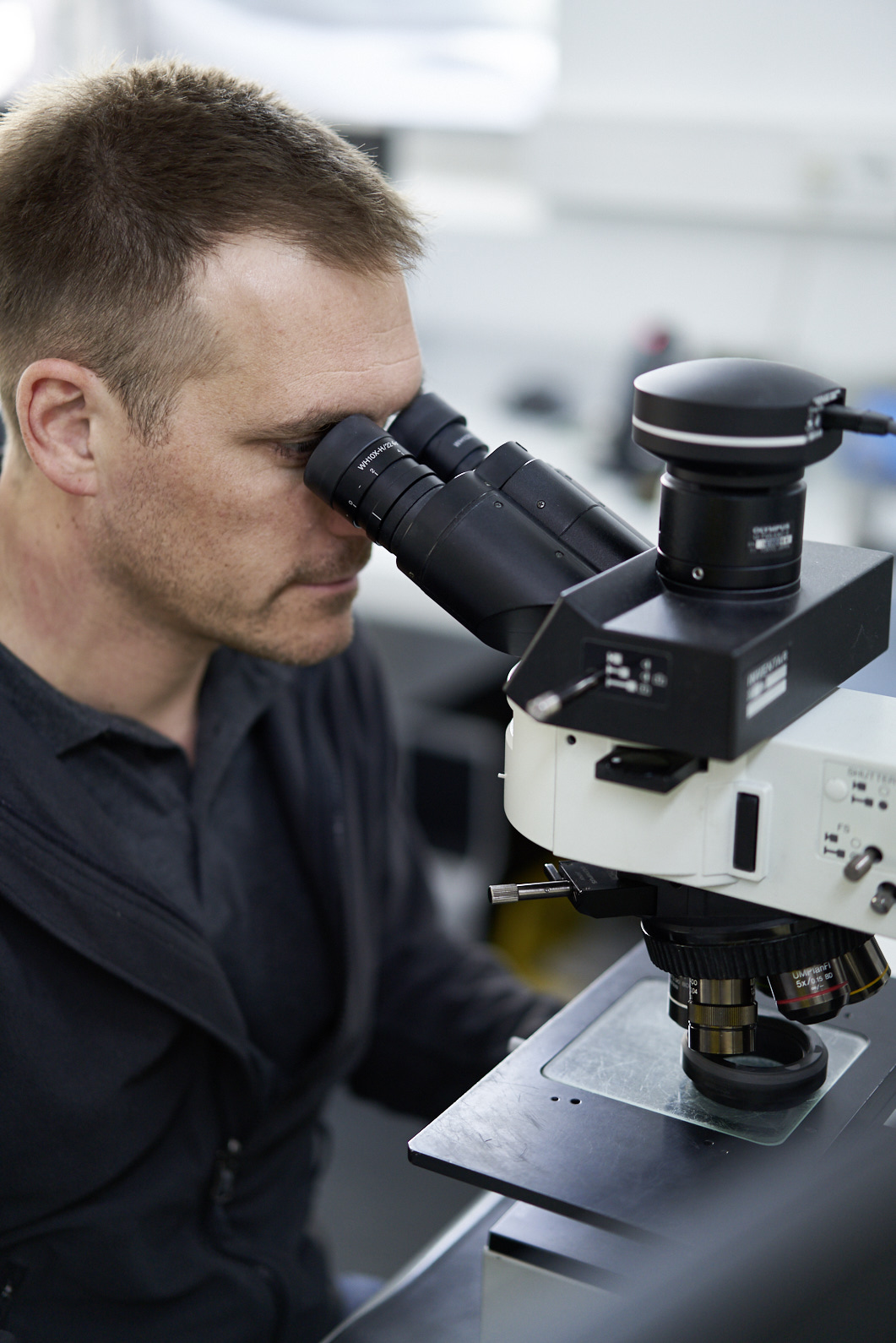 The Freudenberg team used the know-how gained from atomic simulation to develop the diamond silicon carbide seal, a quantum leap forward for power plant applications. It has an operational life of approximately four years, compared to ten months for the old seal. The new Freudenberg seal also has less leakage and lower friction. "It prevents unforeseen failures and ensures safe operations in the critical hot zone of a nuclear reactor, improving employee and customer safety," says Reischl summing up the benefits.
"Atomic simulations are a key for future technologies," says Ravi Bactavatchalou. "Predicting friction properties and increasing life-time behavior of tribological products is a fundamental requirement for a sustainable society and business." After its first success, Freudenberg has decided to further develop these simulation techniques. The long-term goal is to simulate and design individual solutions for innovative materials, creating tailor-made solutions for tribological challenges. The first stage of the journey is over.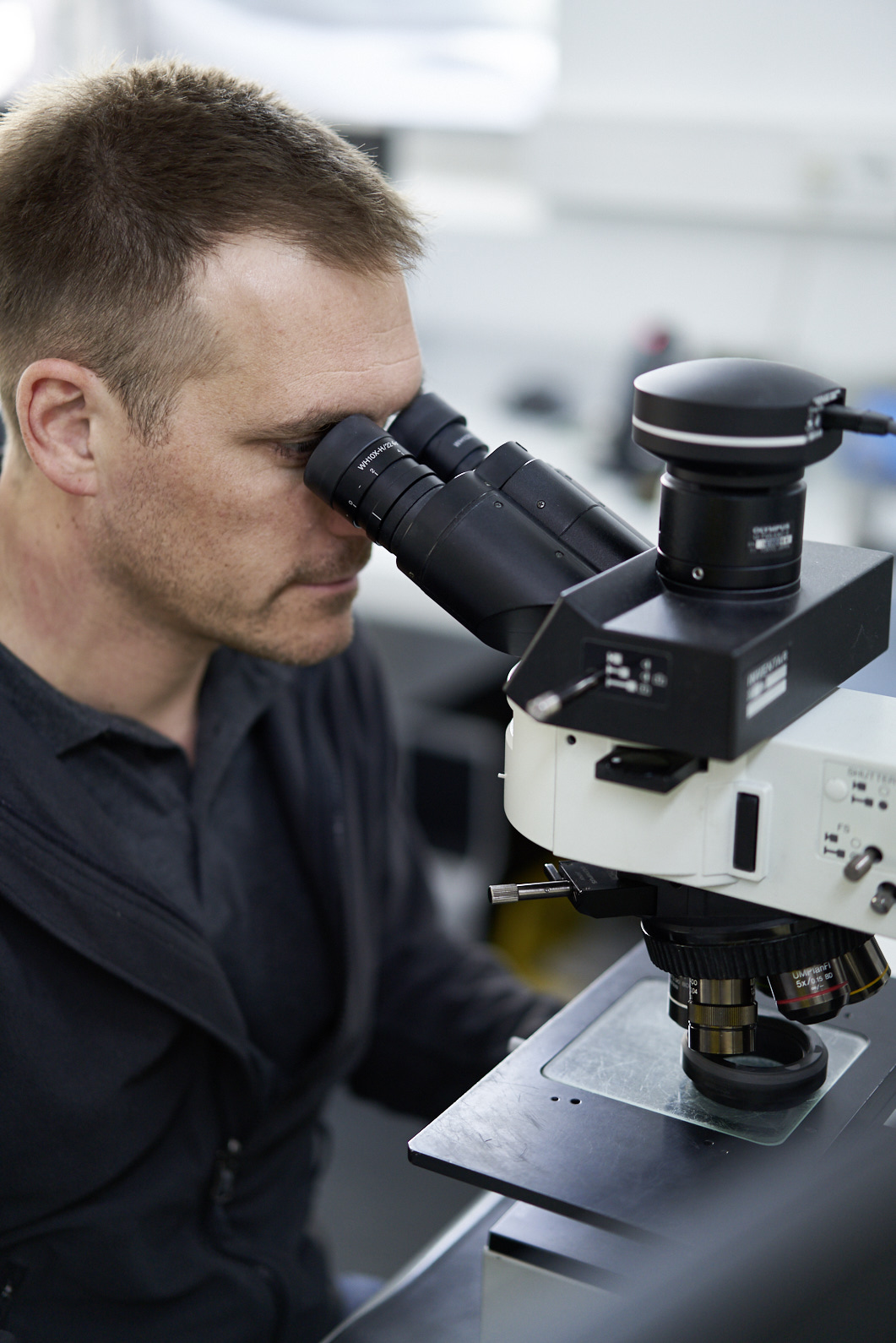 Participating Business Groups