Diverse teams drive innovation at Freudenberg. The best solutions and innovations occur when employees contribute their varied experience, knowledge and skills to a collaboration. Employees provide new ideas, generate imaginative solutions and create innovative products. Freudenberg employees all have a common foundation: entrepreneurship in their mindset and actions. This spirit unites them around the world.
were employed by Freudenberg as of December 31, 2022 (previous year: 49,836 employees)
Freudenberg group employees by region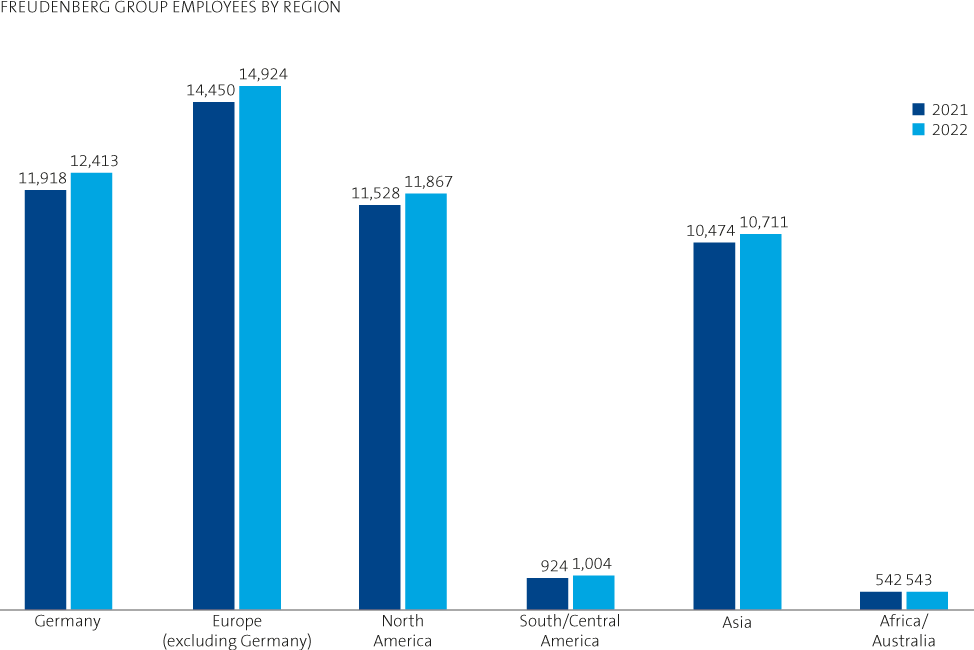 Employment ratios
(as at December 31, 2022)
There are country-specific requirements and regulations for part-time work.
Strengthening the employer brand
The employer brand made further progress in the year under review. Addressing target groups individually, and inspiring and attracting talent continues to be Freudenberg's goal. The activities led to a sharp rise both in the number of followers on social networks – especially LinkedIn, WeChat and Facebook – and in the number of visitors to the Freudenberg career website. Career fairs and inhouse events as well as LinkedIn campaigns proved to be successful measures. These measures focused on offerings tailored to the regions.
Freudenberg provides numerous benefits that are constantly being expanded to become, and remain, attractive for existing employees and new hires alike. The benefits tend to vary from region to region and site to site, but in the main go well beyond the statutory minimum requirements for the respective countries.
Under the talent management program, Freudenberg supports the continuous further development of its employees through numerous vocational training, advanced training and professional development programs at all hierarchical levels. The Freudenberg Group also believes a good work-life balance is important in helping to preserve and improve the health and wellbeing of employees, especially during the COVID-19 pandemic. As part of an occupational health management program, the Group provides the best possible medical support and promotes a wide range of sport and fitness programs.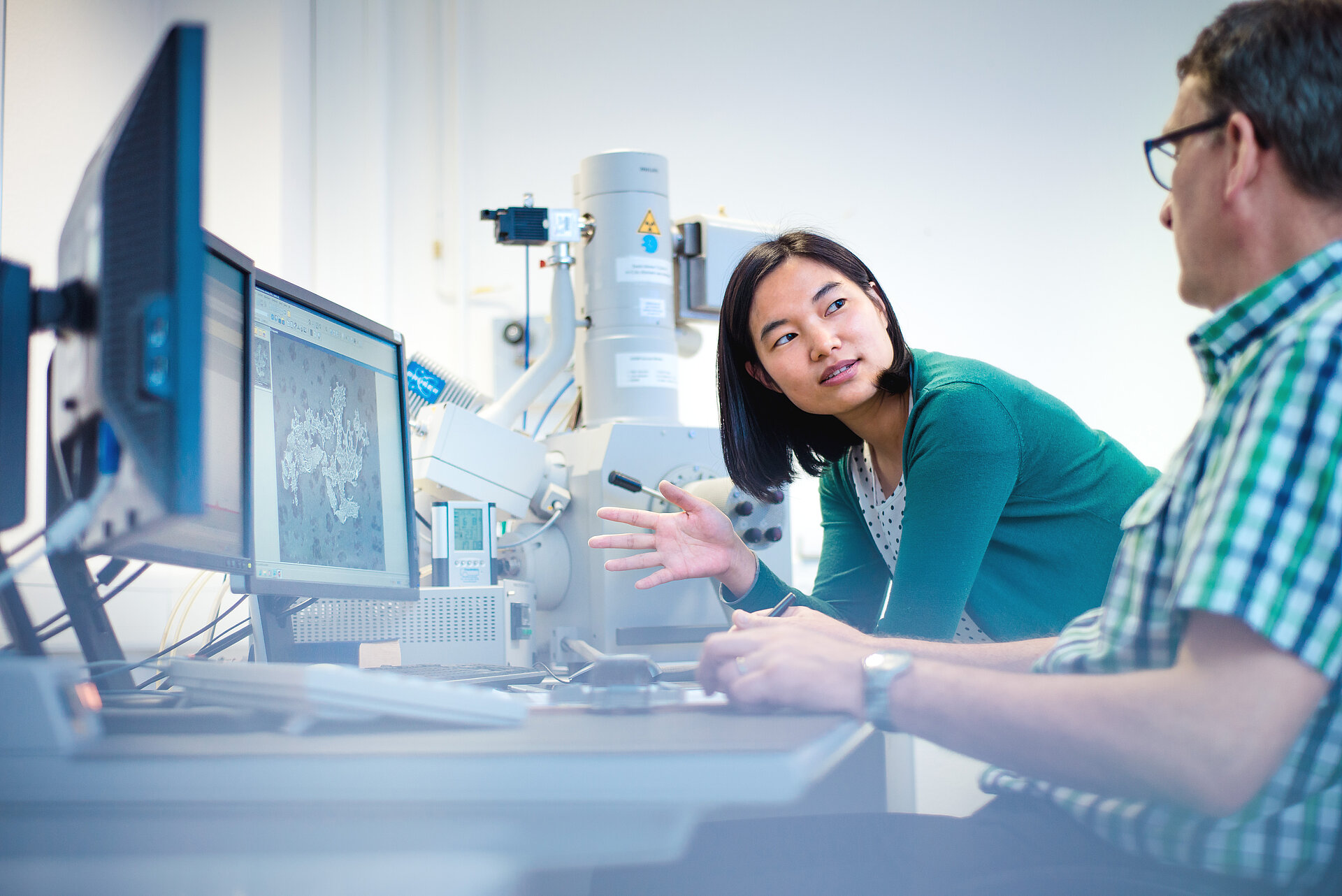 Freudenberg is repeatedly recognized with awards that confirm the Group is an attractive employer. In 2022, for example, Freudenberg-NOK Sealing Technologies in Detroit, USA, was honored for the fifth time in a row by the "Detroit Free Press" newspaper as a "Top Place to Work". In Spain, Freudenberg Sealing Technologies was rated "Best Place to Work".
In order to remain an attractive employer in future, Freudenberg is exploring the working worlds of the future from various perspectives under a wide-ranging project. The project topics include future collaboration within the company, flexibilization of work and workplace design of the future. The project also addresses what is expected of Freudenberg management regarding remote leadership and communication.
The goal of the talent management process is holistic and professional personnel development as well as the successful identification and advancement of high potentials. Under the process, employees are given balanced and calibrated feedback from their superiors, who also discuss the next development steps with them. As part of the talent management process, succession candidates for specialist and leadership functions are systematically identified to ensure the long-term stability of the leadership teams. Talent development across Business Groups continued to gain ground in 2022. Regional and functional talent conferences in particular are progressively leading to a shared understanding of key positions and high potentials in the organization, joint responsibility for talent advancement and optimal staffing decisions.
As a result of the recruiting module implemented under Workday, Freudenberg's global employee information system, employees can keep up-to-date on open positions and apply for vacant posts, thus taking a proactive part in their own development. Furthermore, supervisors receive regular training on how to conduct high-quality feedback discussions with their employees, thus supporting employees' personal and professional development.
Labor shortage, fluctuation and recruiting
One of the greatest challenges for Freudenberg in 2022 was filling vacant posts in both direct and indirect areas. The labor market is clearly shifting from an employer to an employee market, above all in North America, but the shift is also becoming increasingly obvious in other regions as well. When coupled with higher fluctuation, this means that at times, vacant positions cannot be filled. The shortage of manpower results in extra work for the remaining employees, and that in turn drives fluctuation higher.
In 2021, some 8 percent of the workforce left Freudenberg at their own request: the fluctuation rate went up to 10 percent in 2022. There were regional differences, with higher numbers in North America and lower figures in Germany. Fluctuation among production employees was greater than fluctuation in what are termed "indirect" areas. Where fluctuation rates are high, Freudenberg takes specific steps at local and regional level to remedy the causes and retain the workforce.
In all, Freudenberg was able to recruit 7,800 new employees in 2022. Recruiting activities focused on Europe as well as North America, China and India. Well over a year after the launch of the new electronic recruiting platform, the number of candidates has risen sharply. The Freudenberg Group received over 100,000 applications in the year under review
Diversity is anchored in the Group's Values and Principles and also clearly positioned within the brand. Freudenberg is convinced that teams made up of people of various ages and genders and with diverse cultural backgrounds are more successful. In 2022, people from 146 nations (previous year: 136) worked together at Freudenberg.
The "Diversity and Inclusion Community" was established to strengthen activities in an inclusive work environment still further. The 30 community members developed measures in five different areas, such as inclusion culture at Freudenberg. The goal of the various initiatives is to create a work environment in which every employee feels valued, respected and heard.
female professionals and managers
One particular focus for Freudenberg is balanced gender distribution, where special attention is paid to the hiring process, the early identification of female talent, the targeted career promotion of women into top leadership positions, and the targeted networking of women within the company. The share of female senior managers in the year under review was approx. 22 percent.
The Group defined several racial diversity measures in the USA in 2021 and these were implemented in 2022. One such measure was support from Freudenberg for various institutions and programs that are especially devoted to the advancement of minorities.
Freudenberg does not exclusively think of diversity in terms of gender, age or religion, but also plans to place a greater emphasis on geographic diversity going forward.
Many of the company's experts and managers are located in Europe, particularly Germany. In the medium term, the Group would like to work more closely on developing good local and regional leadership, both in production and administration. The goal is to balance know-how and expert knowledge across all regions. Project "Balance" was launched with this in mind in 2021. Its goal is to create a framework for strengthening local talent and succession planning for senior management positions in Asia and North America. Concrete measures for the USA and China were drawn up in 2022.
In total, more than 500 managers again participated in the various leadership development programs organized by Freudenberg in 2022.
Some training measures, in particular the leadership development programs, were again organized as in-person events as the pandemic measures were gradually eased.
in management development programs from all regions
In 2022, 123 persons (previous year: 91) began training at Freudenberg companies in Germany. A total of 351 persons in Germany and 433 persons worldwide were enrolled in a training program as of December 31, 2022. 93 new vocational trainees began their training at Freudenberg in Weinheim in 2022, of which 49 came from Freudenberg and 44 from outside companies.
The quality of the training at Freudenberg is highly regarded by other companies. This is shown by the fact that well-respected companies in the region have repeatedly sent their young talent to be trained at Freudenberg in Weinheim. The training ranges from two-year technical programs to commercial courses and dual studies at cooperative state universities. In recent years, the Freudenberg Training Center has specialized in digitalization topics and is an acknowledged learning hotspot for both vocational training and continuing education.
In recent years, the Freudenberg Training Center has specialized in digitalization topics and is an acknowledged learning hotspot for both vocational training and continuing education.
The Training Center in Weinheim is also known for its social engagement. Since 2016, under the "Training for Refugees" donation-funded project, refugees have been offered a technical internship with the prospect of starting vocational training at Freudenberg. So far, a total of 59 refugees have taken up this offer, and 36 have subsequently begun their training at Freudenberg. All of the 19 trainees who have already graduated have found jobs – eleven of them with Freudenberg and eight with outside companies. Six refugees from the preparatory internship joined the scheme in 2021/22, and Freudenberg enabled them to take part in vocational training to become machine and plant operators.