Whether packaging, components (tubing, windows, insulation), in automotive engineering, electronics or medical technology – our lives today are full of plastic. Polymers are extremely versatile and useful. But one benefit they have is also cause for criticism: their longevity means they are also slow to decompose in the environment and recycling the sheer quantity that society demands today is often impossible. Polyester/PET proves it doesn't have to be this way. People wear the material or drink out of PET bottles every day. In Germany, 90 percent of all PET bottles are recycled into bottles, sheeting, and fiber in different applications – enjoying a new lease of life. Three Freudenberg Business Groups show with good reason how old bottles can be revived.
These Business Groups reuse old bottles
Taking bottles on the road
Manufacturing fibers from recycled PET has been a core business since 1974 at Oyama Chemical Company, in Tochigi, a company belonging to Japan Vilene Company, a Freudenberg Business Group. The Japan Vilene Company then uses the fibers to produce nonwovens for car interior linings consisting of 97 percent of old bottles. Over the years, the company has acquired extensive knowhow, particularly when it comes to the viscosity of recycled PET.
Using their acquired expertise, the Oyama specialists have continuously improved the process: Thanks to Oyama, the use of PET recyclate meant that in 2019, some 370 million PET bottles found a new lease of life – initially as fibers and then as door trim and car interior roofs. The clever reuse of a disposable bottle in a durable object used daily means Oyama not only helps reduce the amount of waste, but also conserves precious raw materials.
Oyama's developers are working on tomorrow's products, today. The Freudenberg company is researching further applications for recycled PET. With finite raw materials, there are no limits to the imagination for new products based on PET recyclate. "We see major opportunities in the textile and clothing industry, particularly in upholstery material or insulation for outdoor use," says Masahiro Amagasa, General Manager at Oyama.
Sustainable fashion trends
When it comes to processing bottles into clothing, the Freudenberg Performance Materials Business Group is out in the lead. For almost 30 years, the experts have used recycled PET in nonwovens for the fashion industry's latest global collections. And it's not only on the catwalk where the bottle has been in demand in its new guise as a textile fiber; the old bottle is also used as a membrane or for insulation in the construction industry – another Freudenberg Performance Materials core business. In fact, many of the 2.5 billion PET bottles the Freudenberg Business Group recycles each year in its facilities in Novedrate and Pisticci, Italy, and Colmar, France, receive a new lease of life in numerous specially developed products. Freudenberg Performance Materials started recycling bottles more than 25 years ago. Today, the company is one of the most important used PET bottle recyclers in Europe.
Comfortemp® Fiberball Paddings are the latest innovation in textiles. The world's first padding consisting of binder fiber balls is made of 100 percent recycled PET but can still be processed like conventional padding. The innovative and sustainable alternative to down also boasts several advantages: It is robust and easy to maintain, despite its breathability. Comfortemp® is used as a thermal intermediate layer in outdoor and winter clothing. "Achieving properties with recycled polyester similar to those of down was a challenge. But it paid off: Comfortemp's® rebound properties have many advantages: The fiber balls can be vacuum-packed and shipped in compact spaces. So, we save space, transport costs, and reduce CO2 emissions, which is good for the environment," says Sarah Ziem, R&D Specialist at Freudenberg Performance Materials.
Outside the textile industry, Freudenberg Performance Materials also uses recycled polyester as a carrier material for carpet tiles, carpets, and floor mats for the automotive industry. While the old bottles in these applications mainly absorb noise, Freudenberg's experts in the construction sector convert the recycled PET into nonwovens for sound and heat insulation. So-called bitumen membranes are used in house roofs, impregnating, and strengthening the roof seals so that moisture cannot penetrate.
An old bottle sweeps clean
Apart from their use in the automotive, fashion and construction sectors, old bottles can also be found in other everyday products. At its Roncello site, Italy, Freudenberg Home and Cleaning Solutions has recycled PET for almost 15 years. More than 97 million bottles are converted each year into broom bristles for the Vileda brand. The bottles arrive at Freudenberg Home and Cleaning Solutions as flakes. Once there, they are melted in an extruder into long filaments at 280 degrees Celsius. "The simplest thing to do is think of it like a spaghetti press," explains David Partiti, R&D Manufacturing Director EMEA at Freudenberg Home and Cleaning Solutions in Roncello. "The filaments are then placed in a water bath for curing and stretching until they reach the desired thickness."
The Vileda broom bristles have a diameter of less than one millimeter and are as fine as a human hair. However, unlike pasta, the recycled manufactured PET filaments must be durable and resilient.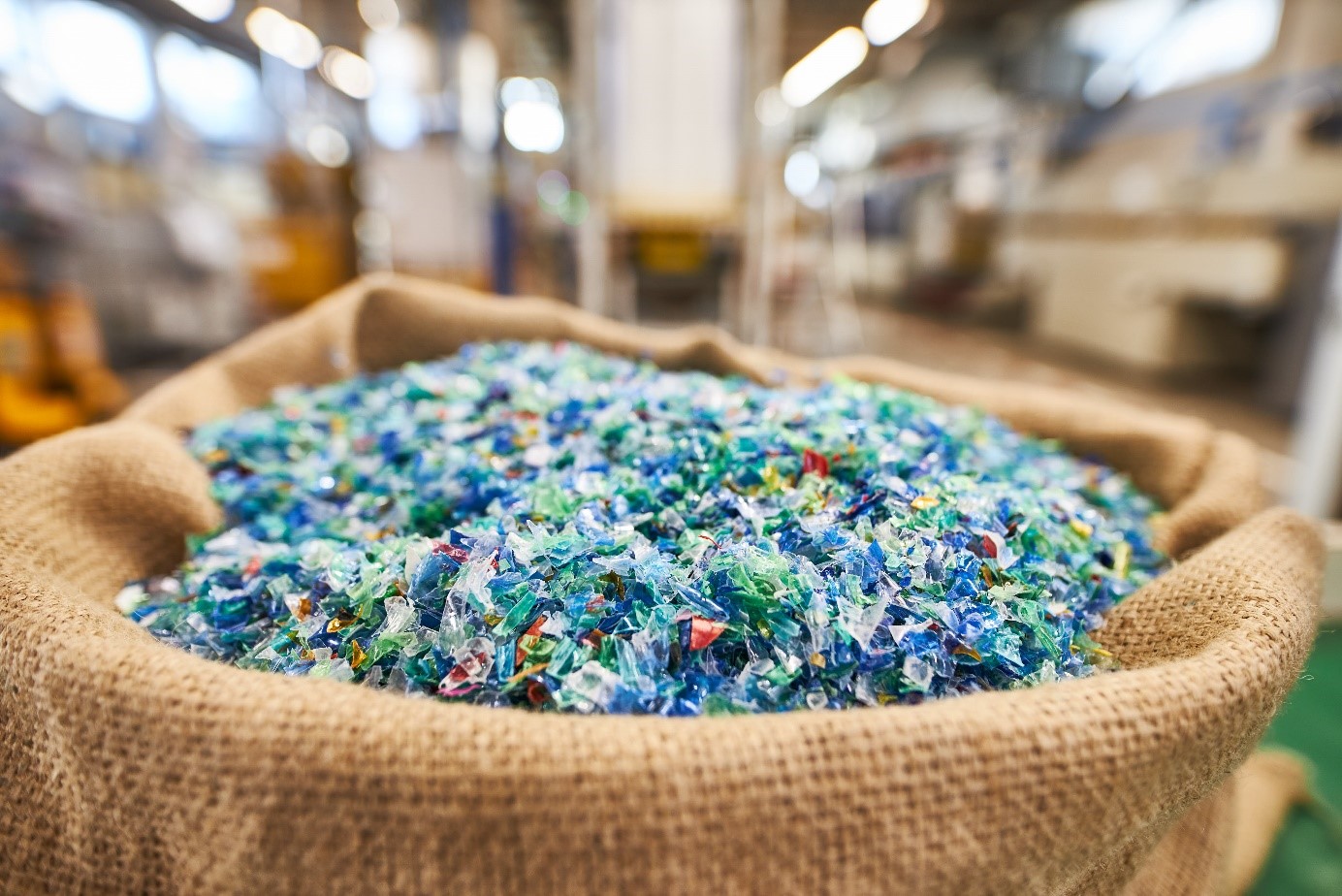 For the production of our broom bristles at the Roncello site, we already use more than 80 percent recycled PET.
David Partiti
And demand is growing. Today, Freudenberg Home and Cleaning Solutions is researching the use of recycled PET to manufacture other products.
For the cleaning technology experts, PET is not the only material to get a new lease of life. Other plastic recyclates, including processed polypropylene, are also used for new products, such as buckets.
Together for a better future
Whether as a jacket, broom or in the car – old bottles have high added value. Proof is provided by the experts of the three Freudenberg Business Groups that conserve resources by manufacturing new products from around 5 billion PET bottles every year.
Product and process sustainability have always been part of responsibility practiced at Freudenberg, as sustainability is a systematic component of the strategic process. By tapping into existing resources and avoiding the use of additional material, recycled raw materials have an impact on material efficiency.
Public awareness of sustainable products continues to grow. Environmental and climate protection are key to meeting future challenges. As a responsible technology group, Freudenberg continuously expands its sustainable product portfolio and advances the use of sustainable raw materials worldwide.