Recycling plastics is sensible but complicated. A Freudenberg team in the US has managed to use recycled polypropylene beads to make red product parts for the Vileda brand. The recipe may soon make its way around the world.
Plastic is the black sheep among materials. It is just part of normal life, but nobody really wants to talk about it. "Around the world, plastics make up 85 percent of all the litter that washes up on beaches," explained the European Parliament, justifying a recent ban on cotton swabs, disposable plates and other disposable plastic products. By 2021, the ban will be in place in all member countries.
Criticism is justified even when plastic waste does not land in the environment. A recycling leader like Germany still sends more than half of all its plastic waste to an incinerator. This is primarily because recycling plastics is harder than glass or paper. After all, plastic is not simply plastic. It comes in many different varieties and very few can be mixed. If they are mixed, the result is lower quality material.
It's all about the mix: Dye beads and clear, recycled resin are melted together, to make the injection-molded products in typical Vileda-red.
The Freudenberg Home and Cleaning Solutions (FHCS) Business Group had a major breakthrough in plastic reprocessed - or previously used, recycled plastic. FHCS's global brand Vileda and its US-equivalent O-Cedar have mops, buckets, dustpans and brooms that are part of the standard products the company sells in almost every supermarket or drugstore. The trademark red in the products once had to be made from new plastic - until last year.
At the US site in Aurora, Illinois, Head of Procurement, Tina Burnet, and her team manufactured injection-molded red product components from recycled polypropylene pellets. Up to now, this was only possible for the gray product parts. For the simple reason that plastic suppliers can use plastic waste with many different colors and then darken it.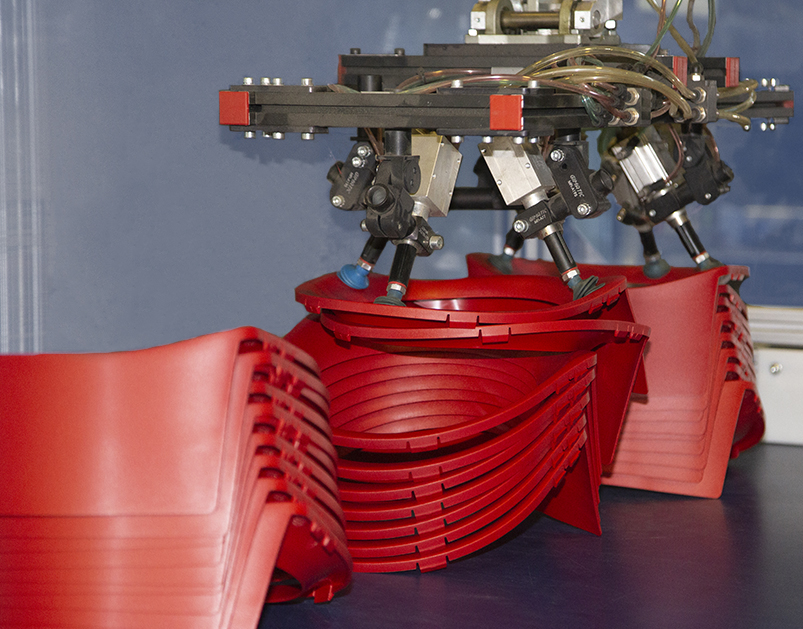 After injection molding, the recyclates no longer need any further processing. The product components – here parts for the Easy Wring & Clean Bucket – can be processed directly.
Team work with retail partners
To make sure the red components satisfy Vileda's special color coding, the raw material needs to be transparent. Plastic came from industrial production, particularly from automotive suppliers, where production generates a lot of scrap. "The "post-industrial material" has the advantage of basically being new material. It is not as dirty," explains Burnet. Cleanliness is vital to the purity needed for the high quality of Vileda products.
Unfortunately, the source is not always enough to meet demand. This is where one of FHCS's largest retail partners came into play. The dominant US retailer has a "Zero Waste" program and is thankful when suppliers take some of the chain's waste. Burnet says that large transport and storage boxes damaged prior to sales or the packaging for items like disposable contact lenses are some examples of reprocessed materials. White material can also be used. Old buckets that held ingredients for bakeries in supermarkets are given a new lease on life in Vileda products after they have been thoroughly cleaned.

Getting here has been a long journey. Work with suppliers to create an exclusive colorless copolymer propylene (PP) - as experts call it - started in 2014. "It took two years until the red parts could finally pass our internal quality tests," recalls Burnet. "Think of it as a cook working out a new recipe," explains the engineer, "Incoming waste products are tested by the suppliers, to determine the material's properties and then trial and error are used to find the other ingredients." These include additives that influence the melting point or "impact-resistance modifiers" that help make the later product break resistant.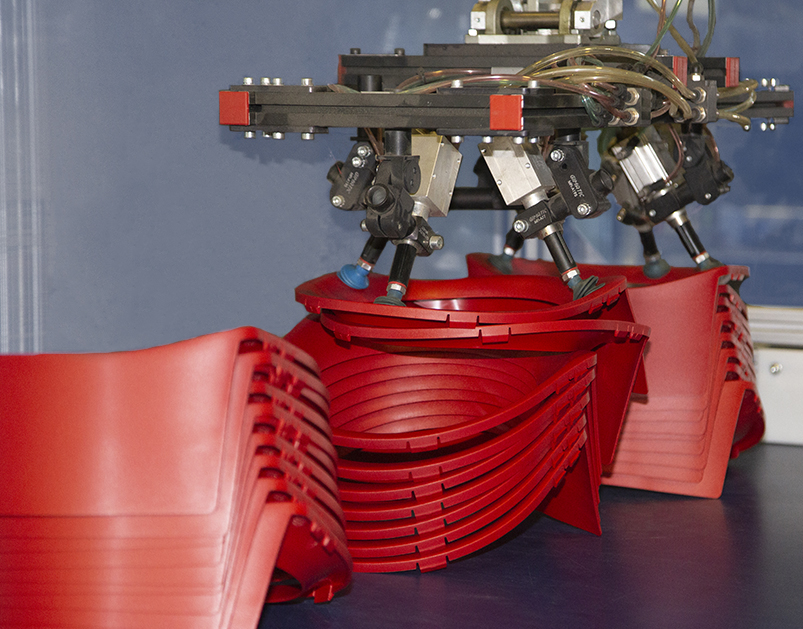 After injection molding, the recyclates no longer need any further processing. The product components – here parts for the Easy Wring & Clean Bucket – can be processed directly.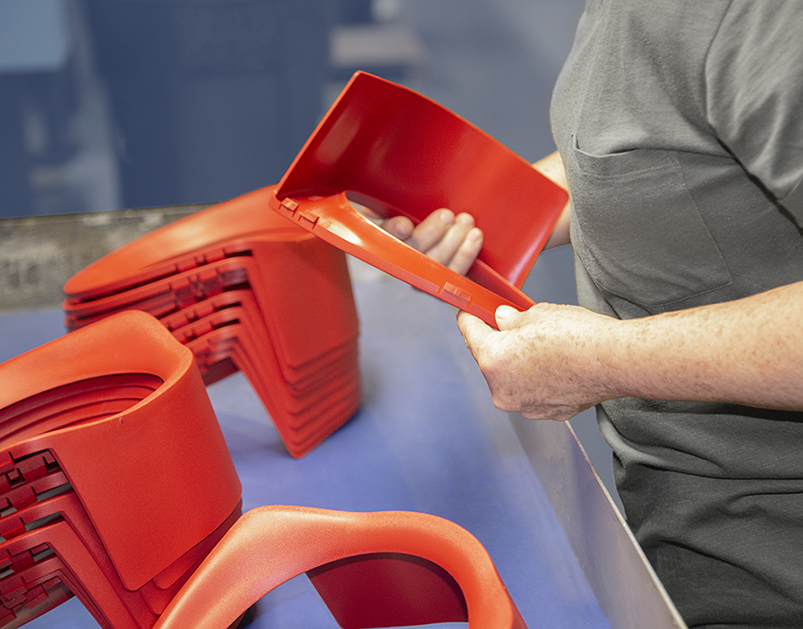 A worker on the production line makes a visual inspection. Experience has shown that products made from recyclates have the same quality as those from new plastic.
However, the 2016 recipe was not quite right. Even though recycled plastics were used for some red parts, the formula was still not suited for all products. "There were certain stability criteria that we could not meet," says Burnet. Two years later, they achieved their goal. Since last year, the production machines have not needed any modifications, regardless of whether the material used was standard virgin plastic or reprocessed or a mixture of both.

About 85 percent of the plastics now in use are no longer manufactured from energy-intensive organic materials. The recycled material quantity used in production over the past few years has quadrupled since 2016 to 2,100 tons. And the results reflect this, procurement costs fell in the same period by over 600,000 euros, the CO2 footprint for the Freudenberg factory in Aurora is now about 25 percent smaller.

Other Freudenberg sites now benefit from the American team's work and were able to increase the share of recycled plastics used in their factories; meaning the balance will continue to improve markedly in the coming years, particularly as Burnet is not resting on her laurels. She and her colleagues are now working on a formula for monomers, which are needed in extra stiff products, such as broom blocks. Soon, almost all the products manufactured in Freudenberg's FHCS factories will be completely made from recycled plastics - thanks to the wizardry of Tina Burnet and her team.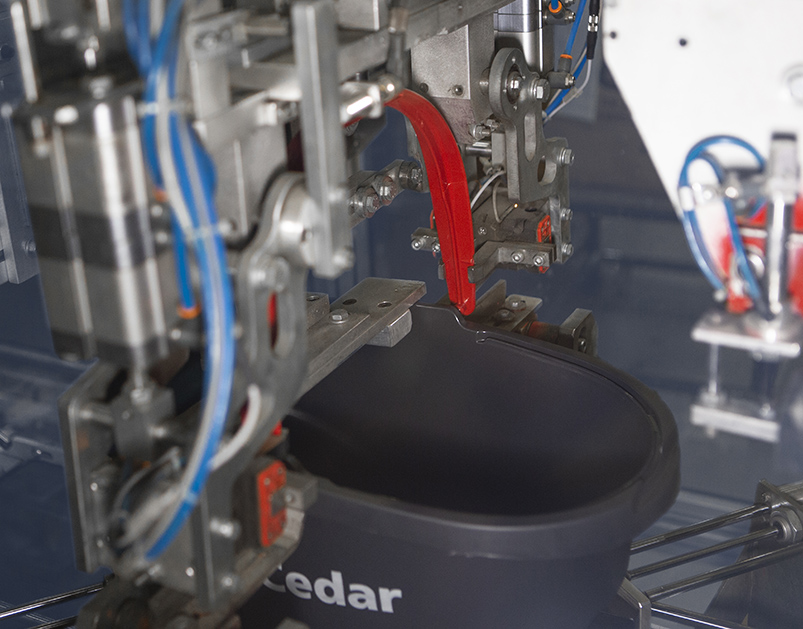 The red handle made from 100 percent recycled plastic material is automatically attached to the bucket.