It is a genuine all-rounder. It plays to its strengths in areas as diverse as clothing, household and e-mobility, and it is even biodegradable: the nonwoven fabric. For 85 years now, the Freudenberg Technology Group has been involved in the further development of this material. Crucial to this development process are bright minds who are bold enough to break new ground.
Many of us come into contact with nonwovens every day, often without realizing it. The cloth-like material is used as a light and warming fabric in clothing. It is used to make protective face masks, which became an everyday item during the SARS-CoV-2 pandemic. Freudenberg has been producing nonwovens for many decades and two of the company's experts played a decisive role in its success story by developing new production methods, optimizing existing manufacturing processes and opening up new markets for the material – over a period of several decades. The two nonwovens pioneers were Dr. Carl Ludwig Nottebohm (1904-2001) and Dr. Ludwig Hartmann (1925-2010).
Dr. Carl Ludwig Nottebohm: Development work and open-mindedness
Born in Hamburg, Dr. Carl Ludwig Nottebohm paved the way for Freudenberg to enter the world of nonwovens from 1936 onwards. His numerous patents and ideas for nonwovens and imitation leather production laid the foundation for the expertise that continues to this day. Initially, his main focus was on setting up a synthetic leather production facility. The first bags, suitcases and purses made from Freudenberg's artificial leather went on sale as early as 1937. At the same time, the chemist was actively promoting the further development of nonwovens, which were in particular demand as a backing material. The foam process developed by Dr. Nottebohm also impregnated the nonwovens, which had a positive effect on their stability.
Under his leadership, Freudenberg also began to produce nonwovens as interlinings for clothing from the end of the 1940s. This is still an important use of the material today. Over the same period, nonwovens "Made by Freudenberg" began their triumphant advance in a completely different sector: the cleaning industry. The first nonwoven cleaning cloth was the Vileda window wipe. It felt like traditional chamois leather – "like leather" (German: "Wie Leder"). And so the Vileda brand name was born. To this day, the window cloth and many other innovative Vileda products make it easier to clean and care for glass, household objects and vehicles. Vileda quickly gained great popularity and became the epitome of a growing range of cleaning products in many countries. This is proof of Dr. Nottebohm's intuition of the potential that lay in the nonwovens he developed.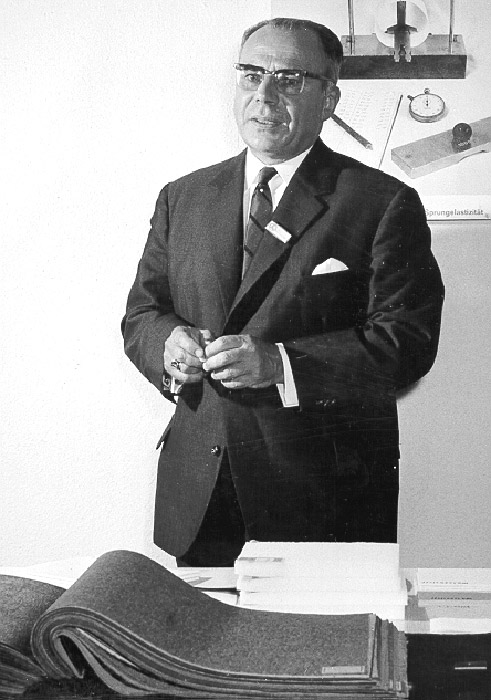 Dr. Ludwig Hartmann: New process, new opportunities
The same spirit of development and openness to new approaches and ideas was also shared by Dr. Ludwig Hartmann at Freudenberg. The chemist, who joined the company in 1957, began developing the spunbond process for Freudenberg. Today, it is still an integral part of nonwovens production. Fibers are obtained from polymers and then spun. Combining the two steps on an industrial scale opened up new possibilities and areas of application for Freudenberg. Nonwovens produced by the spunlaid process were ideally suited to new areas of application, such as agriculture and medicine.
Whether as a harvesting nonwoven or as a wound dressing, Dr. Hartmann was also the driving force behind the internationalization of spunbond production at Freudenberg. With sites in the USA and the Far East, Freudenberg was able to produce spunbonded fabrics locally for these regions from the 1980s onwards, thereby reducing the distances to customers.
Even after the retirement of these two pioneers of nonwovens, Freudenberg and the company's experts played a key role in driving forward the further development of the material. Today, nonwovens demonstrate their advantages in numerous industrial sectors and a wide range of applications. In house construction, the material is used in roofing membranes. In electric vehicles, it helps prevent faulty drives and enables the important pressure equalization of the sensitive battery housings. Firstly, by dissipating electrical sparking in the drive, and secondly, by preventing the ingress of moisture during emergency degassing. Both innovations were realized by various Freudenberg Business Groups, true to the motto "Innovating Together".
Innovations and sustainability
Freudenberg has long pursued a sustainable approach to nonwovens production. In 1997, the company was one of the first to start recycling PET bottles for the production of nonwovens. Freudenberg now produces what are known as paddings made of cellulose fibers that degrade in the soil within 60 days, the so-called comfortemp® Tencel paddings. These are particularly in demand for clothing, for instance as thermal insulation in garments. Under the name "comfortemp® fiberball padding," a research team led by R&D specialist Sarah Ziem have developed a special high-tech nonwoven. The world innovation is processed in jackets from the Italian outdoor specialist Napapijri. The special feature is that the padding consists of interconnected fiber balls. This material is especially soft, warming, breathable and durable and makes an outstanding alternative to the down jackets that have been widely used up to now. At the same time, the nonwoven is easier than loose down for producers to process as cohesive yard goods. This increases design freedom. In an eco variant, comfortemp® fiberball padding consists of 100 percent recycled fiber balls.
In this way, Freudenberg also demonstrates its innovative spirit in nonwovens. All this is based on what the two pioneers, Dr. Carl Ludwig Nottebohm and Dr. Ludwig Hartmann, built up. And today's generation of researchers led by Sarah Ziem is continuing this tradition with determination.
Vileda takes off: Since 1948, this nonwoven product from Freudenberg has enjoyed great popularity.

Dr. Carl Ludwig Nottebohm (2nd from left) joins Freudenberg colleagues to inspect new nonwovens in 1962 (From left: Günther Schiller (Nonwovens Sales Manager), Dr. Carl Ludwig Nottebohm, Prof. Dr. Kurt Kraft (Member of the Board of Management responsible for Nonwovens) and Dr. Wilhelm Lauppe (Developer and responsible for setting up International Nonwovens Production).

The prototype: Dr. Ludwig Hartmann (left) and his colleague Gerhard Müller next to the plant they developed for the production of spunbonded nonwovens, 1962.

How it all began: This was how nonwovens production started at Freudenberg in 1938.