Whether chocolate, gummy bears or liquorice: Confectionery is a growing global business. The Freudenberg company, Capol, uses its knowhow to support the confectionery industry in the development of more diverse and sustainable products.
How about something sweet? A piece of chocolate after lunch or liquorice on the sofa with your favorite TV thriller? Whatever the choice, you're in good company: Confectionery - which also includes salty snacks, cakes and biscuits - is popular across the board and around the world: In 2020, the world's population snacked through 177 billion euros.
was the value of confectionery eaten in 2020.
People and the Environment
Confectionery is a strong and dynamic business. The industry is constantly refining global and regional innovations, and smaller and larger ones to surprise and impress people with a sweet tooth. As in many industries, consumers are more aware and interested than ever before and demand greater transparency. "Increasingly, we see consumers ask about the ingredients in confectionery products, where they come from and the impact they have on people and the environment," says Christian Hauk, Capol's CEO. "Sustainability is important."
Capol has 90 employees worldwide and plays a major role here. The company has specialized in confectionery surface treatments for decades and is the market leader in this segment. The company and its 300 products make sure that gummy bears do not stick together, that dragées glisten and liquorice wheels unfurl smoothly. Customers include many small and almost all major confectionery manufacturers worldwide whose products are - literally - on everybody's tongue.
Capol products use different raw materials from all over the world, such as gum arabic, carnauba wax and beeswax.

Capol's technicians provide customers with extensive advice on product selection and application.

Small dose, big effect: a glazing agent is added while the sugar-coated tablets rotate in a drum.

Chocolate dragées look much more appetizing when they have a glossy layer.
Research and optimization
Even though Capol only uses a small amount of wax, resin and oil relative to the other ingredients, they are vital. "Release agents and glazing agents are important for appearance, feel and shelf life," says Hauk. "Our customers not only increasingly want high-quality raw materials, but also actively ask for ones that are sustainably grown and processed." So, Capol researchers and technologists started developing alternative products. Palm oil illustrates the good sense of this approach. Palm oil is popular in the confectionery industry because it is heat-stable and durable, melts quickly at body temperature and feels pleasant in the mouth. Palm oil also has a comparatively high oil yield per hectare. But there are disadvantages: Huge swathes of rain forest in Indonesia and Malaysia have fallen victim to palm oil plantations; extensive monoculture saps nutrients from the soil over the long-term.
Cultivation in certified plantations is an important step forward that we support. We are therefore involved in the RSPO initiative promoting sustainable cultivation methods,"
Britta Beer, Capol's Head of Research and Development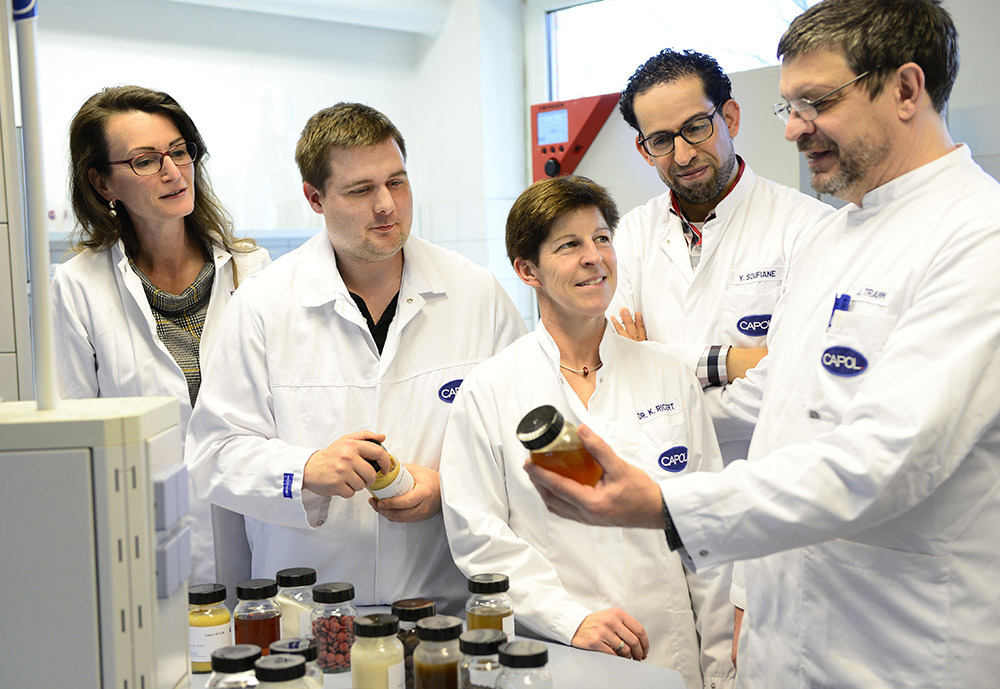 Sunflower oil instead of palm oil
At the same time, her team developed sunflower oil as a viable alternative. Employees researched and refined the shelf life of sunflower oil for almost three years. In doing so, they made many adaptations and optimized the entire production process: including specially chosen, high-quality supply sources, antioxidant usage; careful logistics and storage, where the oil rarely comes into contact with heat and oxygen. "For the first time, we have succeeded in making sunflower oil- based products an excellent alternative to palm oil-based products that are well received by our customers and diversify the use of resources," explains Beer.
The ingredient shellac illustrates another aspect of sustainability. The natural lacquer that gives chocolate candies or nuts their shiny surface is traditionally dissolved in ethanol for processing. A worker places the ingredients in a mixing drum for glazing; the alcohol evaporates and is discharged into the environment as exhaust. "Sensitivity in this area is growing," says Hauk. For example, laws in the USA not only prescribe emission limits in production to protect employees from alcohol evaporation; they also specify the quantities of ethanol vapors a confectionery factory may release into the environment and minimum clearance from residential buildings. There is also growing demand for Halāl products that comply with Islamic dietary requirements. Alcohol consumption, even in small quantities, is prohibited.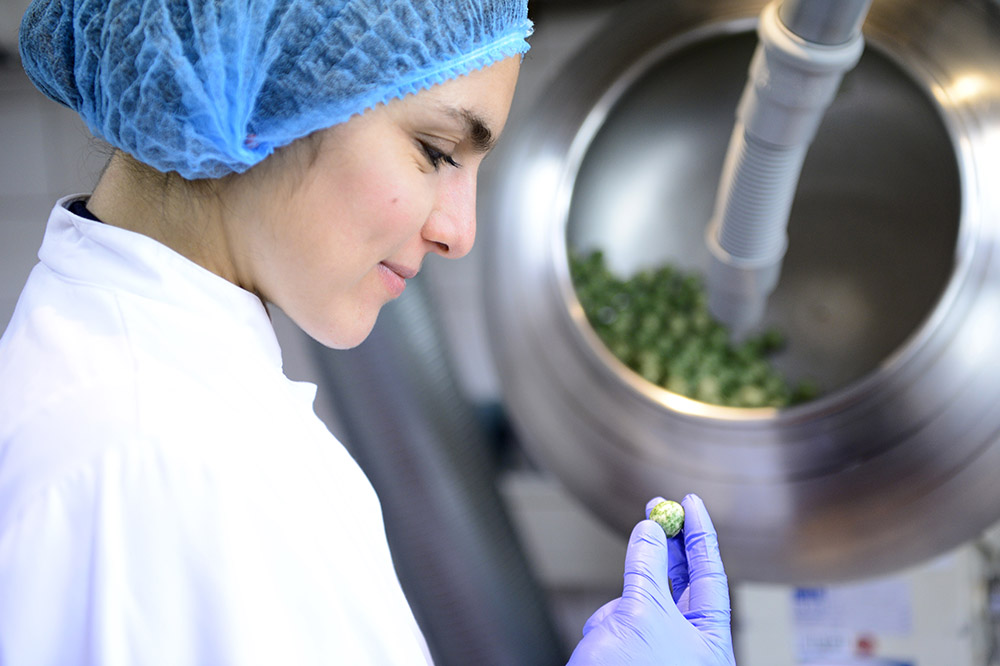 A positive impact on energy and resource consumption
Capol takes a two-fold approach to these challenges: "On the one hand, we've developed all-in-one products where glaze and sealing are applied at the same time," says Beer. They are essentially based on sugar and water, are vegetarian and save the customer a production step, which has a positive impact on energy and resource consumption. Capol also has shellac alternatives in its portfolio based on corn proteins and cellulose. The company can thus meet a large number of customer demands around the world.
Improvements have also been made using another natural raw material important to Capol and the confectionery industry: carnauba wax, which acts as a glazing and release agent. It comes from the carnauba palm, which thrives almost exclusively in Brazil, and is extracted from its leaves that are coated with a powdery layer of wax. "The wax harvesting methods are the subject of discussion and criticism, and the treatment and pay of workers sometimes needs improvement," thinks Hauk.
"However, there are also very responsible and prudent wax producers who want to be audited and certified." Capol has started a dialog with them and major confectionery manufacturers that continues to this day. "Our voice is being heard," says the CEO. "We participate in discussions, outline alternatives and help develop standards for sustainable production. This is the best way to advance sustainability in the long-term."
We help develop standards for sustainable production.
Christian Hauk, Capol's CEO