When it comes to making things even better, Uwe Dingert is at his best. At Freudenberg Home and Cleaning Solutions, this product developer has already developed countless products – and has also revolutionized the innovation process.
"A new product has to inspire people. Achieving this is the supreme discipline for developers", according to Uwe Dingert, "because only then do they start talking about it." It's often the little things that make the difference. Dingert, Director R&D Front End Innovation at Freudenberg Home and Cleaning Solutions, looks for and finds them.
He regularly tackles challenges large and small with great passion and attention to detail. "If there is a problem, I can't stop thinking about it until I have solved it." As he explained, "When the products go to market, they have to be perfect." He also does a lot of testing at his home under all kinds of conditions: "You have to try things out, then you understand where things are stuck."
If there is a problem, I can't stop thinking about it until I have solved it.
Uwe Dingert, Director R&D Front End Innovation at Freudenberg Home and Cleaning Solutions
This doesn't just apply to products. Dingert also keeps a close eye on production itself. For example, there was the matter of the well-known red buckets of the Freudenberg Vileda brand. In the past, it took 24 seconds to produce one of these buckets in an injection molding process. Everyone said it couldn't be done faster. Dingert felt himself challenged to do something about it. Together with his team, he asked various machine manufacturers to show him the process; he then carried out simulation calculations and made comparisons. Ultimately, by using new tools and faster machines, it turned out that the process could be shortened to less than ten seconds. "That brought savings in the millions", he proudly explained. That was six years ago.
A tale of development
It all started for Dingert in 1987 in the Freudenberg Group's Central Research and Development Department, now Corporate Research & Development. At the time, Dingert was studying plastics technology and was hired on the spot after completing an internship and his diploma thesis. Shortly afterwards, he moved to the Freudenberg Sealing Technologies Business Group in Reichelsheim, where he was responsible for process engineering and the development of seals in the "Plastics and New Products" department.
In 1993, Dingert joined Vileda, a Freudenberg company in the Freudenberg Home and Cleaning Solutions Business Group in Weinheim, where he set up the research and development department.
As Director Front End Innovation, the engineer has been responsible for technology scouting and innovations since 2014. On the other hand, he helps shape the processes in product development.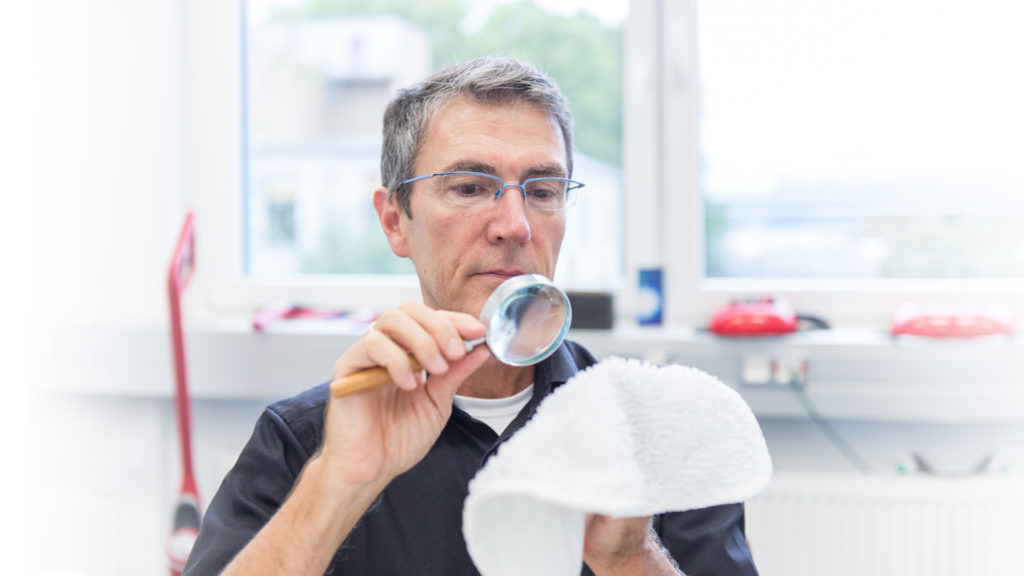 Embracing new technologies
This has been the case for almost 35 years now. This makes Dingert a true veteran of the Vileda company. Technologically, the solutions at Vileda are becoming ever more sophisticated, because many new products work with sophisticated electronics. Dingert, who was born in the Saarland region of Germany, loves tackling such tasks. For several years now, he has been working on "front-end issues" and leads various teams that play around with new technological developments.
At the same time, this approach optimizes the innovation process itself. "It follows the concept of design thinking in combination with a sprint format", Dingert observed. He himself takes on something like the player-coach role, as he puts it.
Consumers always in focus
It is an elaborate process. For example, the goal may be to develop an idea for a new cleaning product. The ingredients are a team that is as diverse as possible and brings many different perspectives to the innovation process, a generous dose of creativity and a lot of patience.
To develop an understanding of the problem, the team takes a lot of time. "That's important, because consumers and their needs are always the focus", said Dingert. That's why they also go right into the households and have them explain and demonstrate exactly what people are doing with their cleaning equipment, for example.
The team evaluates the consumer issues that come to light in this process according to their importance to the company and the consumers, and then consistently works only on the issues that are important to both - then the brainstorming begins. "Strive for the new, create the new: When I see that spark ignite the team, it excites me," Dingert says. If others are as passionate about new ideas as he is.
Strive for the new, create the new: When I see that spark ignite the team, it excites me.
Uwe Dingert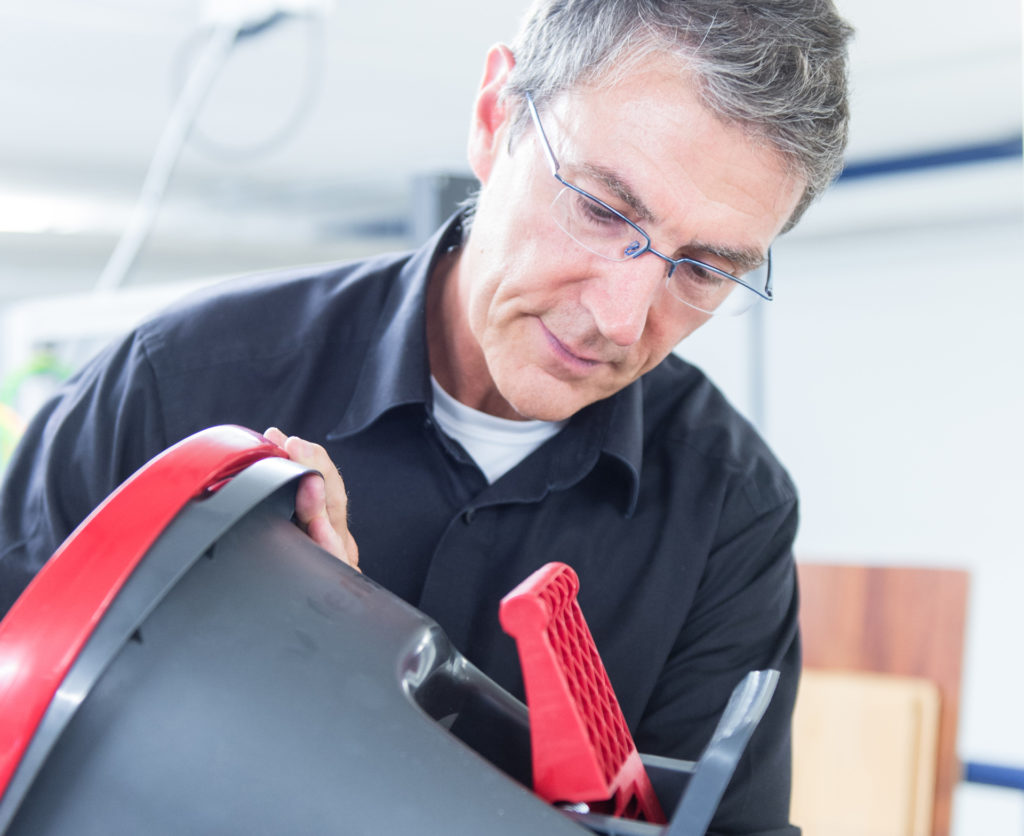 Studying again "on the side"
Preliminary concepts are created, visualized on paper, and prototypes are built. During this process, the idea is refined further and further. Then the team invites the customers to the company and presents the concepts to them. And then, "Yes you have an initial qualified idea that we can take with us into our development process. That's a real moment of satisfaction when we've worked hard and are able to report success."
This is a very rough sketch of the innovation process Dingert and his staff implemented at the company in 2017: "I'm pleased that these sprints have been so well received. It's really helped the company move forward." Since then, Dingert has prepared and carried out nine product development sprints based on this approach, while also supporting production in a number of projects – and he has also very successfully earned a Postgraduate Diploma in Innovation and Design Thinking while still holding down his job.
The launch of many classics
"A great many patents" have been acquired over the years by Dingert, who uses a robot at home for vacuuming. The first two products he and his team worked on were the 2-in-1 window wiper and the super sweeper, which have been on the shelves since the mid-1990s. "I was there from the first pencil stroke." Other products from the engineer's oeuvre include the Mop, the UltraMat, the Easy Wring and Clean and the current Vileda "Steam Mop." Countless others have been added.
Of course, he is not resting on his laurels. Right now, Dingert and his team are working on an innovation "that will probably be snatched out of my hands when it hits the market", he said, smiling mysteriously. "It's about making the invisible visible." That's all he's going to give away right now.