An insight into the working world of Dr. Juliane Jungk: Before the chemist kicked off her career at Freudenberg Technology Innovation, she had dedicated the first years of her professional life to rubber. A perfect springboard from which to expand and apply her knowhow at Freudenberg. Today, as Head of Methods Development, she has a key managerial role and develops new test methods for Freudenberg Group products. Jungk hopes to use her own experience to inspire more women to take up a technical profession.
Chemistry is clearly her passion. So it comes as no surprise that Jungk followed up her degree in physical chemistry in Hannover, Germany, with a doctorate. She had a keen interest in rubber as a material. First of all, however, she broadened her knowledge at the German Institute for Rubber Technology before spending six years at a German automotive supplier where she was responsible for truck and bus tire materials development. The path that led to Freudenberg Technology Innovation (FTI) was set when Jungk's employer launched a joint project with a Freudenberg Business Group. Her knowhow made a convincing case, and she finally moved to FTI in 2016. "The project was about natural rubber and silica. Having initially led the project for my previous employer, I continued with it for Freudenberg. It helped me take a more holistic view," Jungk recalls.
The mixture makes the difference
Initially, Jungk was appointed Group Leader for Physical Characterization. The group soon evolved into an entire department with Jungk promoted to its head – her team's assignment a wide-reaching one. After all, they were responsible for developing new test methods for Freudenberg products. "At the start, my team consisted of just two employees and I had no firm idea of the direction the department should take," Jungk admits. But that soon changed: "We moved forward step-by-step, taking a strategic approach. We identified the relevant topics for the Freudenberg Group and grew with them. Now our team is home to 12 colleagues. We've really made a name for ourselves," Jungk explains with a sense of pride.
We measure things that until now couldn't be measured. So we're constantly creating something new and enhancing innovation at Freudenberg.
Dr. Juliane Jungk, Head of Methods Development at Freudenberg Technology Innovation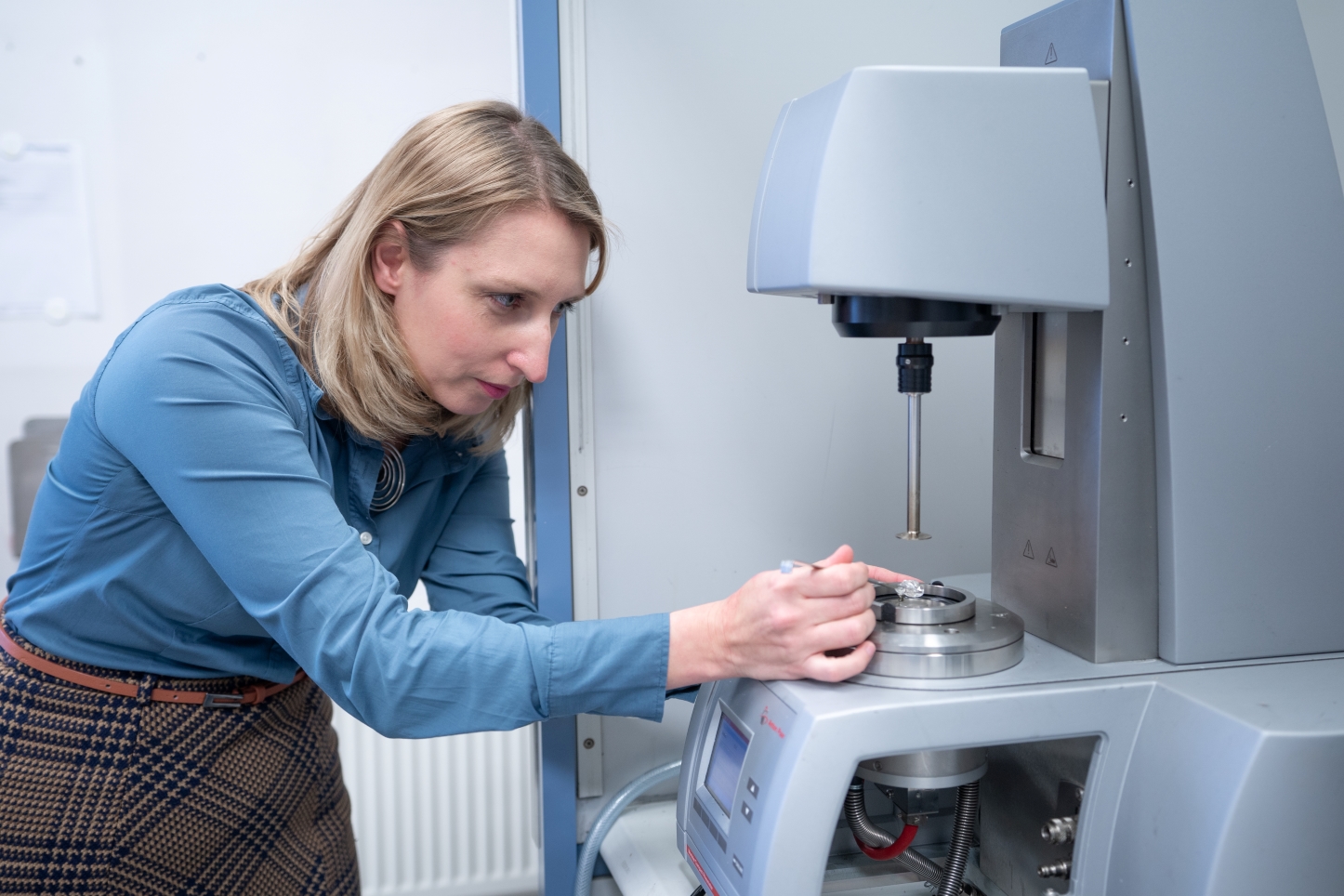 New ideas from joint brainstorming
Jungk's working day is as exciting as it is varied: "Whereas before I only worked on truck and bus tires, today we investigate new testing methods for fibers, lubricants, seals and dampers. Since the topics change on a daily basis, you need to be flexible." She sees the professional diversity in her team as a distinct advantage: "We have mechanical engineers, food technologists and biophysicists on board. Our team has just the right expertise for a wide range of topics – which means we can take on projects and requests from all ten Freudenberg Business Groups and combine different approaches to find the best solution." A constant flow of information also contributes to the success of the department. Although each team member looks after their own project, new ideas arise from joint brainstorming. Handling new ideas and approaches is something Jungk likes most about her work. "We measure things that until now couldn't be measured. So we're constantly creating something new and enhancing innovation at Freudenberg."
From surface pathogens to artificial intelligence
As in the case of a large-scale project to detect bacteria on surfaces. Together with Freudenberg Home and Cleaning Solutions, Freudenberg Filtration Technologies, Freudenberg Medical and Freudenberg Performance Materials, Jungk's team conducted research into a method for the rapid and more effective detection of bacterial contamination on surfaces. "Pathogens are undesirable on products and surfaces, even under normal circumstances, but many Business Groups, such as Freudenberg Medical, manufacture under cleanroom conditions. This makes it all the more important that surfaces are bacteria-free." Jungk's team prioritized technologies for detecting bacteria and developed a strategic program which was launched in 2021.
Of course today, the high-tech environment in which Jungk and her department operate has ever more touch points with digitalization. So, when it comes to analyzing large datasets, artificial intelligence plays a major role. "Digitalization presents new challenges for us. But thanks to our forward-looking approach, we're well-prepared. Some time ago, we identified new topics and trends that might be relevant for the Freudenberg Group in the future. So, we'd already acquired essential knowhow, even before receiving the first related request."
Paving the way: professionally and as a volunteer
To strengthen the strategic cooperation between Freudenberg Technology Innovation and the Vibracoustic Business Group, Jungk took on the role of Key Account Manager in January 2021, in addition to her position as Head of Department. The role suits her – since she loves paving the way for something new, even after the close of business. Jungk in fact used the corona lockdowns to volunteer as a cyber mentor, helping young talents to get started in science. "There are still too few women in STEM [science, technology, engineering, and mathematics] professions. That has to change. So I decided to mentor a 15-year-old girl, on a voluntary basis, which has now become my favorite hobby."
There are too few girls in STEM professions. I'm helping to change that.
Dr. Juliane Jungk
The dedicated chemist boosts the Freudenberg Group's knowhow while passing on her knowledge to others. But what if she needs a break? To relax, Jungk turns to the great outdoors. "I love gardening – I spend a lot of time working in my garden, growing my own fruit and vegetables. Plus, I have a few chickens." And, for once, chemistry doesn't come into the equation.