Insights into the working world of Magaly Cruz
Cliches notwithstanding, anyone who talks to Magaly Cruz quickly realizes that for her, actions speak louder than words. The 33-year-old has been working for Freudenberg Medical for nearly 14 years.
But the company has been a part of her life for much longer: Cruz's mother also worked for Freudenberg, and for five years, the two shared the same workplace. From machine operator to quality engineer to shift supervisor – Cruz has "done it all" and in the process worked her way up to supervising the three production shifts at FM's site in Beverly. Cruz previously held this function at the old facility in Gloucester and since late 2020 at the Business Group's new global headquarters and medical manufacturing operation in Beverly, near Boston. No small feat, but one she talks about in her very own passionately matter-of-fact manner.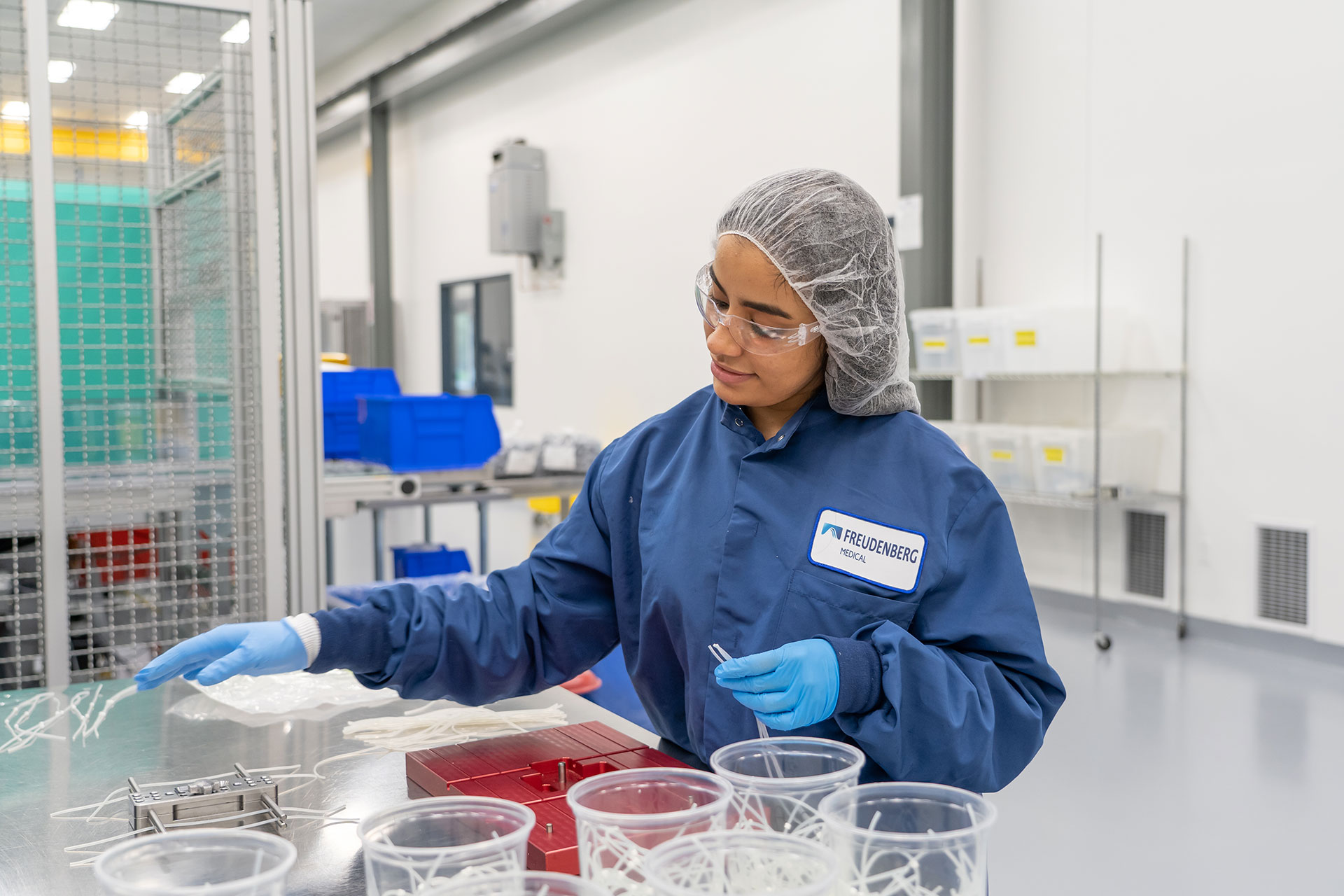 I like working on products that help make peoples' lives better
Magaly Cruz, shift leader at Freudenberg Medical
"The first thing I do when I come into work is have a coffee", Cruz says, adding, "I'm not really a breakfast person". Given that some of her days start at 3 AM in the morning, that should come as no surprise. "Medical devices and components have always interested me. I like working on products that help make peoples' lives better," she says. It was this fascination that made her want to know more about the company her mother worked for at the time. "Mom was an operator at Freudenberg for 14 years. Had it not been for her desire to move to a warmer climate, we would still be working together." Did she find it difficult to work at the same place as her mother? "Not at all", Cruz says. "We are really close. I loved working with her."
That sense of family and familiarity is also evident when Cruz talks about her colleagues. All told, some 20 colleagues work 24/7in a three-shift model on the production floor in Beverly. No matter what time Cruz joins the crew, the first thing she does is check whether everyone is doing ok. "Only then do I move on to the machines and take a closer look at the numbers to see if there were any issues." Thanks to her team's excellent work, most of the time there are none.
The state-of-the-art facility in Beverly specializes in the manufacture of medical and implant-grade silicones and high-performance plastics for use in and on the human body. "When I explain to my three boys, aged 13, 8 and 5, what we do I show them a pacifier," Cruz says. The popular silicone product has calmed infants throughout the world for decades, and Freudenberg Medical supplies the soothers to big retail chains across America. But Cruz and her team also manufacture more complex components, including secondary seals for plasma collection and overmolded tubes for blood gas testing systems.
It is due to products like these that the Beverly site was classified as an essential supplier during the COVID pandemic. "We never stopped operations," Cruz says. Working in a cleanroom also meant the transition to the required health and safety protocols was a lot easier. "In our work environment, we gown up every day, wear covers over our shoes, hairnets, gloves and safety glasses. Some of my male colleagues also wear special nets to cover their facial hair." For Cruz, this is the environment she feels most comfortable in. "Aside from the shorter commute, the cleanroom is what I love most about our new headquarters."
The cleanroom is what I love most about our new headquarters
That is, of course, in addition to continuously learning new things together with her colleagues. "Our team consists of a good mix of junior and senior operators. During the second and third shifts, I train the juniors on molding and assembly machines but also on Operational Excellence initiatives. The rest are already familiar with our processes and require comparatively little guidance and support." Learning and passing experience and knowledge onto others are some of the things Cruz likes most about her job: "Whether we are talking about Operational Excellence programs, meeting targets or improving our machines – my best memories at Freudenberg are linked to learning and training. After all, the more we know, the better for us: As individuals, as a team and as a company."
Central to this learning environment is the friendly and outgoing atmosphere among the operators. "We are a very diverse team, not only in terms of age but also when it comes to heritage. My parents came from Puerto Rico when they were young, and I still have strong ties to the country. Other colleagues of mine have Cambodian, Vietnamese, Indian or Latin American roots." Speaking different languages helps the mix at work – but the best of all worlds happens during Thanksgiving, when everyone brings along a traditional dish for a big potluck feast. "Unfortunately, we had to cancel this event because of the pandemic. But I'm really looking forward to such get-togethers again once the situation permits."
When Cruz is not on hand to support her team, she can be found at football practice with her three sons. "They train Monday through Thursday. On Sunday, after church, we go to the games, and I cheer them on from the sidelines." Practice, learning, fun, dedication, family and teamplay – Magaly Cruz stands for all of these, in her very own modest yet deeply passionate way.
We are a very diverse team, not only in terms of age but also when it comes to heritage.