To avoid plastic waste, it makes sense to reuse plastic. However, this is not easy. A Freudenberg team in the USA has found a smart and sustainable solution to this problem. Recycled polypropylene beads are used to make red product parts for the Vileda brand. The recipe is catching on worldwide.
Plastic is a bit like the black sheep of the family: it's part of everyday life, but you don't want to be seen with it. It is widely used around the house because it is versatile, unbreakable and lightweight. But plastic waste is difficult to biodegrade and pollutes the oceans. This has led to consequences. Since the beginning of July 2021, cotton swabs, disposable tableware and other disposable plastic products have been banned in Germany and all other EU member states. This is stipulated by an EU directive from 2019. "Globally, plastics account for 85 percent of waste on beaches," is how the European Parliament justified the ban.
Even if plastic waste does not end up being dumped in the environment, it remains a source of criticism. Because even in recycling strongholds like Germany, more than half of all discarded plastic still ends up in waste incineration plants. This is mainly because recycling plastic is much harder than glass or paper. After all, not all plastics are the same. There are many different types and only a few can be mixed. Otherwise, the newly recovered material would be of inferior quality.
The advantage of this post-industrial material is that it is virtually new, so it's not yet contaminated
Jim Merret, Regional Senior Manager Procurement North America Production
The Freudenberg Business Group Freudenberg Home and Cleaning Solutions (FHCS) has developed a sustainable solution to this problem: plastic recyclates, i.e. plastic that has already been used and recovered.
The US equivalent of the world-famous Vileda brand is O-Cedar. Mops, buckets, dustpans and brooms bearing this brand are part of the standard assortment of almost every department store and drugstore. The striking red in the products previously needed to be made from new plastic.
However, a team from FHCS at the U.S. site in Aurora (Illinois) then managed to produce red product components from recycled polypropylene beads using the injection molding process. Previously, this had only been possible for the products' gray components. The reason is simple. In this case, the supplier of the plastic uses different colored waste and dyes it dark.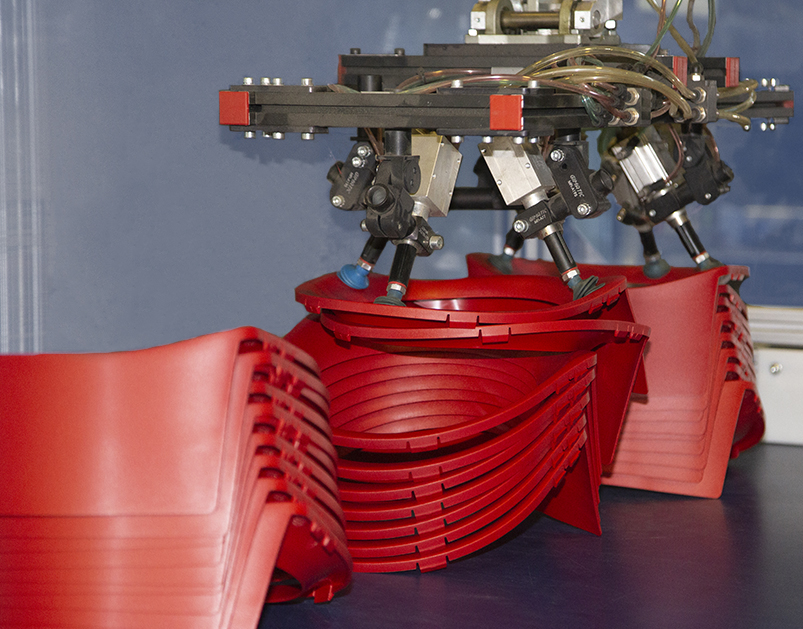 Team work with retail partners
To ensure that the red components match the special Vileda color code, a transparent base material is required. This is sourced from industry, especially automotive suppliers, where there are plenty of rejects generated during production. "The advantage of this post-industrial material is that it is virtually new, so it's not yet contaminated," as as Jim Merret, Regional Senior Manager Procurement North America Production, explains. The integrity of the source material is the prerequisite for maintaining the purity needed to create high-quality Vileda products.
"Zero Waste" program
Unfortunately, this source of supply is not sufficient to meet demand. That's where one of FHCS' largest retail partners comes in. The biggest name in U.S. retail has launched a "Zero Waste" program and is more than happy to have a supplier take its waste. Source material can be large shipping and storage boxes that have been damaged before being sold, or packaging for products such as disposable contact lenses. But white material is also is used. For example, former ingredient buckets for supermarket bakeries now get a new lease of life in Vileda products, after having been cleaned beforehand.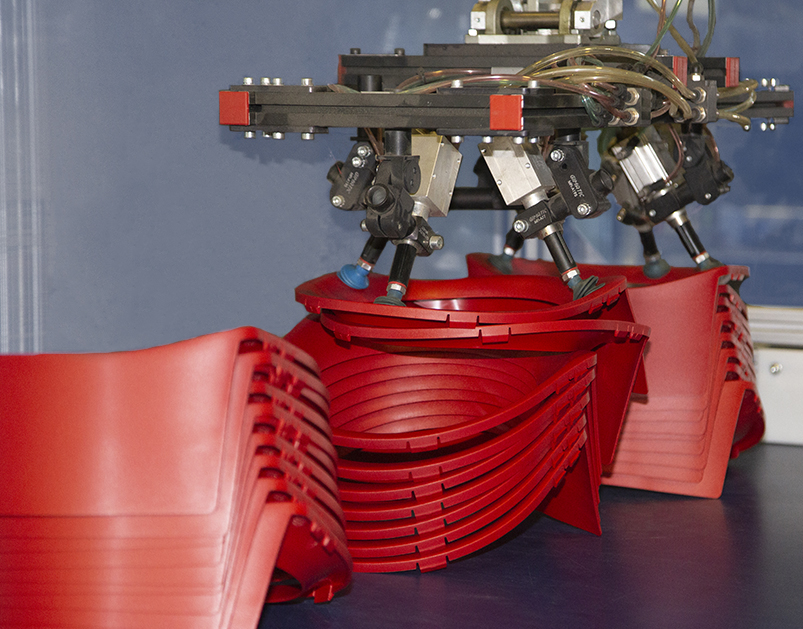 It took two years until the red parts could finally pass our internal quality tests.
Jim Merret, Regional Senior Manager Procurement North America Production
It took a long time to get to that point. Work with the supplier on an exclusive formula for colorless copolymer polypropylene (PP), as the experts call it, began back in 2014. "It took two years for the red parts to pass our internal quality tests for the first time," Merret recalls. You have to think of it like a chef working on a new recipe, as he explains: "The incoming waste products are tested in the supplier factories to determine which properties the material has. Once that's been figured out, the other ingredients are fine-tuned in a trial and error process." These include such things as additives to influence the melting temperature or what are known as 'impact modifiers', which make the later product resistant to breakage.
To begin with, the result was not entirely satisfactory. While recycled plastic was now being used for the red parts as well, the formula had not yet been perfected for all products. "There were certain performance criteria for stability that we couldn't meet," Merret explains. So more research was done. For several years now, there has been no need to retool machines in production – regardless of whether the base material is conventional plastic, pure recyclate or mixtures of the two.
Through these and other innovations, FHCS has continuously increased the proportion of recycled plastics in its product range in recent years. For all-plastic products, the figure rose from 15 to more than 40 percent. Almost all Vileda plastic packaging is now recyclable. The company has also launched "Love it Clean," an initiative to promote greater sustainability.
Meanwhile, the development team in Aurora has not been sitting back and taking it easy. They are working hard on creating even more sustainable innovations. In the future, for example, an increasing number of products from Freudenberg's FHCS plants will be made of recycled plastic – thanks in part to the Aurora team's wizardry.
A production employee carrying out a visual inspection. Experience shows that the quality of products made from recycled material is just as high as those made from new plastic.

The red carrying handle made of 100 percent recycled material is attached to the bucket fully automatically.