Glenmorangie single malt Scotch whisky has been distilled in the Highlands since 1843 and is famous around the world. In 2017, the Distillery began to treat its waste water using technology from Freudenberg. Thanks to Glenmorangie's major environmental project, the Scottish coast will soon once again be home to established oyster reefs.

It is a cool November day in the Scottish Highland town of Tain, by the protected waters of the Dornoch Firth. Nearby, in Glenmorangie Distillery's stillhouse, the thermometer reads 36 degrees and the high walls, bright wooden beams and large stained-glass window at the gable-end give it the atmosphere of a church nave. The air hums and is filled with a sweet and fruity scent. This is Glenmorangie's warm – or better yet boiling, simmering and steaming – heart. In 12 copper stills, each with necks more than five meters high, Glenmorangie's fine spirit is created. Matured for many years in oak casks, it will eventually become one of the Distillery's velvety single malts.
For almost 180 years, Glenmorangie has been making whisky that is drunk all over the world - with water from its own nearby spring, Scottish barley, yeast, heat, and sheer patience and experience.
We respect and cherish tradition very much, but we don't stop there, especially when it comes to sustainability.
Dr. Peter Nelson, Operations Director
For the return of the oysters
Nelson, who has been working here for 20 years, means what he says. In 2014, Glenmorangie pioneered a partnership with Heriot-Watt University and the Marine Conservation Society to launch DEEP – the Dornoch Environmental Enhancement Project. The plan: To significantly improve the local coast's water quality and its biodiversity, by re-establishing enormous oyster beds, which will, in turn, attract other wildlife.

Alongside this ambitious project, Glenmorangie has worked to reduce its impact on the environment by purifying the by-products of distillation, including the waste water that it releases into the Firth. Membrane technology from Aquabio, a British subsidiary of the Freudenberg Group, is an important part of the solution.
In tune with nature
In 2017, Glenmorangie took a big step towards realizing its vision by opening a state-of-the-art treatment plant for the Distillery. Within the plant, the by-products of distillation are broken down by bacteria in the absence of oxygen – a process known as anaerobic digestion. The results are biogas, a copper-rich sludge and water – which can all bring environmental benefits. The biogas is used to create steam which helps power the Distillery, reducing Glenmorangie's reliance on fossil fuels by 15%. The sludge, which contains copper from Glenmorangie's stills, is passed to local barley farmers, lessening their reliance on fertilizers for land which is naturally copper deficient.
And, arguably the most important outcome: The water which Glenmorangie releases into the Firth has its chemical oxygen demand (a measure of organic compounds in water), reduced by 95% – ensuring its effect on the marine environment is minimal.
A decade ago, we asked ourselves how we could preserve and protect Glenmorangie's beautiful surroundings for the future. We imagined what a distillery that worked in harmony with nature should look like.
Dr. Peter Nelson, Operations Director at Glenmorangie
cleaner wastewater with Aquabio's membrane technology
Although the operating costs are low, building a unique plant such as this, costs many millions of euros – a clear sign of Glenmorangie's commitment to its surroundings. A key part of the system is a room in which business development manager Phil Lynch, of Freudenberg company Aquabio, points to 16 white 6m-long pipes. In them, the waste water is filtered in several rounds with the help of special membranes, until it reaches the desired quality. The membranes are low maintenance and need to be replaced every seven to eight years.
Wastewater treatment with our membrane system is a largely mechanical, low-energy and reliable process.
Phil Lynch, Business Development Manager at Aquabio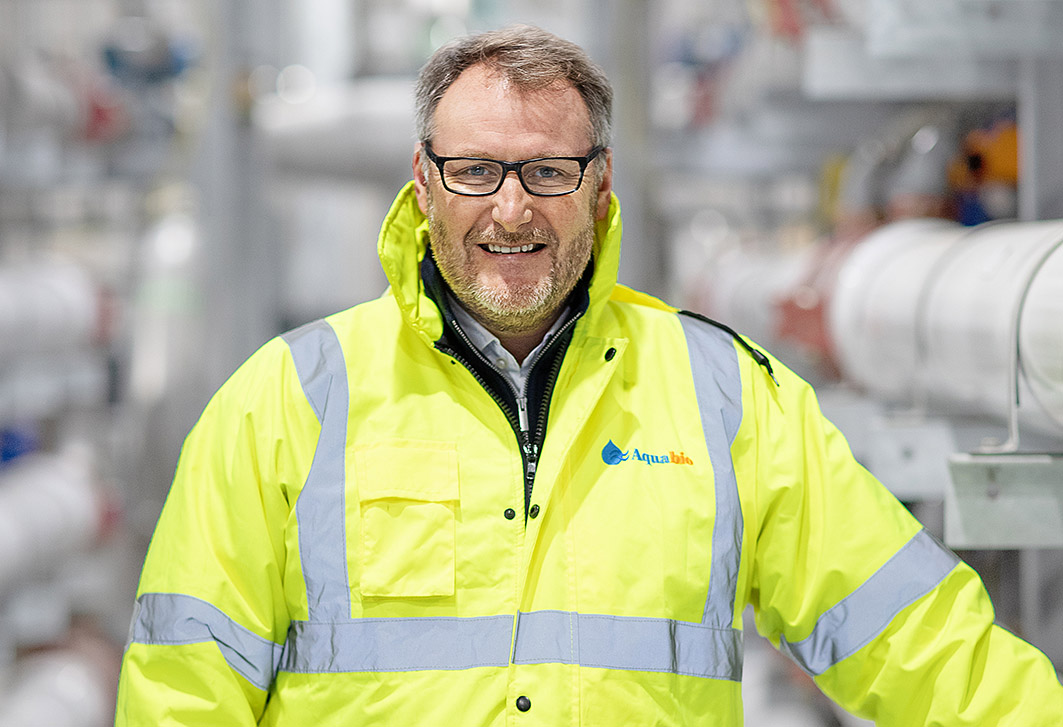 Eventually, Glenmorangie aims to free its Distillery entirely of non-recyclable waste, and to use only renewable energy. "We are earnestly trying to further reduce any impact we have on the environment," adds Peter Nelson, walking along a gravel path leading down to the sea. "It does not happen overnight, but when you make whisky like we do, you automatically think in time periods of ten years and more. Our DEEP project is a courageous step in this direction."
He points out to the sea, which is completely calm today. Here in the Dornoch Firth, oyster reefs are being created, like those which existed for millennia, before being destroyed by overfishing in the early 20th century. "The oysters filter our treated water once more, as they feed – and should eventually clean the remaining 5% of organic compounds from it naturally," he adds.
As part of the project, marine biologists began by carefully placing 20,000 native oysters on the sea bed in October 2018. Over the next five years their numbers will be increased to four million until a 40-hectare, self-sustaining oyster reef is created. This is the first attempt of its kind in Europe. It has been meticulously researched – and its success would have a positive impact on marine biodiversity and the regional economy. "This place has been our home for 175 years," says Nelson. "We want to ensure that the Firth's pristine habitat will be preserved for the next 175 years too."
Oysters in the ecosystem
One European oyster filters up to 240 liters of water per day. Oyster reefs purify seawater, provide spawning grounds and habitats for many other marine life, drive nutrient cycling, and stabilize the coastal zone.
Glenmorangie whiskey is produced at this distillery in Tain on the Dornoch Firth in Scotland.

In this distillery, the Glenmorangie whiskey is produced and then matures for many years in large warehouses until it gets its incomparable taste.

The distillery treats its wastewater with Freudenberg technology: In the Aquabio plant, the wastewater is filtered in several passes using special membranes in these pipes.

In the wastewater treatment plant, the by-products of distillation are broken down by bacteria in the absence of oxygen. This produces biogas, copper-rich sludge and water, which can be returned to the environment.

Glenmorangie has initiated the Dornoch Environmental Enhancement Project (DEEP) with Heriot Watt University and the Marine Conservation Society. The aim: to improve water quality and biodiversity on the local coast by restoring oyster beds.

The market offers great potential for Aquabio, as very few distilleries in Scotland still filter their wastewater according to the high environmental standards.
As part of the project, marine researchers have already carefully placed 20,000 native oysters on the seabed since October 2018. By 2025, the number is expected to grow to four million, eventually creating a 40-hectare self-sustaining oyster reef. It's the first time anything like this has been attempted in Europe.
Dr. Bill Sanderson, DEEP research director and professor of marine biodiversity at Heriot Watt University calls the project a "watershed moment for marine conservation." He says DEEP's groundbreaking work in the Dornoch Firth proves that it is possible to return oysters to areas where they have become extinct. The Dornoch Firth project is part of the multi-country Native Oyster Restoration Alliance (NORA) with the broad goal of restoring oyster reefs along Europe's coasts.
Success would have a positive impact on marine biodiversity and the regional economy. "This place has been our home for 175 years," Nelson says. "And we want to make sure that the Firth's special habitat is preserved for the next 175 years."