Empowering People, Creating Technology
It's not easy to describe Freudenberg in one sentence. Because we live diversity – across markets, Business Groups and global regions.
And above all when it comes to our colleagues. For us, their diversity is the key to creative teamwork that leads to groundbreaking solutions.
Our shared mission: Innovating Together
Our drive to create something new together has always been part of the DNA of our Group. Founded in 1849 as a tannery and known worldwide for technical milestones such as the Simmerring, we are today active in around 40 market segments with thousands of applications.
work every day to ensure that the Freudenberg success story continues.
with thousands of applications in 60 countries.
Strength through Diversity
Freudenberg's diverse teams are an engine of innovation. The best solutions and innovations emerge when employees contribute their different experiences, knowledge and capabilities to the effort. They come up with new ideas, generate creative solutions and manufacture innovative products. Freudenberg employees share a common foundation: entrepreneurial thinking and action. This basic attitude unites them across the world's regions. Read our digital responsibility report to learn more about diversity, inclusion and talent management at the company.
A global technology group with exciting prospects.
Whether research and development, production, IT or office: We offer scope for development and attractive development prospects for all functions and activities.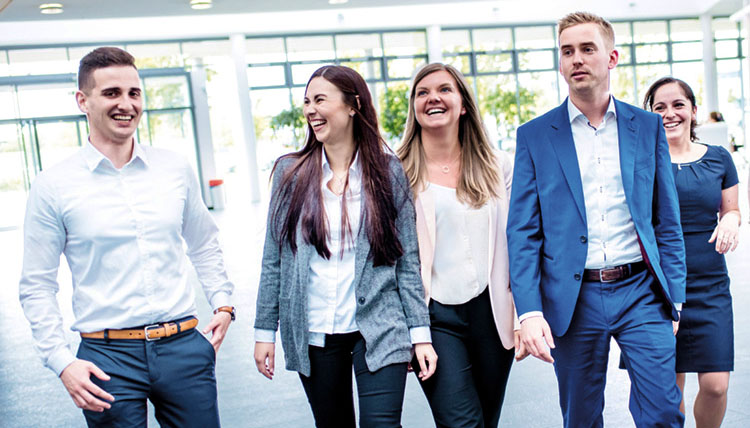 What gives Freudenberg its identity?
What does it mean to our colleagues to work at Freudenberg? How do they benefit from our diverse corporate culture and what is important to them in their everyday lives? See for yourself how we live "Empowering People, Creating Technology" together.
Marc Crabb

IT Infrastructure Services Coordinator

Galenn Sekulich

Junior Account Manager

Feng Li

R&D Manager
International work options

A career with global relationships and a world view.

Financial aid to help propel your career to the next level.

Training / Career development

Programs to supercharge skills and expertise.

Safety as a top priority, in all aspects of your work.

Events to build teams and relationships prime for accomplishment.

Fresh food on-site, both hot and cold (in many locations).

Sustainability / Community service

Making a difference with sustainability, community service.

Enter a diversity-driven world of innovation.

Uniforms for less clothing wear-and-tear, greater convenience.
Career within the Freudenberg Group
We offer creative scope and attractive development prospects across all functions and activities. Discover the career opportunities in our Business Groups.
And what else is happening in the Freudenberg world? Find out on LinkedIn. The Freudenberg Group and colleagues from the various Business Groups provide you with the most important news about our innovations, events and the company online.