From IT to production, engineering, office or research and development activities, we offer plenty of scope and attractive development prospects across all functions and roles.
School students
Whether you are looking for an apprenticeship or a dual course of study – we will support you from day one as you start your career.
(Site is only available in German language)
Graduates and career starters
We welcome a breath of fresh air and encourage you along the path of your professional and personal development.
Experienced professionals
At Freudenberg, you will find the ideal conditions to develop your career.
Ideally, we will already have got to know each other during your studies. With an internship, a working student activity or your final thesis, you have the opportunity to acquire and deepen your first practical experience.
We encourage your personal development and long-term success through continuing education and training. Annual discussions support you in realizing your potential and actively shaping your career.
If you are looking to take on responsibility for a team, we can offer you a wide range of tasks and opportunities, both in your home country or internationally. We prepare you to take on this responsibility through special training programs, both internally and in cooperation with renowned external institutions.
In addition to leadership qualities, we also encourage you to develop your professional expertise. This means that you can deepen your specialization in a particular field through targeted further training measures and develop into the expert you want to be.
Five steps to Freudenberg.
Job search
Visit jobs.freudenberg.com to find the job that's right for you.
You can submit your application quickly and easily online. Use your resume and references to convince us of your suitability and motivation. A covering letter is not required. If you have registered at "candidate home", we will keep you up to date on the current status of your application. This is also where you can set up job alerts to be informed about further attractive job offers.
Your application
Experienced HR colleagues will process your documents and coordinate your application with your future managers.
Getting to know you in person
If your application has convinced us, we would be delighted to meet you in person: either on the phone, in a video call or on site at one of the Freudenberg locations.
Offer and contract
If we suit you and you suit us, all doors are open for you to start your exciting new career at Freudenberg. We will make you an attractive offer and look forward to shaping your professional future together.
Your first day
Welcome to Freudenberg! We will support you as you get started and help you make your first contacts and settle in quickly.
Insights into our working worlds
Creative solutions in excellent quality. That's what Freudenberg stands for. Whether in IT, production, engineering, office work or research and development, you can expect exciting tasks that you can shape with your ideas and skills.
We look forward to welcoming you and supporting you on your path to professional and personal development.
Joining opportunities
If you are still a student but would like to gain some professional experience, Freudenberg offers you the ideal opportunity to start your career.

Whether an internship, a part-time job during your studies or your final thesis – with us, you will be taking on challenging tasks and gaining experience in day-to-day
Internships
Our internships are as diverse as our portfolio. You can find out when they start, how long they last and what they involve in our job vacancy listings.
Writing your thesis
You know the theory, we deliver the practice. We provide you with individual support on your way from your studies into the working world. Freudenberg offers you direct contact with experts from numerous specialist areas, as well as a wide variety of exciting options when it comes to choosing a topic.
Work study
If you are looking to gain practical experience alongside your studies, we are always looking for motivated students. In this context, it is important to us to integrate you fully into the real working day.
Vacation job
We are regularly looking for support during the summer months, mainly in production.
What I like most about Freudenberg is that even unusual ideas are valued and then actually tried out.
Ruth Leitwein, Global Director Compensation and Benefits at Freudenberg Home and Cleaning Solutions
Ruth Leitwein joined Freudenberg Home and Cleaning Solutions in 2013 via an internship. She then continued as a student trainee and also wrote her bachelor's thesis at Freudenberg.
Departments
Controlling / Accounting
Corporate communications
Health, occupational safety & environmental protection
HR
IT
Logistic / Supply chain management
Marketing
Production / Production planning
Research & development
Sales & distribution
Experienced professionals
At Freudenberg, you will find the ideal conditions to achieve the next step in your career. We will invest in you and your further development, because we firmly believe that the best technologies are created by optimally supported employees.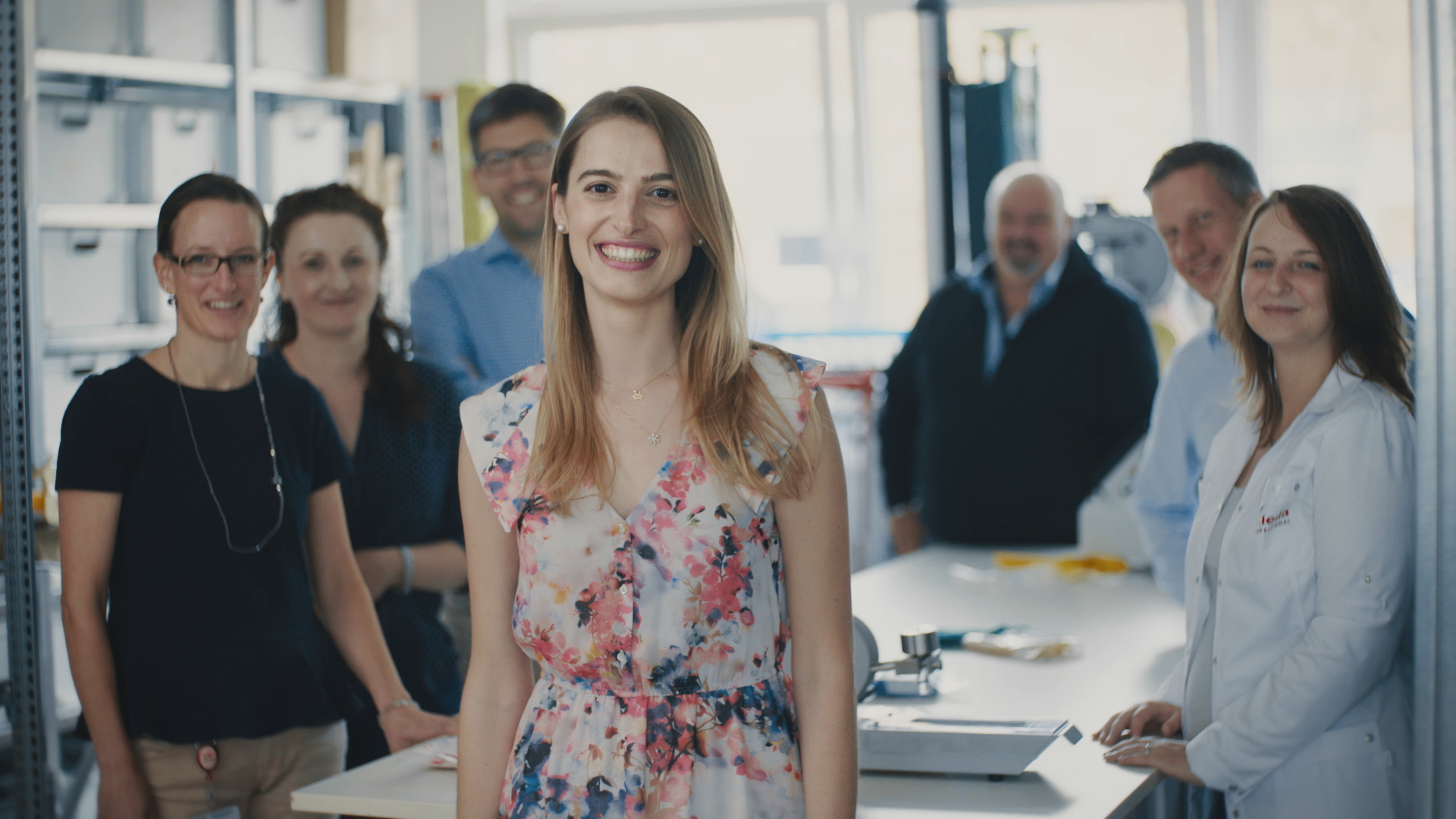 My job allows me to develop new products that can make a difference in somebody's life.
Handan Ögün, Freudenberg Home and Cleaning Solutions, Germany
International work options

A career with global relationships and a world view.

Financial aid to help propel your career to the next level.

Training / Career development

Programs to supercharge skills and expertise.

Safety as a top priority, in all aspects of your work.

Events to build teams and relationships prime for accomplishment.

Fresh food on-site, both hot and cold (in many locations).

Sustainability / Community service

Making a difference with sustainability, community service.

Enter a diversity-driven world of innovation.

Uniforms for less clothing wear-and-tear, greater convenience.
Our people are as diverse as the company itself – not just in terms of their international origins, but also because of the wide range of skills and specialist backgrounds they bring with them. Whether in IT, production, engineering, office or research and development, we offer plenty of scope for creativity and development prospects. Welcome to a corporate world full of opportunities.
"My ideas are appreciated here and then tried out." Ruth Leitwein, Weinheim, Germany

"Freudenberg in three words: innovative, progressive, stable." Shawn Zahler, Findlay, OH, USA

"At Freudenberg, my opinion counts." Cindy Schönberg, Maisach, Germany

"You are challenged every day to find the best way for everyone." Julian Nikolai, Weinheim, Germany

"I especially enjoy working together with international teams." Dhirajkumar Jangid, Pune, India
Career within the Freudenberg Group
We offer creative scope and attractive development prospects across all functions and activities. Discover the career opportunities in our Business Groups.